Kristol, Lowry Urge House GOP To Kill Immigration Reform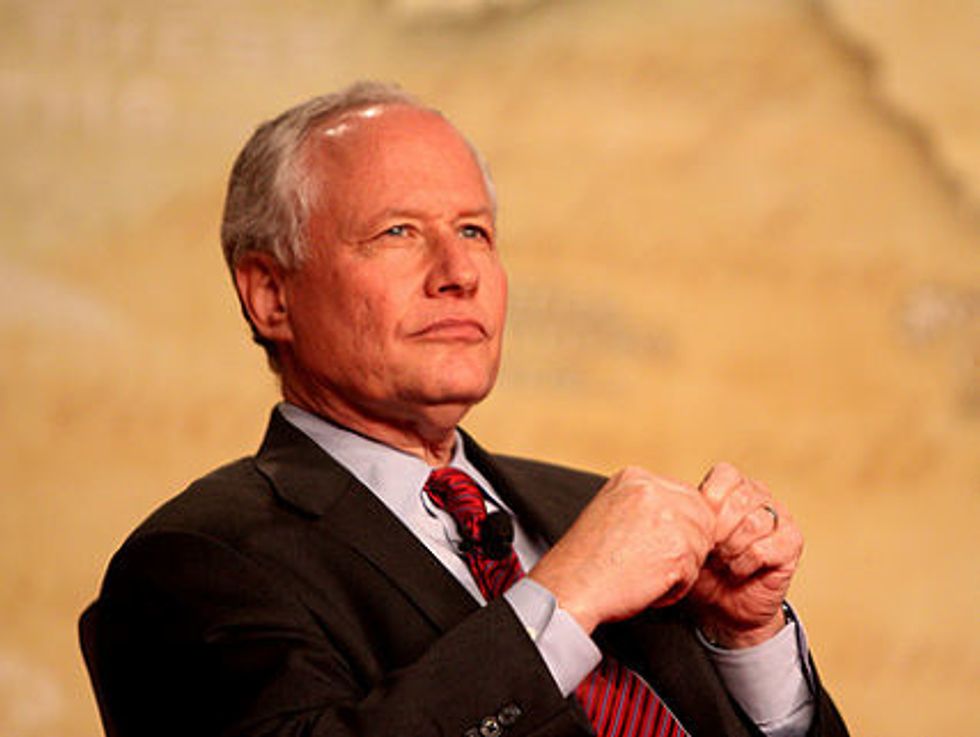 In a joint op-ed published in The Weekly Standard Tuesday, influential conservative pundits Bill Kristol and Rich Lowry declared their opposition to the Senate "Gang of Eight" immigration bill, and insisted that "House Republicans should kill it without reservation."
Kristol and Lowry lay out a three-pronged case against the Gang of Eight bill: It "doesn't solve the illegal-immigration problem," it is too large and was written in an unacceptably "hasty manner," and Republicans will ultimately benefit politically from killing reform efforts.
There are major flaws with each of these arguments. First, contrary to Kristol and Lowry's skepticism about the new measure's effectiveness, the Congressional Budget Office estimates that the bill would cut illegal entries into the country by 50 percent. Second, the "hasty" bill was actually debated at length — which Kristol should remember, since he erroneously claimed that anti-reform senator Jeff Sessions (R-AL) was "winning the debate" as he unsuccessfully submitted 48 amendments to the final bill.
Finally, the notion that Republicans will benefit politically from killing the bill — Kristol and Lowry incredulously ask, "Are we supposed to believe that Republican Senate candidates running in states such as Arkansas, North Carolina, Iowa, Virginia, and Montana will be hurt if the party doesn't embrace Chuck Schumer's immigration bill?" and suggest, in an admirable attempt to avoid using the adjective "white," that "it's most important that the party perform better among working-class and younger voters concerned about economic opportunity and upward mobility" — is deeply flawed. As Nate Cohn explains in The New Republic, the GOP is highly unlikely to rebound without expanding its base. Immigration reform won't solve all of the GOP's problems, but it is certainly a step in the right direction.
Kristol's confidence that immigration reform would not be advantageous to the Republican Party politically is a tremendous flip-flop from a pundit who once described himself as "a liberal on immigration," and supported George W. Bush's 2006 reform efforts. Back then, Kristol warned against the "political — and moral — cost of turning the GOP into an anti-immigration, Know Nothing party," writing that it "could easily dash Republican hopes of becoming a long-term governing party." Now, Kristol writes that such concerns are "silly."
Back then, Kristol derided the anti-reform House Immigration Reform Caucus as "The House Caucus To Return The Republican Party To Minority Status," and suggested that they adopt the Senate's "sensible and comprehensive immigration bill that includes border security measures, a guest worker program, and, for illegal immigrants already here, a path towards earned legalization and citizenship." Now, Kristol writes that the Senate bill — which contains all three of those elements — "doesn't solve the illegal-immigration problem," even though the border-security benchmarks laid out by the 2006 bill which Kristol supported have long since been surpassed.
Of course, those Republicans who have paid attention to Kristol's advice and predictions over the years may take his argument with a massive grain of salt. Between his decade-long push for a war in Iraq, his tireless lobbying for John McCain to select Sarah Palin as his running mate, and countless other missteps, Kristol is neck-and-neck with Dick Morris in the race for the title of America's worst pundit. If Kristol believes that killing immigration reform is the GOP's smartest move politically, then it's a safe bet that Republicans should do the exact opposite.
Photo: Gage Skidmore via Flickr.com