Kushner Revelations Offer Fresh Leads For Investigators – But Will Any Of This Sink Team Trump?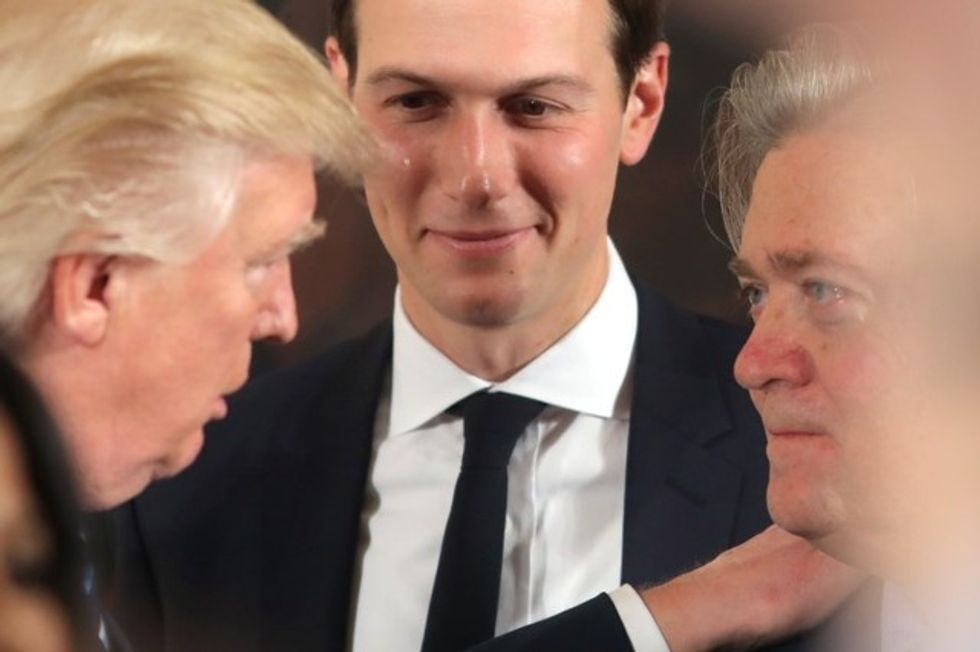 Reprinted with permission from Alternet.
Converging revelations about President Trump's dealings with Russia are propelling three investigations that seemed stalled and thwarted just a few weeks ago. While speculation that Trump will be impeached because of his Russia dealings is surely premature, so are claims that impeachment is impossible or unlikely. The story is changing so fast that any definitive conclusion will soon be outdated.
Compared to a month ago, the case for criminal misconduct by Trump and/or his associates has grown stronger. That doesn't necessarily mean impeachment is more likely, but it does show that the defenses previously offered by the White House and Republican party leaders have failed to prevent closer scrutiny of the embattled president and his entourage.
The most significant new revelation is that Jared Kushner, the president's son-in-law, is now a focus of investigation. TheWashington Post reported last Friday that Russian Ambassador Sergey Kislyak told his superiors in Moscow that Kushner had proposed a secret channel between Trump and the Kremlin and had suggested using Russian diplomatic facilities in the United States for the communications.
Kislyak reported to his superiors in Moscow that Kushner, son-in-law and confidant to then-President-elect Trump, made the proposal during a meeting on Dec. 1 or 2 at Trump Tower, according to intercepts of Russian communications that were reviewed by U.S. officers.
The White House has not denied the Post report, which specified not merely that Kushner wanted a private channel of communciation, but that Russian facilities in the United States were discussed as options for the secure channel.
Trump's defenders say other presidents have used so-called back channels to communicate with American adversaries, which is certainly true. But Kushner's reported request for use of the Russian communication facilities was an unprecedented break in protocol—and possibly illegal, according to Politico.
The New York Times reported Tuesday that Kushner's request followed a meeting with a Russian banker whose financial institution was deeply intertwined with Russian intelligence and remains under sanction by the United States. The banker, Sergey Gorkov, is now also the subject of U.S. investigative interest.
CNN reported Monday that Russian officials "discussed having potentially 'derogatory' information about then-presidential candidate Donald Trump and some of his top aides" duriing the 2016 campaign, The story was not based on the previously reported Trump dossier compiled by a former British intelligence officer whose most salacious accusations have not been confirmed. CNN says its story came from two former intelligence officials and a congressional source.
Until this week, the Russia allegations centered on former national security adviser Michael Flynn and former Trump campaign manager Paul Manafort, both of whom had been fired. While Trump could distance himself from the actions of his former associates, he cannot do so with Kushner, his most trusted adviser and the husband of his daughter Ivanka.
The barrage of revelations has been felt by Trump's allies. As the allegations gain specificity, Trump's supporters on Capitol Hill have begun to recalibrate their loyalties to the White House. Three weeks ago, GOP leaders "closed ranks" to praise Trump for firing FBI director James Comey. The House intelligence committee was paralyzed by Republican obstructionism, and the Senate Intelligence Committee was a "hot mess" for the same reason.
Since then, a dozen nervous House Republicans and at least four previously supportive Senate Republicans, have broken ranks with the White House over the need for a serious investigation. Congressional Republicans, once opposed to the appointment of a special prosecutor, are expressing at least rhetorical support for Robert Mueller, the former FBI director who is leading his own inquiry.
Republicans on the House and Senate Intelligence Committees have relented and agreed to issue subpoenas to Flynn while ignoring his request for immunity. The Senate Committee, which is also seeking Trump campaign records, will hear public testimony from Comey about Trump's efforts to derail the FBI investigation.
The fact pattern left by Trump's Russian contacts was revealed in an overlooked May 17 Reuters story, which reported that investigators are looking at 18 previously secret communications between the Trump campaign and Russian officials.
"The 18 calls and electronic messages took place between April and November 2016 as hackers engaged in what U.S. intelligence concluded in January was part of a Kremlin campaign to discredit the vote and influence the outcome of the election in favor of Trump," Reuters reported.
Four current U.S. officials told Reuters that the conversations between national security adviser Flynn and ambassador Kislyak accelerated after Election Day, "as the two discussed establishing a back channel for communication between Trump and Russian President Vladimir Putin that could bypass the U.S. national security bureaucracy, which both sides considered hostile to improved relations."
Now we know Kushner was party to those discussions, enmeshing the president's closest adviser in the pattern of clandestine consultation.
"FBI agents would eventually like to speak to Mr. Kushner about meetings he held in December with the Russian ambassador and a Russian banker and any other interactions he may have had with Russians linked to intelligence services," the Wall Street Journal reported last week.
The president's personal vulnerability was confirmed when Trump saw fit to retain a personal lawyer, Marc Kasowitz, to represent him in the independent counsel's inquiry. Trump now feels legally vulnerable in a way he did not just a month ago. And for good reason.
This article was made possible by the readers and supporters of AlterNet.