Labor Department Proposes Extending Overtime Pay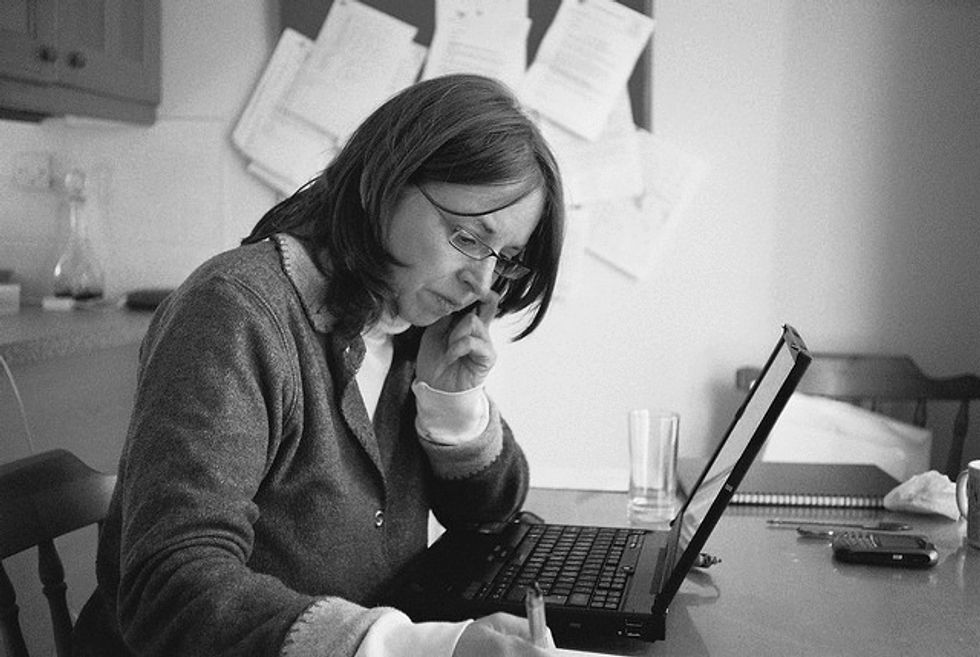 It's common for American workers to stay later than their hours suggest – "face time" being seen as a measure of one's commitment to the job. According to a Gallup survey released last November, the average full-time American worker now works 47 hours a week, nearly a full day longer than the standard 40-hour week. And most of those workers don't get paid anything extra for those additional hours.
President Obama is hoping to change that. In a proposal announced Tuesday, the Department of Labor would extend overtime pay to nearly 5 million Americans. The plan would simplify and update rules so that millions of workers can determine if they are eligible for overtime pay.
As of now, most full-time employees are classified as being exempt from receiving overtime because they are considered managers, administrative personnel, or professionals of some description. But bestowing those titles, especially "manager," has become a convenient loophole for employers, who can offer meaningless promotions as a way to get out of paying employees overtime.
Currently, employers can avoid paying overtime if an employee makes more than $455 a week or $23,660 a year. The new proposal would more than double the threshold, to $970 a week or $50,440 a year.
According to the Wall Street Journal, the new proposal recommends that, moving forward, these numbers should change automatically, tied to either wage growth or inflation in order "to ensure the threshold's buying power doesn't erode in time." Because that's exactly what has happened since the 1938 Fair Labor Standards Act originally established the federal minimum wage and overtime rules. Those numbers have only been changed eight times since then, and only once since 1975.
Housing costs are rising, so much so that minimum-wage workers can't afford to rent a one-bedroom apartment anywhere in the country. At the same time, real wages – after inflation has been taken into account – have been stagnating for decades.
The numbers the Obama administration are using in their proposal are the 1975 threshold, last updated in 2004, adjusted for inflation. The 2004 changes made it so that more employees were exempt from overtime –such as managers who did low-level work and supervised employees simultaneously. Due to inflation, the percentage of salaried employees who fell below the overtime-pay threshold steadily decreased, from 65 percent in 1975 to 18 percent in 2004 to 8 percent in 2014, according to the Economic Policy Institute, a nonprofit and nonpartisan think tank focusing on the needs of low- and middle-income workers.
Under the Fair Labor Standards Act, the president has the authority through the Department of Labor to set new rules without lawmakers' approval, but the Department of Labor will hold a 60-day public comment period before they adopt any changes. It's expected that businesses and industry groups will push back, arguing that instead of individuals receiving more money, the hours and pay will be spread out among more workers – which could increase part-time employment. Others, like the National Retail Federation, warn that businesses could reduce base pay and compensation, and make it less likely for workers to advance to become actual managers, since businesses will end up cutting the number of higher-ranking jobs.
According to the Economic Policy Institute, the proposed rules would disproportionally affect those who work in food service, insurance agencies, policy processing, customer service, office administration, and retail. Demographically, those likely to be affected include people under 35, women, blacks, and Hispanics, as well as workers with lower levels of education. The White House estimates that of the 5 million workers expected to benefit, 53 percent have at least a college degree and 56 percent are women.
The New York Times, in its editorial supporting the decision, cautioned Republicans to "think twice about" aligning themselves with business interests that oppose the proposal: "No party and no politician that opposes the new overtime rules can credibly claim to care about the middle class."
As of this writing, no Republican presidential candidate, with the exception of Rick Perry, has commented on the proposed changes. In a statement, Perry, who believes that government should not set policies on pay or benefits, said, "As businesses are forced to spend more on payroll, those costs will be passed on to consumers in the form of higher prices for everyday goods and services."
Hillary Clinton, however, praised the decision on Twitter.
President Obama is right to update overtime rules for the modern workforce—a win for our economy and workers nationwide. -H

— Hillary Clinton (@HillaryClinton) June 30, 2015
Photo: Workers, like this woman, who process claims could be part of the millions of people affected by the Labor Department's new proposed changes to its overtime rules, which would expand the definition and scope of who would be eligible for overtime pay. fatheroftheweasel via Flickr