Landmark Syrian Hotel Destroyed As Rebels Set Off Underground Blast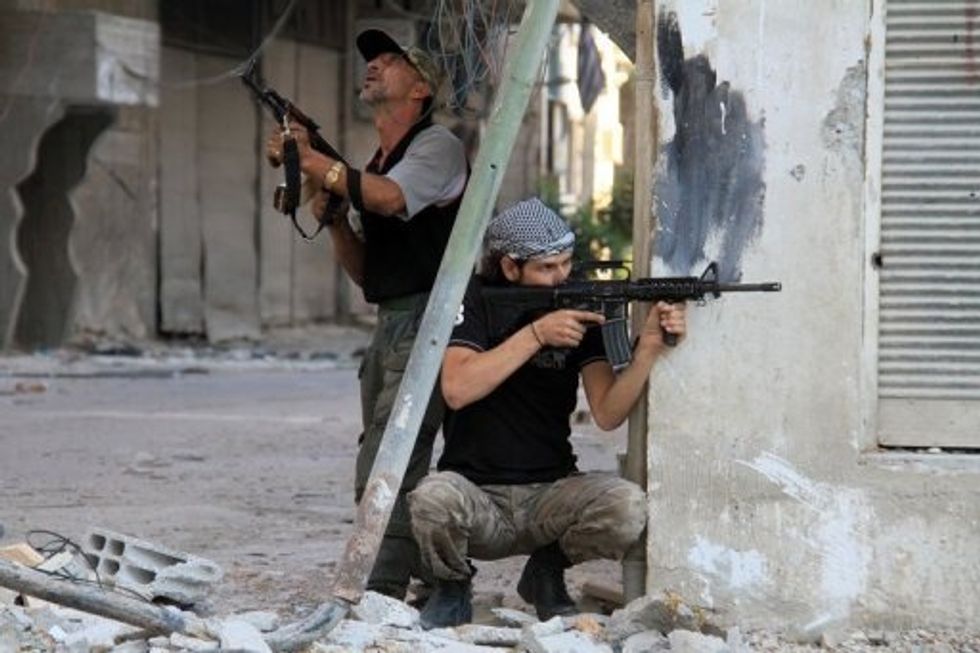 By Patrick J. McDonnell, Los Angeles Times
BEIRUT — A huge blast destroyed a hotel in the historic heart of the northern Syrian city of Aleppo on Thursday after rebels detonated explosives in a tunnel dug beneath government lines, according to opposition and government accounts.
The explosion ripped through the Carlton Citadel Hotel, near the landmark medieval Citadel and Aleppo's walled Old City, both deemed United Nations World Heritage sites. Opposition activists said the onetime luxury hotel had become a military base.
Islamist rebels tunneled beneath the hotel and "detonated a large quantity of explosives," said the Syrian Observatory for Human Rights, a pro-opposition monitoring group based in Britain. The hotel was "completely collapsed," the group said, along with several neighboring buildings.
At least 14 soldiers and "pro-regime militants" were killed in the blast and during subsequent clashes, the observatory said.
The state media reported "huge damage to the historic site" after rebels blew up "tunnels they dug under archaeological buildings."
Video posted on the Internet purporting to document the explosion showed a massive blast and a plume of smoke erupting into the air and drifting over the city, followed by automatic weapons fire.
The Carlton Citadel Hotel, among the most luxurious of the hostelries that catered to Aleppo's once-booming tourist trade, was situated in a renovated stone building that once housed an Ottoman-era hospital.
Syrian rebels have gained considerable expertise at building tunnels, often beneath the rubble in bombed-out districts, and apparently have also mastered remote detonation of explosives cached underground. Earlier this week, the opposition said that dozens of pro-government forces were killed when rebels set off a bomb in a tunnel excavated beneath a checkpoint in northwestern Idlib province.
Aleppo, a trading terminus going back to ancient times, has been a battleground for almost two years in the Syrian conflict. The city, Syria's commercial hub before the war broke out, remains divided between government and rebel forces.
Vast swaths of Aleppo, including parts of the landmark Old City, have been destroyed in bombardments and gun battles. In recent weeks, both sides have mounted attacks in a bid to gain ground and break the stalemate.
A fire swept through the Old City's ancient covered market in 2012, causing extensive destruction. The 12th-century Umayyad Mosque has also suffered heavy damage from shelling.
AFP Photo/Ward al-Keswani