LAPD Sergeant Defends Role In Handcuffing 'Django Unchained' Actress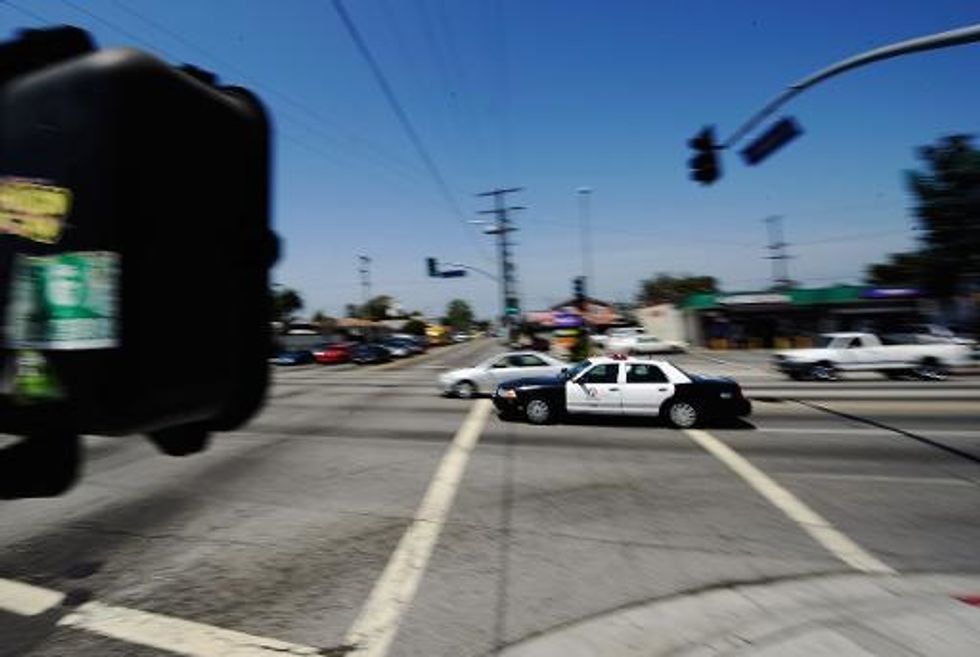 By Kate Mather and Richard Winton, Los Angeles Times
LOS ANGELES — A Los Angeles police sergeant Monday defended his role in handcuffing and detaining an actress who alleged she was mistreated because of her race, saying he responded to a routine call that escalated when the woman refused to identify herself.
The Los Angeles Police Department has been criticized for Thursday's detention of "Django Unchained" actress Daniele Watts and her boyfriend, celebrity chef Brian James Lucas, in Los Angeles' Studio City section. Lucas wrote on Facebook that the police had acted as though the couple had been engaged in prostitution because Lucas is white and Watts is black.
But LAPD Sgt. Jim Parker, who responded to the call, said the thought "never crossed his mind." In an interview with the Los Angeles Times, Parker said he approached the couple because they matched a 911 caller's description of two people having sex in a car parked on Radford Avenue.
"I wanted to go get coffee. I figured I could take care of this call and go get coffee and that was it," Parker said, calling the incident a "long, drawn-out drama."
"I was trying to ID them and leave — nobody wanted them arrested for having sex in public," he said. "But then she went into her tirade."
Lt. Andrew Neiman, a department spokesman, said officers contacted Watts and Lucas after receiving a 911 call complaining that a couple were having sex in a parked car on the street with the door open. The 911 caller described the couple as a black woman wearing a shirt and floral shorts and a white man with a black tank top, Neiman said.
Lucas and Watts did not return calls or text messages Monday from the Times, despite previously agreeing to an interview. The couple told CNN they stood by their actions and believed they did nothing wrong. Watts said she did not regret refusing to hand Parker her ID.
"I still feel strongly like I didn't have to," she said. "I feel that it raises awareness. I'm thankful for the experience. Not to say that I feel like I have to go through it again. But it's causing a lot of discussion."
A 24-minute audio recording obtained by the Times and verified by a law enforcement source familiar with the incident captures the encounter. Parker can be heard asking Lucas for his ID as Watts speaks to her father on the phone. When she stops the conversation to ask what's going on, Parker explains that he was called to the scene in response to a call of "lewd acts."
Watts insisted the couple had done nothing wrong.
"Somebody called, which gives me the right to be here, so it gives me the right to identify you by law," Parker said, according to the recording, which was first published by celebrity news site TMZ.com.
"Do you know how many times I've been called, the cops have been called just for being black?" Watts said. "Just because we're black and he's white? I'm just being really honest, sir."
"Who brought up the race card?" Parker said.
"I'm bringing it up," she said.
"I said nothing about you being black," Parker responded.
Watts told Parker she would inform her publicist and said she would not give her ID. At one point, she tried to get Parker to speak to her father on the phone.
Parker said that although Lucas presented his identification, Watts refused and walked away. LAPD officials verified his account.
"Thank you for bringing up the race card," Parker said. "I never hear that."
Parker radioed for officers down the street to bring Watts back. He told the Times that the other officers had to bring her back in their police car, given the distance that she walked, which was why they handcuffed her.
Parker and Lucas spent several minutes casually chatting as they waited for the officers to find and bring Watts back. They talked about Lucas' work and how the couple met at a celebrity benefit. Lucas said he and Watts had been stopped before, calling it a "sensitive subject to her, the black and white." He said she had never had a run-in with police before they started dating.
"She kind of did a similar thing," he told the sergeant about a previous encounter. "She wouldn't give him ID."
Lucas said that being stopped by police was "not as sensitive to me because I understand it."
At several points, Lucas joked with the sergeant. "You don't want to deal with stuff like this. This is not a protect-and-serve issue," he said, laughing.
When the other officers brought Watts back to the scene, she cried as she berated and cursed the police. She insisted the couple had only been "making out" and criticized whoever had complained.
"I bet there's at least one person up there who's a racist," she said to Parker. "I bet you, you're a little bit racist."
In his interview with the Times, Parker, who is assigned to the department's North Hollywood Division, said he was used to such allegations from his 25 years with the LAPD.
Watts was released after Lucas handed police Watts' ID, and the officers determined they were not wanted on outstanding warrants. In the audio, Parker told Watts the encounter would have lasted just a few minutes had she identified herself earlier. He pointed out that Lucas, who had been cooperative, had not been handcuffed.
LAPD Cmdr. Andrew Smith said an internal complaint investigation is being conducted into the matter, based on the public statements made by Watts and Lucas. He said the 911 call that prompted the stop would not be released, as the department does not release 911 tapes.
AFP Photo/Kevork Djansezian
Interested in national news? Sign up for our daily email newsletter!