Late Night Roundup: 'Captain Of The Vice Squad'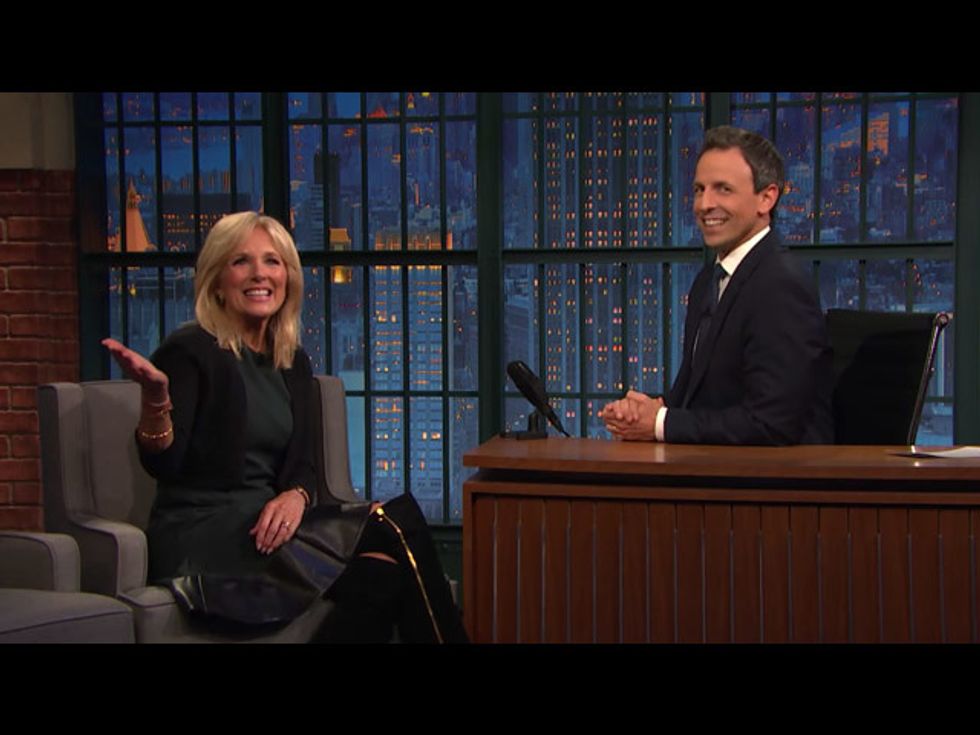 Jill Biden sat down with Seth Meyers, and promoted the latest initiative from the White House to make two years of community college free — with Jill speaking on the importance of making education accessible as a community college professor herself.
Jill Biden also talked about how she'd prefer a better title than "Second Lady" — like, "Captain of the Vice Squad."
Larry Wilmore examined the defeat in Tuesday's elections of an expansive non-discrimination ordinance in Houston, Texas, due to an anti-transgender scare campaign depicting men stalking little girls in women's bathrooms. As the newest Nightly Show contributor Grace Parra, a Houston native herself, explained: "I'm in Texas. Everything's bigger in Texas — especially the fear of progress."
Stephen Colbert eviscerated the new campaign books from Donald Trump and "Jeb!" Bush.
Jimmy Kimmel and his team put together a special highlight reel from the campaign trail: The many noises of Donald Trump.
And Jimmy Fallon did an "interview" with the lesser Republican candidate Bobby Jindal (portrayed by Aziz Ansari): "Absolutely, I don't believe in global warming — in fact, I'm the only candidate that doesn't believe in any science, period!"