Late Night Roundup: So Much Craziness, It's A Miracle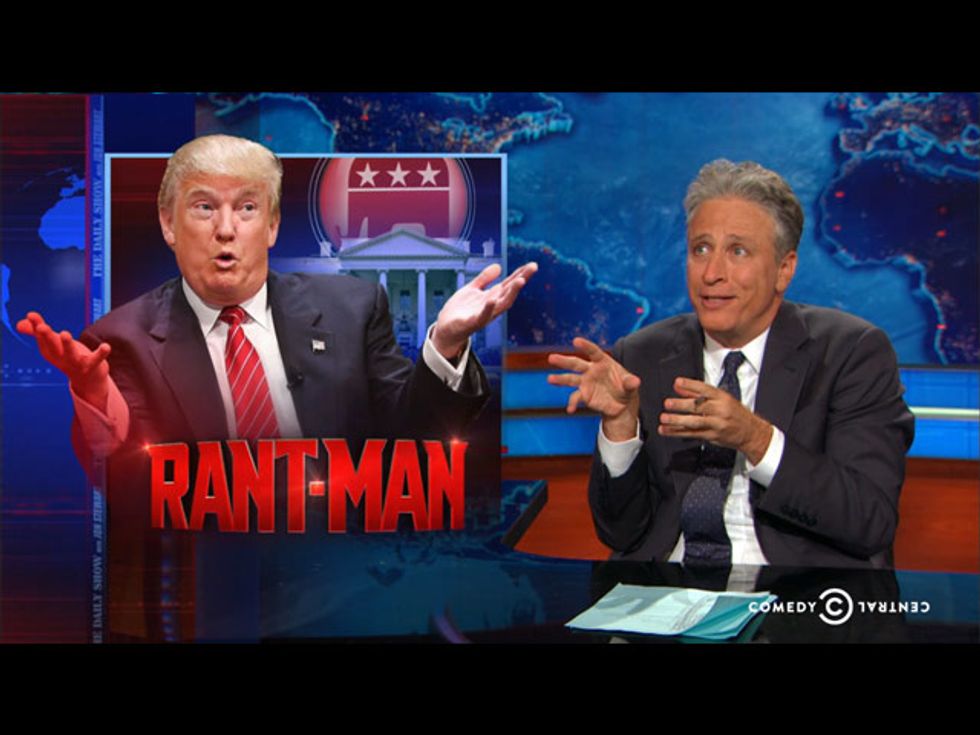 Jon Stewart came back from his two-week vacation — and was glad to have Donald Trump around, as "the patron saint of topical comedians who are just running out the clock."
Jon looked at Trump's newest controversial comments about John McCain, and Trump's insistence that he really did say McCain is a war hero: "Does calling someone a 'war hero' count, if you're doing it sarcastically?"
Jon made this request of Trump, as he nears his own retirement from The Daily Show: "Don't flame out now, I've gotta squeeze three more weeks of this s@#t." And oh, the never-ending supply of Trump's craziness could be its own miraculous Jewish holiday.
The Daily Show correspondent Jordan Klepper also highlighted the milestone of Trump's candidacy: "our first openly a**hole president."
Larry Wilmore also got back from vacation, and like Jon Stewart he was ready to unload on someone he's had his own eye on: Bill Cosby. Watch as Larry rips Cosby apart, using the newest revelations from Cosby's deposition ten years ago.
The Nightly Show contributor Holly Walker also got in on the act, explaining that she would go after Bill Cosby with a rap song: "Because Cosby hates rap — and my mission in life is to anything that might irritate that a**hole."
Jimmy Kimmel turned Donald Trump's statements into a game show, "Say It or Spray It": Contestants on the street had to guess whether a crazy statement read to them was a real Trump line, or something that the show made up — and if they chose wrongly, they would get sprayed with a hose. (On the other hand, it was really hot out there.)
Seth Meyers looked at the Greek bailout situation — and Greece's rapid shift from a defiant referendum rejecting a bailout deal, right to agreeing to an even more severe bailout — with a bit called "Up S#!%'s Greek!" Seth actually gave a pretty good overview: Greece's structural problems; their unfitness to have joined the euro in the first place; and the ruthless political strong-arming by Germany, after having carelessly loaned Greece lots of easy money in the first place.
James Corden hosted Laverne Cox, and they discussed the ESPY award acceptance speech of Caitlyn Jenner.