Late Night Roundup: The '90s Rapper Of Presidential Candidates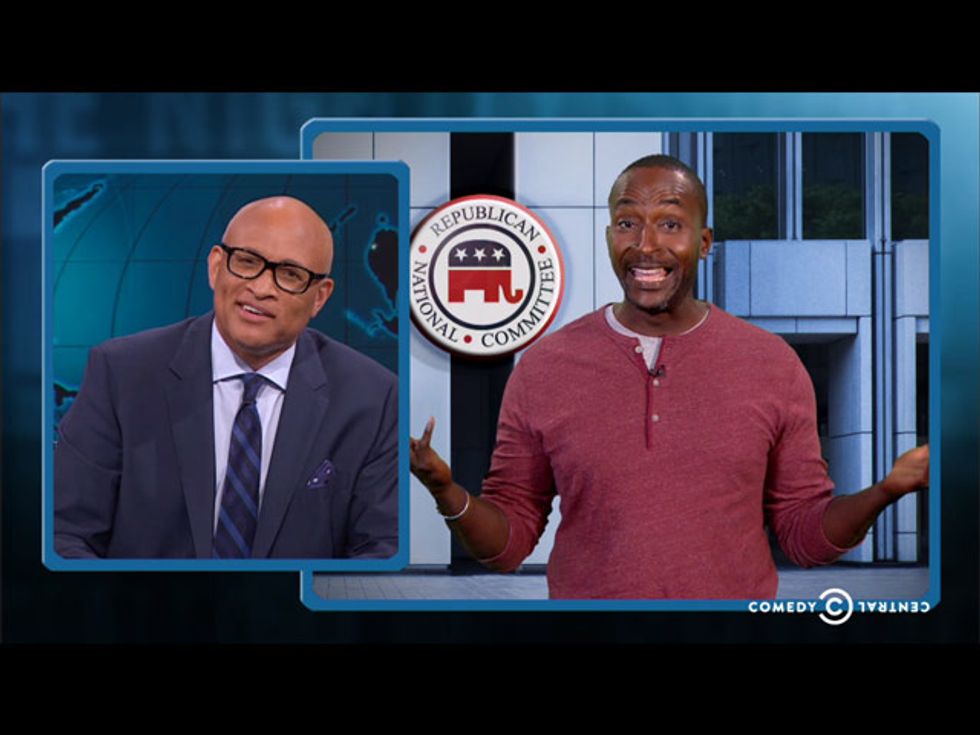 Larry Wilmore and Mike Yard took another look at Donald Trump's potential appeal to minority voters — as a 1990s rapper getting into fights with everyone.
Larry and The Nightly Show philosopher-wordsmith Felonious Munk also looked at the recent chants of "Black Lives Matter" at Netroots Nation — and Felonious explained exactly what is wrong with the reply "All Lives Matter."
Jon Stewart took a much-needed break from the Donald Trump beat, to look at the Iran nuclear deal — and the automatic opposition to it from the usual anti-Obama political quarters. As a great example, Jon highlighted Benjamin Netanyahu's dire warning that the deal puts Iran on course for a nuke in 8 to 10 years — which is actually a big improvement of the situation, after he told the United Nations in 2012 that Iran was clearly just mere months away from having one then.
Jon also examined the Democrat who will take a key role in helping to sustain the Iran deal in the Senate: Chuck Schumer. But first, Jon realized that the news media really shouldn't try to get answers by taking an old Jewish man to a diner to chat — you'll only get his opinions about food.
Seth Meyers and Rachel Maddow talked about Donald Trump, as well, as they tried to imagine what that first Republican debate will even look like. For example, will The Donald pull another candidate's pants down? Will he bite the head off a bat, in the style of Ozzy Osbourne? Or perhaps, will he bring out a bigger, nicer podium for himself?
James Corden sang a duet with Kristin Chenoweth, "Why Don't We Chat?"