Late Night Roundup: The 'Trump Debate-Bot & Casino 5001'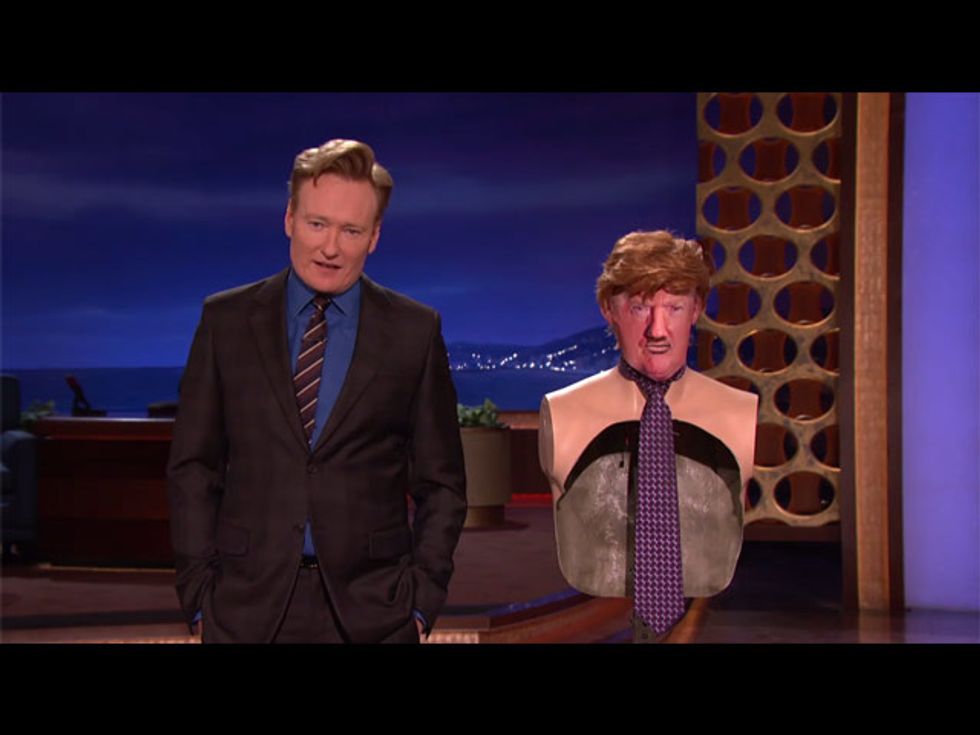 One topic truly dominated the late night comedy shows on Wednesday: the anticipation of the Republican debate Thursday night, and the presence of Donald Trump.
Conan O'Brien revealed that Republicans are preparing for tonight's debate by using a special high-tech device: the "Trump Debate-Bot & Casino 5001."
Conan also showed a wacky promo for "The Other Republican Debate," featuring the bottom seven candidates.
Larry Wilmore gave a heartfelt thanks to Jon Stewart, as Jon prepares to finish his remarkable run on The Daily Show, for all that he did to help Larry's own career — and then, Larry got to talking about Trump and the debate, and all the crazy stuff that the other Republicans have to do just to get some attention. But Larry also gave a serious warning: It might be that The Donald is just like the Joker — he just wants to watch the world burn — and the joke could soon be on all of us.
Seth Meyers offered a sneak preview of the Republican debate — with one of his writers who went campaigning for The Donald in New York City.
Meanwhile, Jon Stewart opened up his second-to-last show with a look back at his brutal eviscerations of bad guys over the years — though as Jon discovered, a really good pun doesn't exactly defeat ISIS, fix American racism, punish the big banks, or take down Fox News: "What the @#$% is going on here! God damn it! The world is demonstrably worse than when I started! Have I caused this?!?"
But at least Jon still does have one thing that's getting better: The New York Mets.
The Daily Show crew also promoted Jon's upcoming final show with a special segment: "A Look Back — A Man Who Was On TV."