Late Night Roundup: The Trump Victory Infomercial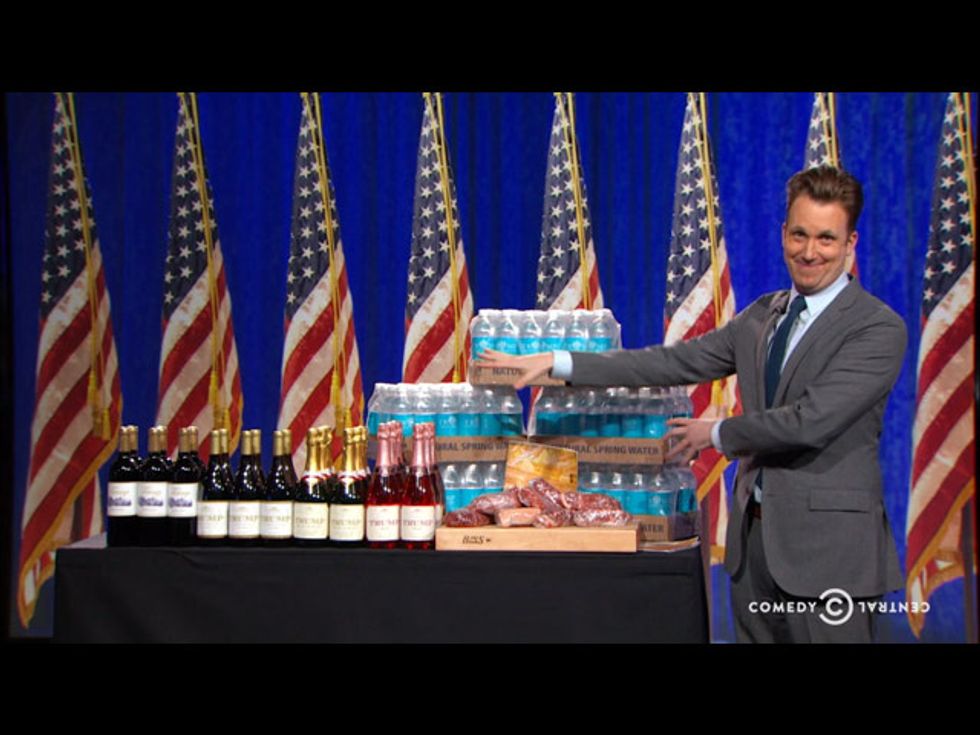 The late night shows were dominated Wednesday by Donald Trump's bizarre combination victory speech, press conference — and infomercial for Trump products.
The Daily Show's Jordan Klepper stood by his own table of Trump merchandise, and gave his verdict on all of Trump's claims of great branding success: "They're crap, they're just crap, all right. Trump Airlines was s#$t — the business defaulted, it was sold off; Trump Water is just generic water he slapped his name on; Trump University's a joke. I mean, I spent all night looking into this stuff. Spoiler Alert: It's all bulls#$t."
Stephen Colbert declared: "That's right, Trump gave his victory speech next to a pyramid of raw steak. He was either trying to prove Mitt wrong — or introducing his new running mate, 'Trump/Pile of Meat 2016.' Good luck telling them apart. It was like watching an infomercial — if he's elected, this would make Trump the first president to come with a sticker, 'As Seen On TV.'"
James Corden said of Trump's wines: "The only thing I can imagine being worse than Trump 2016, is a bottle of 2016 Trump. Also, you can tell that it's Trump's winery — because they only sell white."
Conan O'Brien also looked at the primary result in Michigan: "Almost 40 percent of people who voted for John Kasich said they did so because they don't like the other guys — which explains his new campaign slogan: 'John Kasich, the lesser of four evils.'"
And on The Nightly Show, Larry Wilmore and Mike Yard looked at the zaniest new meme in the presidential contest: the accusation that Ted Cruz is secretly the Zodiac Killer! (Not even the facts that Ted Cruz was born in 1970, but the Zodiac killings began in 1968, aren't stopping this one.) But as Mike pointed out, Ted does want to kill — a lot of government agencies that play an important role in real people's lives.