Latest Gowdy Fakery: Name Of CIA Source In Clinton Email Was No Secret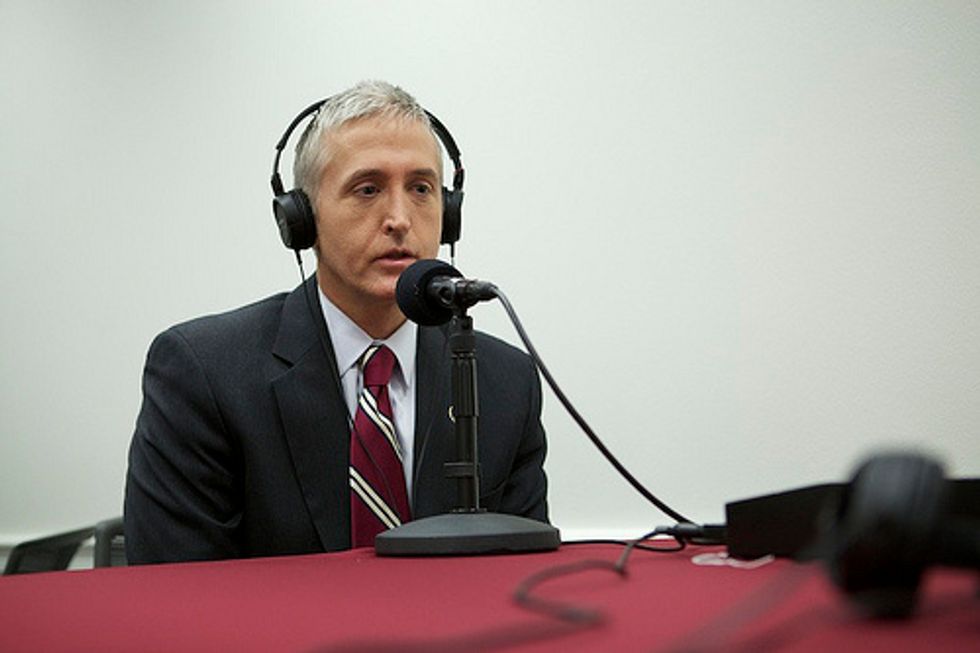 For anyone disappointed by the absence of troubling material from Hillary Clinton's emails – not to mention the cratering of the House Select Committee on Benghazi — Michael Isikoff provided a moment of hope last Monday on Morning Joe. According to the Yahoo News investigative correspondent, one of the emails newly released by the Benghazi committee was "evidence of the commission of a federal crime by someone, not Hillary Clinton," because it included the name of a CIA source in Libya.
Even more thrilling, to some people at least, was the identity of the supposedly incriminating message's author: none other than Clinton's often-demonized friend Sidney Blumenthal (who also happens to be a friend of mine).
"This is maybe the single most problematic email exchange we've seen with Hillary Clinton yet of all the emails that have been raised," explained Isikoff. "What you have there is Blumenthal telling the secretary that somebody at the CIA gave the name of a sensitive human intelligence source to somebody who wasn't at the CIA."
Certainly this appeared to be a damaging story, if accurate – but its origin in Rep. Trey Gowdy's discredited outfit should have raised immediate suspicion. Had any of the journalists covering Gowdy checked carefully, we might have learned earlier what we now know: The CIA had reviewed that same email at the behest of the State Department before it was released and "made no redactions to protect classified information."
In other words, Blumenthal's email naming a certain Libyan political figure – the late dictator Muammar Qaddafi's former intelligence chief Moussa Koussa — did not disclose any classified information, let alone intelligence secrets.
So why did Isikoff – and other credulous journalists – consider that March 18, 2011 email so damaging to Clinton and Blumenthal? Evidently because Gowdy or his staff had redacted the name of the former Libyan official themselves — while adding the usual CIA phrase "redacted due to sources and methods" for dramatic emphasis. As released, the document seemed to show that the agency had blacked out the man's name to protect a source. That was an intentional deception, reminiscent of the dirty trick that got David Bossie fired from the staff of the House Oversight Committee.
On Sunday, Rep. Elijah Cummings, the Benghazi committee's ranking Democrat, sent a stinging letter to Gowdy, which noted that the Republican chairman had accused Clinton of receiving "classified information from Blumenthal—information she should have known was classified at the time she received it," and that Clinton had then "forwarded that information to a colleague — debunking her claim that she never sent any classified information from her private email address."
Wrote Cummings: "To further inflate your claim, you placed your own redactions over the name of the individual with the words, 'redacted due to sources and methods.'  To be clear, these redactions were not made, and these words were not added, by any agency of the federal government responsible for enforcing classification guidelines… Contrary to your claims, the CIA yesterday informed both the Republican and Democratic staffs of the Select Committee that they do not consider the information you highlighted in your letter to be classified."
So here is yet another absurd episode, humiliating both for Gowdy and the journalists who promoted this fraudulent story and highly reminiscent of the bogus "criminal referral" leak that made the front page of the New York Times last summer.
This latest episode is even more clownish than it seems at first glance, however. Far from being secret, the close connection between Moussa Koussa and US intelligence was detailed, at great length, more than eight years ago in former CIA director George Tenet's memoir, At the Center of the Storm (HarperCollins 2007), which was reviewed by CIA censors before publication, of course.
Koussa's CIA ties came up again in March 2011 during Libya's bloody civil war, reported in an excellent story on NBC News' website by senior investigative producer Robert Windrem, just weeks before Koussa defected to the West. (It is worth noting that Windrem's story appeared while Isikoff still worked at NBC News.) And on March 17, 2011, one day before Blumenthal sent the Koussa email to Clinton, the New York Times published a story by Mark Mazzetti and Scott Shane reporting on the Libyan intelligence chief's post-9/11 cooperation with the CIA.
Nevertheless, in Gowdy's effort to stir fake outrage over the Blumenthal email, he described the Koussa disclosure in apocalyptic terms: "This information, the name of a human source, is some of the most protected information in our intelligence community, the release of which could jeopardize not only national security but human lives."
But when his committee released the full email to the press, Gowdy's own staffers failed to redact Koussa's name from the subject line – so it was Gowdy, not Blumenthal or Clinton, who released that "most protected information" to the press and public.
By the way, there is one more angle on Moussa Koussa that sheds a darkly comical light on Gowdy's deep concern for his security. As Tenet explained in his book, the former Libyan intelligence chief is believed by Western intelligence services to have ordered the bombing of PanAm Flight 103 over Lockerbie, Scotland in 1988, killing 259 passengers and crew. So Koussa was probably a murderous terrorist, too.
But at least he isn't Hillary Clinton or one of her friends.
UPDATE: In a new post, Isikoff reports that Gowdy's committee tried to "cover its tracks" after outing Koussa — and examines the context of Koussa's relationship with the CIA.
Photo: Rep. Trey Gowdy (House GOP via Flickr)