The Latest List Of Republicans Not Supporting Donald Trump
@reuters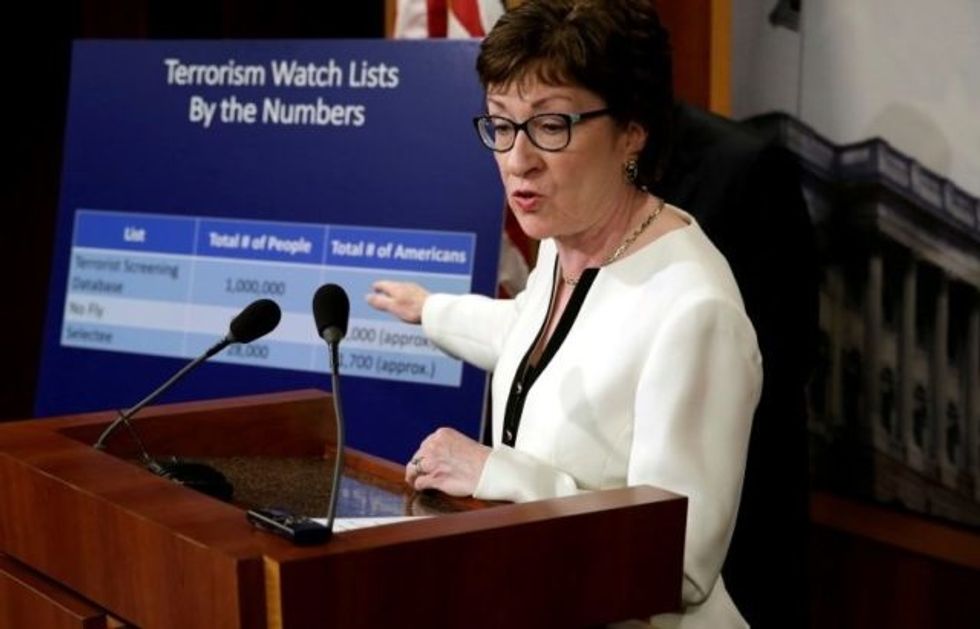 By Susan Cornwell and Richard Cowan
Senator Ben Sasse was in a fairly lonely place when he wrote on his Facebook page back in February that he could not support Republican presidential candidate Donald Trump.
That is changing. Since Sasse, a Nebraska Republican, staked out his position, the ranks of Republican Trump critics in the U.S. Congress have grown, with the New York real estate mogul stirring almost constant turmoil within his party.
The following are Republicans in Congress who have said they will not vote for Trump in the Nov. 8 presidential election, followed by those who have said they are keeping their options open.
WILL NOT VOTE FOR TRUMP
Senator Ben Sasse. Wrote in February he could not support Trump or his Democratic opponent, Hillary Clinton. Sasse wrote: "Mr. Trump's relentless focus is on dividing Americans, and on tearing down rather than building back up this glorious nation."
Senator Lindsey Graham. A strong Trump critic, Graham sought the Republican presidential nomination, but drew little support. He has told reporters he may write in someone for president.
Senator Mark Kirk. The Illinois lawmakers faces a tough battle for re-election and withdrew his endorsement of Trump in June, citing Trump's attacks on "Hispanics, women and the disabled like me." Kirk had a stroke in 2012 and uses a wheelchair. He told CNN on Aug. 10 that he will write in former Secretary of State Colin Powell for president.
Senator Susan Collins. The Maine moderate said in a Washington Post opinion article on Aug. 8 that she will not vote for Trump or Clinton. She has said she may write in another candidate.
Representative Carlos Curbelo. A Cuban-American from Florida, Curbelo was an early Trump critic. "If the nominee is a fraud, and someone who's offensive, and incapable of being an effective president like Donald Trump, I won't support him," Curbelo told Reuters in February.
Representative Justin Amash. A libertarian-leaning Michigan congressman, Amash says Trump's policies go in the wrong direction. "I'm not voting for him," he told Reuters in March.
Representative Ileana Ros-Lehtinen. A Cuban-American whose south Florida district is next door to Curbelo's, Ros-Lehtinen said in May that she will not support Trump or Clinton.
Representative Bob Dold. A longtime Trump critic from Illinois who plans to write someone in.
Representative Adam Kinzinger. Another Illinoisan, Kinzinger told CNN on Aug. 3 he did not see how he could support Trump.
Representative Charlie Dent. The Pennsylvanian said earlier this month he was not planning to vote for Trump or Clinton.
Representative Richard Hanna. On Aug. 2, Hanna, of New York state, became the first House Republican to say he will vote for Clinton. He is retiring from Congress at the end of this year.
Representative Scott Rigell. A Virginian who is also retiring from Congress, Rigell said on Aug. 7 that he would vote for the Libertarian candidate, Gary Johnson.
Representative Reid Ribble. The Wisconsinite already was blasting Trump last September, saying Trump was doing "serious damage" to the Republican brand and that he could not support him. Ribble is retiring from Congress.
HAVE NOT ENDORSED
Some prominent lawmakers have not endorsed Trump, but will not say whether they will vote for him, leaving their options open.
Senator Jeff Flake. The Arizona lawmaker on Aug. 9 said there was "slim hope" he could vote for Trump, and added Trump could not win the presidency unless he changes.
Senator Pat Toomey. A Pennsylvanian in a tight re-election race, Toomey has not endorsed Trump and says he has not made a decision on what he will do.
Senator Ted Cruz. A conservative Texan and former Trump rival for the Republican nomination, Cruz was booed at the Republican convention after he pointedly did not endorse Trump and urged delegates to "vote your conscience."
Senator Mike Lee. A Cruz ally, the Utah senator says he has concerns about whether Trump is conservative enough. "He has not endorsed and he has no plans to do so," a Lee spokesman said.
Representative Mike Coffman. The Colorado lawmaker has not ruled out voting for Trump, but put out a television ad saying "I don't care for him much."
Representative Fred Upton. From Michigan, he says he is not endorsing anyone and has not said for whom he will vote.
(Reporting by Susan Cornwell and Richard Cowan; Editing by Kevin Drawbaugh and Jonathan Oatis)
Photo: Senator Susan Collins (R-ME) speaks at a news conference on Capitol Hill in Washington, D.C., U.S., June 21, 2016. REUTERS/Yuri Gripas