Law Firm That Cleared Christie In Bridge Scandal Donated To Group He Heads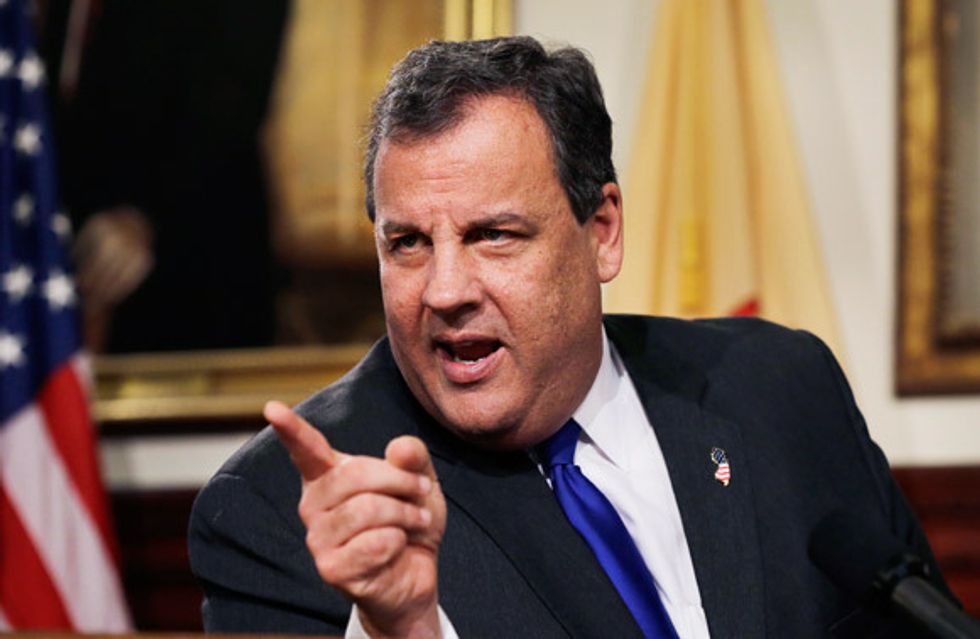 By Michael Linhorst, Melissa Hayes and Herb Jackson, The Record (Hackensack, N.J.)
HACKENSACK, N.J. — The law firm that cleared New Jersey Gov. Chris Christie of any involvement in the George Washington Bridge scandal gave $10,000 to a national political group he heads, a disclosure made public hours after the governor said donors like that should face no limits to the amounts they can give candidates.
Christie, a prolific fundraiser courting donors ahead of a possible presidential campaign, called for eliminating the nation's limits on political donations in a town-hall-style event on Tuesday. Donors should be able to give unlimited amounts of money, he argued, but those gifts should be quickly made public.
The public on Tuesday got its first look at who has donated to the Republican Governors Association in the months since Christie took over as chairman.
That list includes a hedge fund billionaire, large pharmaceuticals companies and Gibson, Dunn & Crutcher — the law firm Christie hired to investigate his office's involvement in the lane closures.
Gibson Dunn gave $10,000 to the RGA on March 18, nine days before a team of its top lawyers made public a report clearing Christie in the bridge scandal. The report, which critics called a "whitewash," said that Christie had no prior knowledge of the lane closures that created huge traffic jams in Fort Lee in September.
The law firm's California office appears to make regular contributions to the GOP group, which Christie has credited with helping him get elected in 2009. A partner in the firm is on a leadership committee at the RGA.
"Money is like water," Christie told a group in Somerset. "No matter how many walls you put up, it finds its way. So let's let the water in and hold people accountable for what they do."
Christie flew to Las Vegas a few weeks ago to curry favor with Sheldon Adelson, the billionaire who spent nearly $100 million backing Republican presidential candidates in 2012. And he has traveled the country in recent months raising money for the RGA.
Many companies make annual contributions to the Republican Governors Association and its Democratic Party counterpart to gain access to events the governors attend.
Gibson Dunn has not donated to the Democratic Governors Association this year and did not make contributions to the group in 2013 or 2012. It made two donations to the RGA in 2012, each for $10,000. The group donated $15,000 in 2011 and $10,000 in 2010 and 2009.
Representatives of the firm did not respond to requests on Tuesday seeking comment on the donations.
The RGA had 60 donors who gave at least $100,000 during the first three months of the year, including seven who gave at least $500,000. The association brought in $22.4 million from January to March this year.
Topping its donor list, at $750,000, was Lawrence DeGeorge of Jupiter, Fla., chief executive of the LPL Investment Group. Hedge fund manager Paul Singer, who was reported to be a guest in the VIP section at Christie's campaign victory party in November, was also among the $500,000 donors.
Two pharmaceuticals companies were the biggest contributors from New Jersey: Bridgewater-based Sanofi Aventis gave $250,000, and Whitehouse Station-based Merck Sharp and Dohme, a subdidiary of Merck & Co., gave $100,000.
Those supporters and others should be able to give unlimited amounts of money, Christie said Tuesday at a town-hall-style event in Somerset. But their gifts should be quickly made public, he said.
"So if somebody wants to write me a $100,000 check for my campaign, great," he said. "But 48 hours later, everybody who has the Internet will know that Mr. Smith gave me a $100,000 check."
Current restrictions on how much a donor can give a candidate — $2,600 per election — push wealthy activists to give money to independent political groups, like super PACs, that can keep their donors secret, Christie said. That creates a system where voters see advertisements supporting or opposing candidates but "have no idea, or little idea, who's funding those efforts," he said.
That argument is similar to the one put forward by New Jersey's nonpartisan Election Law Enforcement Commission, which is pushing for legislation that would require independent groups to regularly disclose their donors. It would also increase contribution limits and streamline various other restrictions in an attempt to direct money back toward political campaigns and political parties, which have to comply with many more regulations than independent groups do.
Despite Christie's apparent distaste for anonymous groups such as super PACs, he received significant support in his re-election last year from those organizations.
Photo: Peter Stevens via Flickr