Lawmakers Ask San Francisco Archbishop Not To Attend Anti-Gay Marriage Rally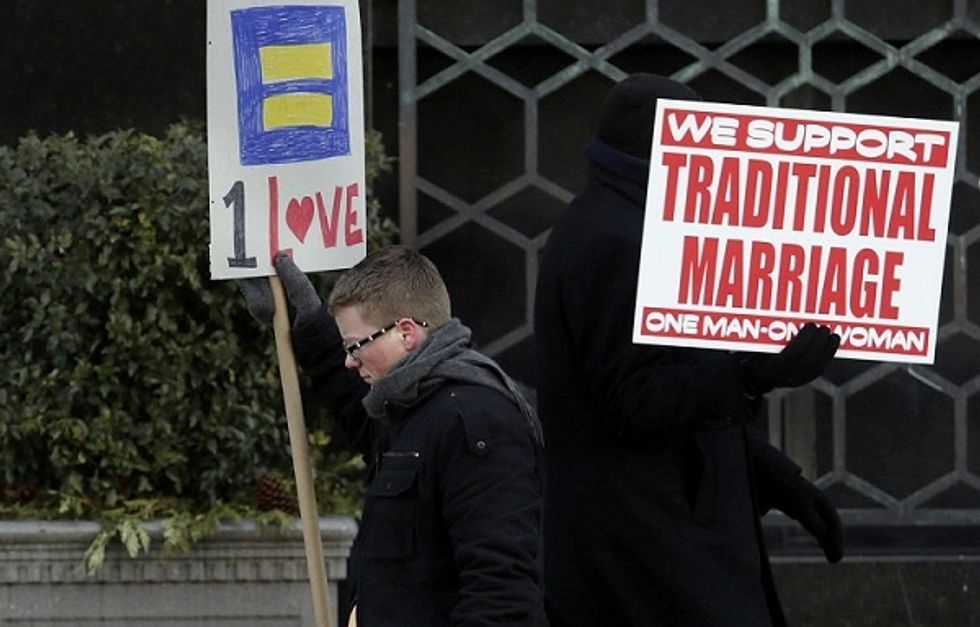 By Lee Romney, Los Angeles Times
SAN FRANCISCO — San Francisco Archbishop Salvatore J. Cordileone has made no secret of his stance on same-sex marriage.
As chair of the United States Conference of Catholic Bishops subcommittee for the promotion and defense of marriage, he backed an amendment to the U.S. Constitution earlier this year that would ban such unions.
And shortly before the U.S. Supreme Court declined to uphold California's same-sex marriage ban last year, Cordileone predicted that the action would result in "a bitterly polarized country divided on the marriage issue for years if not generations to come."
Now, as federal courts in state after state deem such bans unconstitutional — most recently, in Wisconsin last week — Cordileone has become a player in the very debate over polarization.
In a letter Tuesday, 80 lawmakers and faith and community leaders — among them Lt. Gov. Gavin Newsom and San Francisco Mayor Ed Lee — called on Cordileone to cancel his planned appearance at a National Organization for Marriage march and rally in Washington, D.C., on June 19.
If he attends as scheduled, they noted, he will be "marching and sharing the podium" with individuals who "have repeatedly denigrated lesbian, gay, bisexual, and transgender people."
The letter then quotes other event participants who have likened homosexuality to incest and bestiality.
By standing alongside those participants and organizers, "you appear to be endorsing their troubling words and deeds, which directly contradict the U.S. Conference of Catholic Bishops' pastoral teaching that 'God does not love someone any less simply because he or she is homosexual. God's love is always and everywhere offered to those who are open to receiving it,' " they wrote.
In addition to Newsom and Lee, signatories include state Assemblymen Tom Ammiano and Rich Gordon; state Sen. Mark Leno; and dozens of civil rights, gay rights and faith leaders from the San Francisco Bay Area, Los Angeles, San Diego and elsewhere.
"Many people of faith who have different opinions on the question of civil marriage for same-sex couples have come together in respectful dialogue and discernment to discuss those differences," the letter states. "We ask that you will reconsider your participation and join us in seeking to promote reconciliation rather than division and hatred."
Both the letter and an online petition that calls on Cordileone to cancel his appearance and had amassed nearly 20,000 signatures by Wednesday afternoon referenced the compassionate approach Pope Francis has taken toward homosexuality.
"We appreciate the many statements from Catholic leaders defending the human dignity of all lesbian, gay, bisexual and transgender people, especially the recent words of Pope Francis: 'If someone is gay, who searches for the Lord and has good will, who am I to judge?' " the letter said.
The archdiocese did not respond to a request for comment Wednesday afternoon.
The 2012 selection of Cordileone as San Francisco's archbishop was dubbed the "Bombshell by the Bay" because he had been a key backer of Proposition 8, the same-sex marriage ban.
The son of a commercial fisherman who is fluent in Spanish and Italian, he is known as a charming and brilliant defender of the faith and is a deep believer in a path to citizenship for undocumented immigrants.
But many gay and lesbian Catholics worried that they would be marginalized after Cordileone's arrival. In an interview with the Los Angeles Times shortly before he assumed his lead post here, he said gays and lesbians who are in sexual relationships of any kind should not receive the sacrament of Holy Communion, the central ritual of Catholic life.
"If we misuse the gift of sexuality, we're going to suffer the consequences," he said, "and I firmly believe we are suffering the consequences."
Mandi Wright/Detroit Free Press/MCT