Lawyer Explains: His Client Trump Misled Him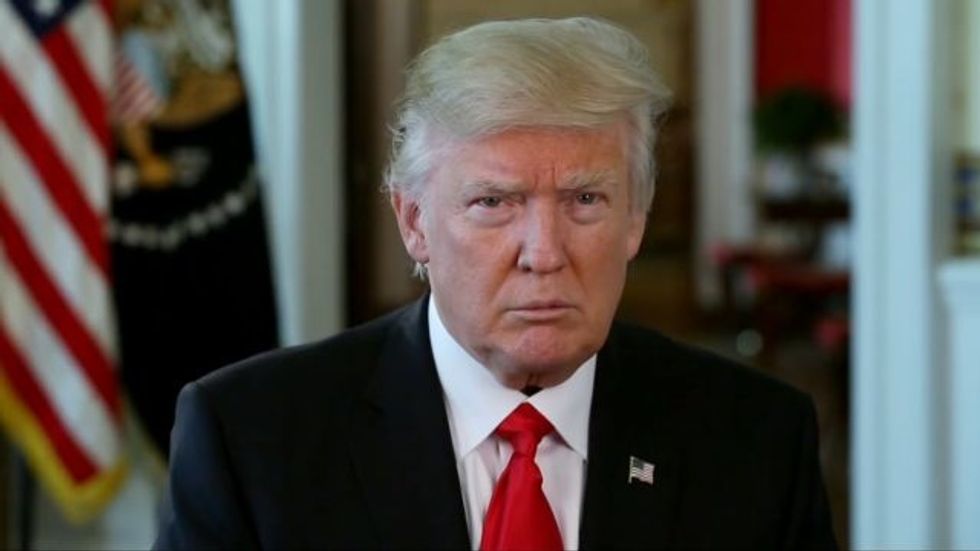 Reprinted with permission from Shareblue.
Trump attorney Jay Sekulow is finding out just how dirty a job he has in defending Trump — a job that includes publicly admitting his client is a liar who gave him "bad information" about a major scandal.
On Sunday morning's edition of "This Week," host George Stephanopoulos confronted Sekulow over his constantly shifting explanations for Trump's role in devising a cover story for Donald Trump Jr.'s meeting with Russian agents at Trump Tower.
First, Stephanopoulos showed video of Sekulow denying that Trump had anything to do with the bogus cover story — and reminded Sekulow that White House Press secretary Sarah Huckabee Sanders later admitted that Trump "weighed in" about the Trump Tower cover story, but that he "certainly didn't dictate" it.
Finally, Stephanopoulos reminded Sekulow that Trump did, in fact, dictate the statement — as Trump's own legal team, including Sekulow, eventually admitted.
"So why did you deny President Trump's involvement?" Stephanopoulos asked. "When did you learn that the denial wasn't true?"
Sekulow first tried to make excuses about having been new to the case at that point.
But then he finally admitted that he made a "mistake" because Trump gave him "bad information" about Trump's own role in the coverup.
"I had bad information at that time, and made a mistake in my statement," Sekulow said.
Sekulow avoided using Trump's name, and avoided using the word "lie."
But the implication of his delicately phrased remark is clear: Trump told Sekulow that he had nothing to do with his son's false statement about Trump Tower. Sekulow made the mistake of believing him — and shared his lie with the American public on national TV.
Sekulow added that "over time, facts develop. That's what investigations do."
"I agreed to go on your network, and others, days within being retained on this and had a lot of information to process," he continued. "I got that one wrong."
In other words, as national security reporter Marcy Wheeler put it: "[Sekulow] made it clear that Trump lied to him at the start, but that it was only after time (and the realization they couldn't pull off the lie) that the White House settled on some version of the truth."
Sekulow's comments come at a particularly awkward time, as Trump spent his Sunday morning admitting that the true purpose of the 2016 meeting was to collude with Russian agents — not to discuss adoptions, as Trump's original cover story stated.
Sekulow took pains to point out that lying to the press is not illegal, but lying to special counsel Robert Mueller is.
However, as Trump weighs sitting down for an interview with Mueller, Trump's Sunday morning tweet indicates that he is willing to deny knowing about the meeting at the time.
Last July, Trump told reporters that he may have been told about the meeting, but maintained he wasn't aware of the subject matter.
That exchange was scrubbed from a White House transcript of the conversation, and Trump has never been asked publicly to reconcile that revelation.
But Trump's former personal lawyer, Michael Cohen, is reportedly prepared to testify that Trump did, in fact, know about and approve of the meeting in advance — and that he did so in the presence of multiple witnesses.
Trump's other lawyer, Rudy Giuliani, has apparently learned not to ask questions he doesn't want to know the answers to. He recently said he didn't know whether Trump knew about the meeting, even after Trump claimed publicly that he did not.
Trump can get away with lying to reporters, to the American people, and even to his own lawyers — but he won't be able to get away from Robert Mueller's investigation into whether he and his campaign associates committed crimes.
Published with permission of The American Independent.