Leaders To Meet Putin After G7 Sanctions Warning
@AFP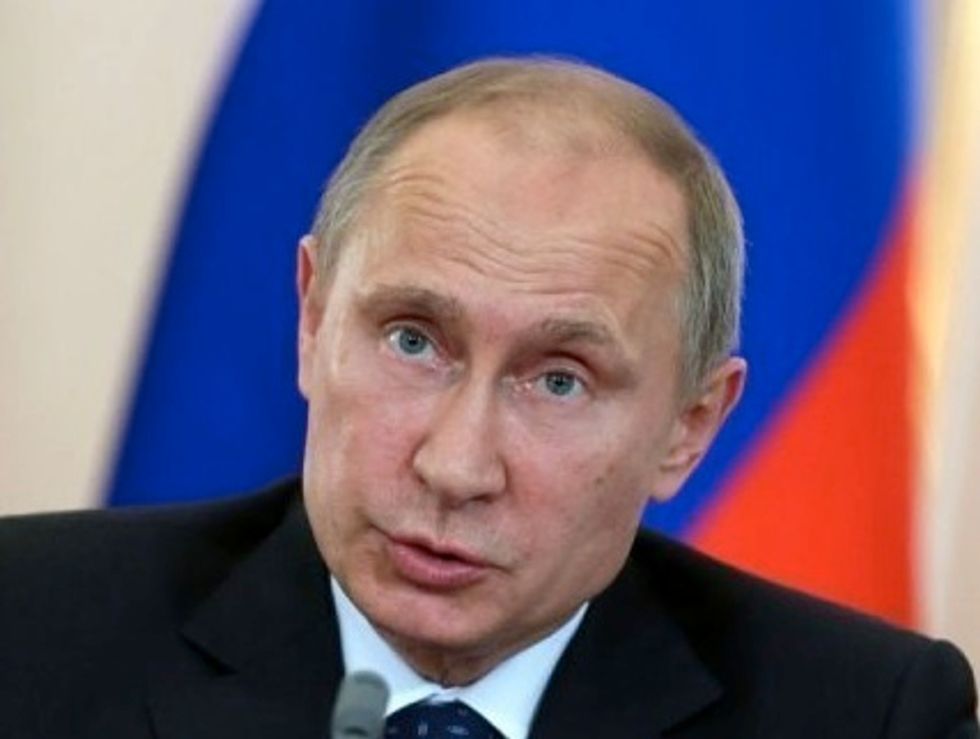 Brussels (AFP) – Western leaders come face-to-face with President Vladimir Putin in Paris on Thursday for the first time since Russia seized Crimea, after a blunt G7 warning that Moscow must stop destabilizing Ukraine or face further sanctions.
Most of the leaders gathered for this week's Group of Seven summit in Brussels will be heading to Paris ahead of Friday's D-Day commemorations in Normandy, where they will rub shoulders with the Russian president.
Excluded from the G7 talks over Crimea, Putin on Wednesday reached out to the West saying he was ready to meet Ukraine's president-elect, Petro Poroshenko.
"I don't plan to avoid anyone," Putin said.
The Russian president also signaled his willingness to sit down with U.S. President Barack Obama, but scathingly dismissed claims of military intervention in Ukraine.
"It is his choice, I am ready for dialogue," Putin said, before launching into a jibe about the U.S. invasion of Iraq.
"Proof? Let's see it!" he said. "The entire world remembers the U.S. secretary of state demonstrating the evidence of Iraq's weapons of mass destruction, waving around some test tube with washing powder in the UN Security Council."
Obama has shown little sign he wants to sit down with Putin, having condemned Russia's "dark tactics" in Ukraine in a hawkish speech in Poland reminiscent of Cold War times.
French President Francois Hollande, who will meet the Russian and U.S. leaders separately in Paris, has said "dialogue and deescalation must be encouraged".
Putin is also slated to meet German Chancellor Angela Merkel and British Prime Minister David Cameron, who said he would deliver a similar message of dialogue.
After talks Wednesday, a Group of Seven statement said Russia must recognize the results of Ukraine's May 25 presidential election, won by tycoon Petro Poroshenko, stop destabilizing the country and withdraw Russian troops from the border.

Failing that, the G7 — Britain, France, Germany, Italy, Japan, Canada and the United States — were ready to "intensify targeted sanctions and to implement significant additional restrictive measures … should events so require."
Merkel, however, tempered the message by saying European leaders would "take stock" of Russian actions at an end-June summit.
She said "the main thing is to be constructive," with further sanctions only if there is "no progress whatsoever."
The G7 talks wrap up Thursday afternoon with a focus on the outlook of the global economy — where once again there is no escaping the Ukraine crisis.
"The use of energy supplies as a means of political coercion or as a threat to security is unacceptable," a draft communique on Thursday's session reads.
"The crisis in Ukraine makes plain that energy security must be at the center of our collective agenda," it said.
The European Union depends on Russia for about 30 percent of its gas supplies, with half of that transiting via Ukraine.
Russia turned off the taps in 2006 and 2009 in previous disputes with Ukraine, causing huge disruption in Europe, and has threatened to do so again if Kiev does not pay its bills.
The answer has to be a "step change" in policy, leading to diversification of supply to reduce dependence on Russian gas and also to help meet climate change goals.
While the Ukraine crisis dominates the headlines, the broader economic outlook remains a central concern even if the worst of the fallout from the 2008 global financial crisis is easing.
"Supporting jobs and growth remains our top priority," the G7 draft said, noting that unemployment remains stubbornly high despite some recovery.
Strengthening the financial sector, curbing tax evasion and securing major free trade agreements all have their part to play in keeping the economy on track, the draft said.
"We reaffirm our commitment to keep our markets open and to fight all forms of protectionism," it added.
AFP Photo/Maxim Shipenkov