Leading Climate Scientist: World's Global Warming Clock Is 'Five Minutes Before Midnight'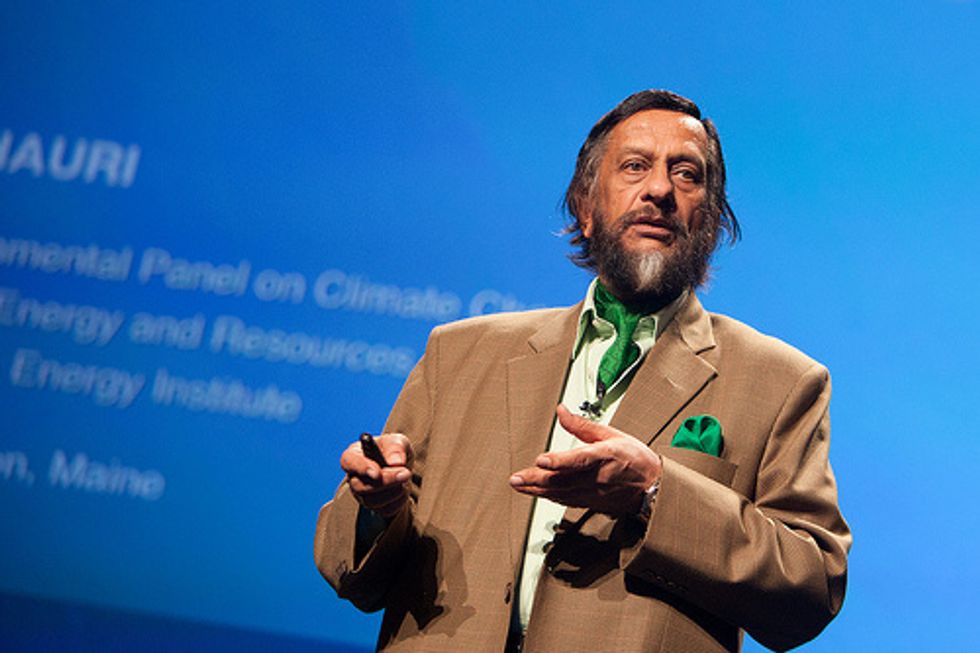 Rajendra Pachauri, one of the lead scientists for the Intergovernmental Panel on Climate Change (IPCC), warned on Monday that the world is "five minutes before midnight" with regards to climate change.
Speaking at a conference marking the 20th anniversary of the founding of Green Cross International, Pachauri said, "May I submit that humanity has completely ignored, disregarded and been totally indifferent to the debits?"
"Today we have the knowledge to be able to map out the debits and to understand what we have done to the condition of this planet," he added.
The IPCC is set to release the first of a three-volume report card on climate change, titled the Fifth Assessment Report, on September 27.
A leaked draft of the report revealed strong evidence that humans are the cause of climate change. The report states that sea levels could rise three feet by the end of the century, and also rejects the idea that the climate change is slowing down.
Contrary to the available evidence, most congressional Republicans and many other conservatives insist that climate change is a hoax. CNBC anchor Joe Kernen has called climate science a "cult," Senator Rand Paul (R-KY) has claimed that the climate is better now than ever before, and Representative Paul Ryan (R-WI) has even asserted that colder-than-average days are a clear sign that global warming is not occurring and climate change is an idea fabricated by the left. Representative Paul Broun (R-GA) has said, "Scientists all over this world say that the idea of human-induced global climate change is one of the greatest hoaxes perpetrated out of the scientific community. It is a hoax. There is no scientific consensus."
The IPCC is made up of hundreds of scientists from around the world who refute these irresponsible statements — 97 percent of climate scientists agree that climate change is caused by human activity. Perhaps more importantly for Broun, Paul, and Ryan, 58 percent of registered voters say they will consider a candidate's position on global warming when deciding how to vote, according to a recent report from the Yale Project on Climate Change Communication and George Mason University Center for Climate Change Communication
A previously released report from the IPCC advised that if nothing is done to improve pollution and greenhouse gas emissions, there will be an increase in species extinctions, as well as in "droughts, heatwaves and floods, affecting food security and water supplies for many millions."
Pachauri's speech on Monday and the report that will be released at the end of September is the result of a non-partisan group made up of climate scientists who are gravely warning how ignoring these issues of climate change can and will affect us in the future.
"We cannot isolate ourselves from anything that happens in any part of this planet. It will affect all of us in some way or the other," Pachauri said.
H/T: The Raw Story
Photo: Kris Krug via Flickr.com