At Least 15 Dead As Islamists Strike Again On Kenyan Coast
@AFP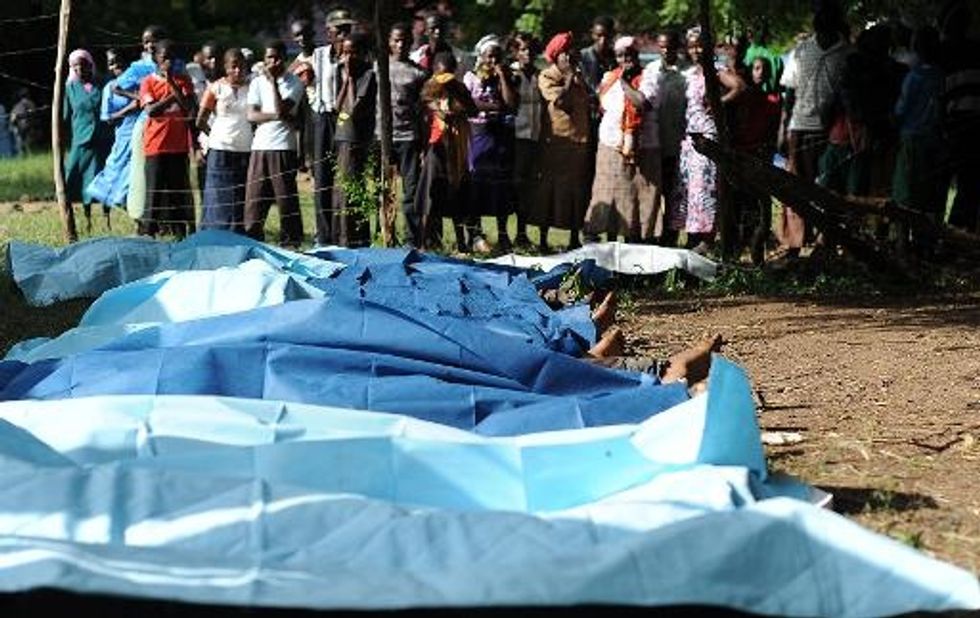 Mpeketoni (Kenya) (AFP) – At least 15 people have been killed in a new attack near Kenya's coast, officials said Tuesday, just 24 hours after Somalia's Shebab rebels massacred close to 50 people in the same area.
The Al-Qaeda-linked Islamist group said its fighters carried out the latest attack on a village, and that its commando unit had managed to return to base unhindered after two nights of carnage.
"We carried out another attack last night. We killed 20 people, mainly police and Kenyan wildlife wardens. The commandos have been going to several places looking for military personnel," Shebab's military spokesman Abdulaziz Abu Musab told AFP by telephone.
"The commandos have fulfilled their duties and returned peacefully to their base," he added, without saying if the attackers were still inside Kenya or had driven back across the Somali border, around 60 miles to the north.
Police confirmed the gunmen, apparently part of the same group that massacred nearly 50 people in the town of Mpeketoni overnight Sunday, attacked the village of Poromoko, also situated in Lamu county, late on Monday.
Kenyan police spokeswoman Zipporah Mboroki confirmed the new attack — which came as top officials were flying in to the area to coordinate security operations — and security sources said there were 15 dead.
Sunday night's assault on Mpeketoni, near the coastal island and popular tourist resort of Lamu, was the worst attack on Kenyan soil since last September's siege of the Westgate shopping mall in the capital Nairobi, in which 67 people were killed.
Witnesses described how the militants drove into the predominantly Christian town on Sunday night, attacked a police station and then hotels and homes. The gunmen also singled out non-Muslims for execution, sparing Muslim men as well as women and children.
"They arrived and asked people to get out. They asked them to lie down, and then they shot them one by one, right in the head, one after another," said David Waweru, who was watching a World Cup match in a cafe but managed to hide behind a house when the Mpeketoni attack started.
Shebab said the attack was further retaliation for Kenya's military presence in Somalia as well as the "Kenyan government's brutal oppression of Muslims in Kenya through coercion, intimidation and extrajudicial killings of Muslim scholars".
Kenyan troops crossed into southern Somalia in 2011 to fight the Shebab, later joining the now 22,000-strong African Union force battling the militants and supporting the war-torn Horn of Africa nation's internationally-backed but fragile government.
Several fundamentalist clerics have also been murdered in Kenya's port city of Mombasa in recent years, with rights groups accusing the Kenyan government of carrying out extra-judicial killings.
Shebab also declared Kenya a "war zone" and warned tourists and foreigners to stay out of the country, once a top beach and safari destination but now facing a sharp drop in tourism revenue due to political tensions, rising violent crime and the wave of shootings and bombings blamed on the Shebab.
"Foreigners with any regard for their safety and security should stay away from Kenya or suffer the bitter consequences of their folly," Shebab said in a statement on Monday.
"We hereby warn the Kenyan government and its public that as long as you continue to invade our lands and oppress innocent Muslims, such attacks will continue and the prospect of peace and stability in Kenya will be but a distant mirage," the group said.
Mpeketoni was extremely tense on Tuesday, with residents fearing new attacks despite the presence of police and paramilitary reinforcements, AFP correspondents said.
"People thought it was over yesterday but when we heard the news of this morning, the mood became very bad," said David Njoroge, a 54-year-old local pastor.
"Here we are Christians and Muslims, and all the people killed were Christians. The tension is starting to grow."
Photo: Simon Maina via AFP