At Least 26 Dead In Taiwan Gas Explosions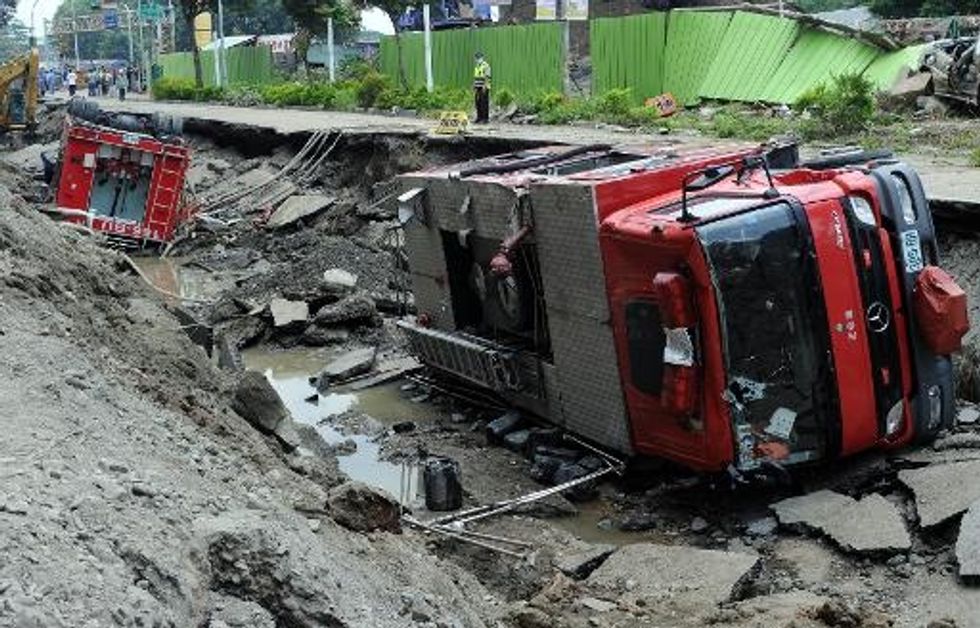 By Yu-Tzu Chiu, dpa
TAIPEI, Taiwan — At least 26 people were killed and some 270 injured in several explosions caused by gas leaks in the southern Taiwanese city of Kaohsiung, local authorities said Friday.
Four firefighters were among the dead. They had been called to the scene late on Thursday after the underground explosions cratered large boulevards and rendered streets impassable by ambulances.
The explosions caused houses to collapse and cars to overturn along six kilometers of road, local media reported.
"Based on our preliminary investigation, the gases spilled include propene," Minister of Economic Affairs Chang Chia-juch told a news conference in Taipei, referring to a highly flammable, nearly odorless petrochemical that runs through an underground pipeline in the city.
Chang said the source of the gas, a by-product in the processing of fossil fuels, had been cut off. Kaohsiung is one of Taiwan's centers of petrochemical production.
Thousands of emergency workers and soldiers were called to help with the rescue effort early Friday. Local TV showed residents joining firefighters Friday in the search for possible survivors.
More than 12,000 families lost their electricity supply. Natural gas lines connecting 23,000 household users were also cut, Kaohsiung's local government said.
Some residents interviewed by local broadcasters expressed their terror in the wake of the explosions, saying that the resultant chaos had felt like a war.
More than 1,000 residents in the affected area have been evacuated to schools nearby, according to the local government. Several people were reported missing, including city officials who arrived at the scene late Thursday.
Kaohsiung Mayor Chen Chu said several petrochemical companies had pipelines in Chian-Chen district where the explosion occurred. The district contains both factories and residential buildings.
Premier Jiang Yi-huah arrived in Kaohsiung Friday afternoon, expressing his condolences to affected residents.
Residents complained about the city's slow response to the disaster. A resident interviewed by TVBS said that he had reported a gas smell to the police three hours before the explosions. "But none of them took action to cut off the pipes. Why not?" he said.
Jiang ordered that, beginning Aug. 5, flags in Taiwan would fly at half-mast for three days after the July 31 Kaohsiung explosions and the plane crash on July 23 on Penghu Island.
President Ma Ying-jeou also expressed his condolences to the victims' families and said Friday that pipes used by petrochemical plants under all urban areas in Taiwan would be checked.
The state-run Central News Agency reported Friday that three major underground pipes in Chian-Chen district, where the explosion occurred, are managed by three companies.
CPC Corporation vice president Chang Ray-chung said a pipe leading to its Kaohsiung plant, which is an integrated oil refining and petrochemical production facility, remained normal Friday.
The other two pipelines are managed by LCY Chemical Corp and China Petrochemical Development Corporation. Both denied any involvement in the blasts, local media reported.
LCY Chemical Corp, which makes petrochemical products, denied accusations of poor management of its propene pipes Friday. Local newspapers reported there was something wrong on Thursday during the transmission of propene from China General Terminal & Distribution Corporation to LCY.
LCY spokeswoman Abby Pan told a news conference Friday afternoon that the pipes on the scene of the explosions are larger than LCY's. "Those are large diameter pipes, whose diameter is 8 inches (20 centimetres). The diameter of our pipes is 4 inches," she said.
Kaohsiung-based environmental groups Friday urged the government to make public the map of all the underground pipelines built by petrochemical companies.
"The government should increase its capacity to deal with emergencies of chemical accidents. The city should stop setting up more petrochemical companies. Don't risk our lives," Lee Ken-cheng of Citizen of the Earth Taiwan told a news conference.
AFP Photo/Sam Yeh
Interested in world news? Sign up for our daily email newsletter!