LeBron James To Rejoin Cleveland Cavaliers
@AFP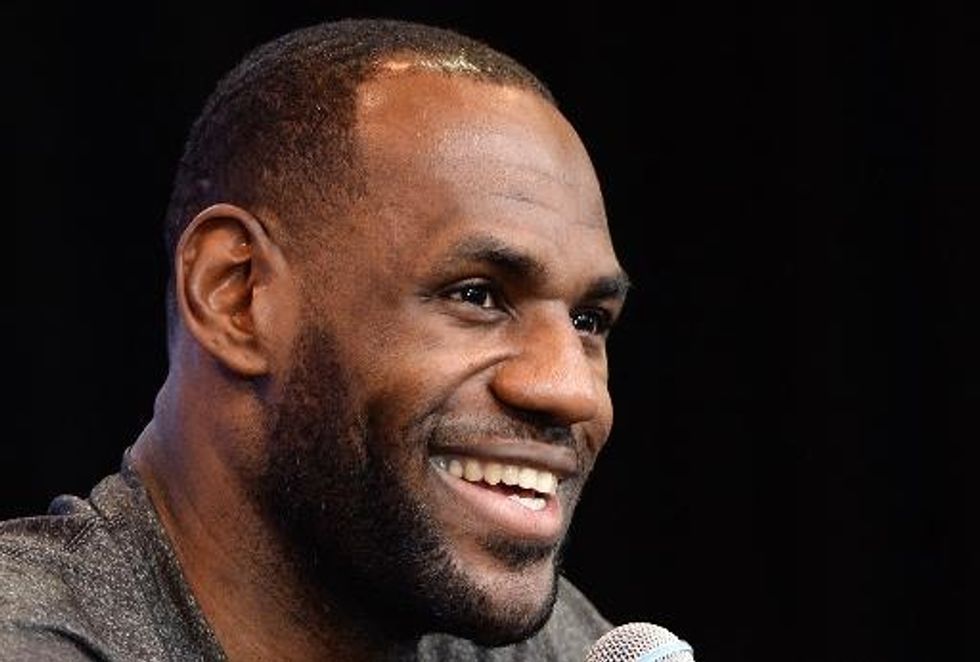 New York (AFP) – After leading the Miami Heat to two NBA titles, LeBron James is heading home to Ohio.
The 29-year-old superstar playmaker announced Friday that he will rejoin the Cleveland Cavaliers, the hometown club he spurned just four years ago.
The dramatic move from the four-time NBA Most Valuable Player ended days of speculation about his free agency choice, which had Cleveland fans in a frenzy of anticipation.
"In Northeast Ohio, nothing is given. Everything is earned. You work for what you have," James, who grew up just south of Cleveland in Akron, told Sports Illustrated in a first-person essay.
"I'm ready to accept the challenge. I'm coming home."
James posted a photo of himself in a Cavaliers uniform on Instagram and Twitter with the phrase "I'm coming home."
He nevertheless warned Cleveland fans — who were celebrating in the streets outside the team's arena with such banners as "King James Has Returned" — not to expect instant success.
"I'm not promising a championship. I know how hard that is to deliver," James said.
"We're not ready right now. No way. Of course, I want to win next year, but I'm realistic. It will be a long process, much longer than it was in 2010. My patience will get tested. I know that."
The Las Vegas Hotel and Casino Superbook oddsmakers quickly made the Cavaliers a 3-1 favorite to win the 2015 NBA title ahead of 4-1 for the San Antonio Spurs, who beat James and the Heat in last month's NBA Finals.
James, who opted out of his Miami contract two weeks ago to become a free agent, leaves behind teammates Dwyane Wade and Chris Bosh — the end of an era in which James became an NBA champion.
"I went to Miami because of D-Wade and CB," James said.
"I believed we could do something magical if we came together. And that's exactly what we did! The hardest thing to leave is what I built with those guys."
James joins a young squad with new coach Dave Blatt, star guard Kyrie Irving and this year's top NBA draft pick, guard Andrew Wiggins, that could be a contender for years to come.
"I get a thrill out of bringing a group together and helping them reach a place they didn't know they could go," James said.
"I see myself as a mentor now and I'm excited to lead some of these talented young guys."
The wait for James to make his decision shut down most major free agency decisions in the league, and kept fans in Miami and Cleveland riveted to U.S. sports television networks.
"I always believed that I'd return to Cleveland and finish my career there. I just didn't know when," James said.
"My goal is still to win as many titles as possible, no question. But what's most important for me is bringing one trophy back to Northeast Ohio."
Not since the 1964 Cleveland Browns won the National Football League crown has the city known a major sports champion.
When the news broke, Twitter's trending topics quickly included #BackToCleveland, Coming Home and Good for Lebron.
Cavaliers owner Dan Gilbert, who called James a coward for leaving, offered quick praise for his new star on Twitter.
"Welcome Home @kingjames. I am excited for the fans and people of Cleveland and Ohio. No fans and people deserve a winner more than them," Gilbert said.
"My 8-year-old: "Daddy, does this mean I can finally wear my Lebron jersey, again?" … Yes it does, son. Yes it does!"
James said he and Gilbert had made peace.
"I've met with Dan, face-to-face, man-to-man. We've talked it out," James said. "Everybody makes mistakes. I've made mistakes as well. Who am I to hold a grudge?"
Miami Heat owner Micky Arison was unhappy but thanked James, saying on Twitter: "I am shocked and disappointed in today's news. However I will never forget what Lebron brought us for 4 years. Thanks for memories @KingJames."
James was selected by Cleveland as the top pick of the 2003 NBA Draft and guided the Cavaliers to their only NBA Finals in 2007, where they were swept by San Antonio.
In 2010, James became a free agent and staged a television show on ESPN called "The Decision" on which he announced he was leaving for Miami.
This time, James said he released the news in an essay because he wanted an "uninterrupted" chance to explain his decision.
"I'm not having a press conference or a party. After this, it's time to get to work," said James, who nevertheless was planning to attend the World Cup final in Brazil.
"If I had to do it all over again, I'd obviously do things differently, but I'd still have left."
James recalled the anger that greeted his departure four years ago, which prompted Cleveland fans to burn James jerseys, but explained he came to understand both sides.
"What if I were a kid who looked up to an athlete and that athlete made me want to do better in my own life and then he left? How would I react?"
AFP Photo / Robyn Beck
Interested in sports news? Sign up for our daily email newsletter!