Legislative Panel Wants Documents From Christie's Internal Bridge-Scandal Inquiry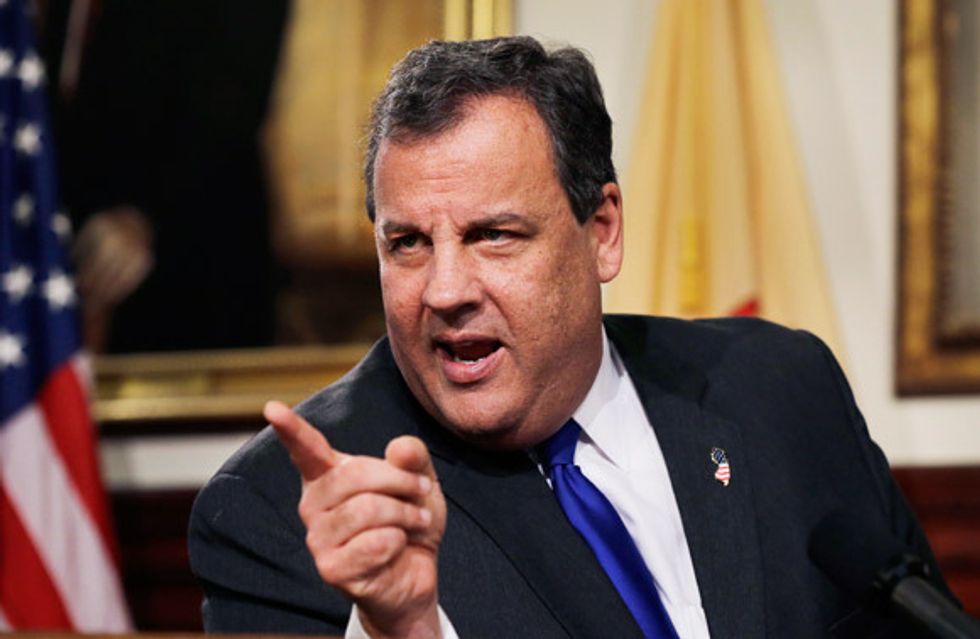 By Melissa Hayes, Michael Linhorst and John Reitmeyer, The Record (Hackensack, N.J.)
TRENTON, N.J. — Lawmakers investigating the George Washington Bridge lane closures gave New Jersey Gov. Chris Christie's lawyers one week to produce details of their review, a request made while legislators wait for a key court ruling and consider their next moves as a federal criminal probe appears to intensify.
The New Jersey Legislative Select Committee on Investigation met Tuesday for the first time since the team of former federal prosecutors hired by Christie's office issued the report that said the governor had no direct involvement in the politically motivated lane closures.
Tuesday's meeting saw a marked rise in partisanship — Republicans and Democrats raised their voices for a heated exchange that took up much of the 12-minute public hearing. Republicans called on the committee to discuss bills that would change the Port Authority, and Democrats pushed back that it must first get to the bottom of who carried out the lane closures and for what reason. The political bickering came a day after Senate President Stephen Sweeney, a Democrat, questioned whether the committee should stop its work if a judge doesn't order two key witnesses — Christie's former deputy chief of staff, Bridget Anne Kelly, and former campaign manager Bill Stepien, who have cited their constitutional right against self-incrimination — to turn over documents.
The committee is trying to determine its next steps as it awaits the decision of a state Superior Court judge.
Also unclear is what role the committee can play as federal prosecutors appear to be ramping up their investigation. A federal grand jury heard testimony from Christie's press secretary, Michael Drewniak, on Friday. There are also media reports that David Wildstein, a former Christie appointee at the Port Authority, met with federal investigators for several days.
Sweeney (D-Gloucester), told The Star-Ledger's editorial board Monday that if the judge rules against the committee, it should stop its investigation and let the federal inquiry go forward. Sweeney later issued a statement saying he supports the committee's work and it should consider all of its options — including an appeal — if the judge does not rule in its favor.
Assemblyman John Wisniewski, co-chairman of the committee, said the panel's lawyer has been speaking with the U.S. Attorney's Office and said he is confident the committee's work will not interfere with the federal probe. He said the two investigations have different goals; federal prosecutors could bring criminal charges, while the committee is working to propose legislation.
Some Republican members of the committee raised concerns about the dueling investigations. Assemblywoman Holly Schepisi, an attorney from River Vale, cautioned that problems could arise if the panel calls key witnesses who may also be asked to testify before a grand jury.
"We have to ensure we're keeping in contact with the U.S. Attorney's Office and at any time if we're told to back off that, we back off," she said.
It's unclear how much all of these investigations are costing taxpayers. The panel's attorney, Reid Schar, submitted a $200,000 bill for work through Jan. 31. Acting Attorney General John Hoffman testified before the Senate Budget and Appropriations Committee on Tuesday that the law firm handling the internal review has not submitted bills. The legislative committee's attorney is billing at a rate of $350 an hour; the governor's office is paying $650 an hour.
Wisniewski, D-Middlesex, and co-chairwoman state Sen. Loretta Weinberg (D-Teaneck), said the committee is trying to obtain information from Gibson, Dunn & Crutcher, the law firm Christie's office hired to complete the internal review and represent it in the ongoing legislative and federal investigations. That report, which blames Kelly and Wildstein for the lane closures, cites interviews with 70 individuals — including Christie and Lt. Gov. Kim Guadagno, who is at the center of the Hoboken mayor's allegations that the administration threatened to withhold Superstorm Sandy aid if she didn't fast-track a development.
Weinberg said the committee does not have a complete list of those interviewed and Wisniewski said he does not believe they were taped or transcribed. But he said the committee should get any documents detailing those interviews. He said if the committee does not receive the information by the end of the week it would issue subpoenas either to Christie's office or Gibson Dunn.
"They've indicated a desire to work with our counsel to turn over documents," Wisniewski said. "But that indication has stopped short of saying, 'Yes, here they are.' "
Investigative team leader Randy Mastro, a former federal prosecutor and member of former New York City Mayor Rudy Giuliani's Cabinet, said his office has been working with the committee's attorney.
"We reached out to counsel for the committee over a week ago to discuss sharing voluntarily the interview memoranda regarding the lane realignment upon which our report was partially based," Mastro said in a statement released by the governor's office Tuesday. "In light of the committee's statements this afternoon, we will look forward to continuing that cooperative dialogue."
The Republicans on the committee pushed for the panel to take action on a package of bills they proposed in late February that they say would bring more transparency to the Port Authority. The suggestion set off a heated debated during the public meeting before the group moved behind closed doors to meet with its attorney.
Assemblywoman Amy Handlin (R-Monmouth), said the committee should be taking action now to reform the Port Authority. She noted that while the committee has already been billed more than $200,000 for Schar's work through Jan. 31, GOP members have been asking for itemized bills, which they have not yet received.
"For every dollar that we spend here, the Port Authority is spending $100, $1,000 or $10,000 in a way that is completely dysfunction(al), even parasitic," she said. "It's been going on for years, we all know that. This committee has been allowing it to willfully go on for the 82 days that we have been in existence."
Wisniewski, though, said the committee must first get to the root of the lane closures before it can decide what action to take. He accused Handlin of "showboating."
"We're going to get one opportunity to do this and do it right," he told reporters after the meeting. "So speed is not high on our list. Doing it right is."
Schepisi said after the meeting that the Republicans were only trying to begin a discussion on the bills and said they also support continuing the legislative investigation.
"There's no reason why the two things can't happen at the same time," she said.
Behind closed doors, Wisniewski said the lawmakers "heard our counsel's assessment" of the Gibson Dunn report, which was released last month, which blamed Kelly and Wildstein with carrying out the lane closures in an act of political retribution against Fort Lee Mayor Mark Sokolich.
Photo: Peter Stevens via Flickr