Leonard Nimoy Dies At 83
@AFP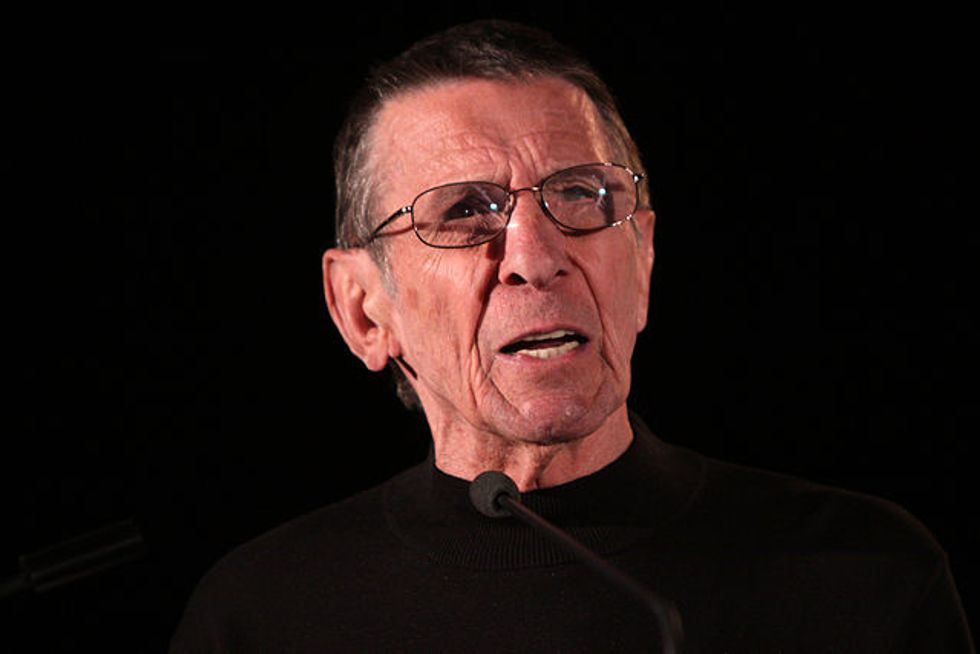 Los Angeles (AFP) — Actor Leonard Nimoy, who won fans worldwide for his generations-spanning role as the pointy-eared half-human half-Vulcan Mr Spock in the Star Trek television and film franchise, died Friday at age 83.
Nimoy, who suffered from chronic obstructive pulmonary disease, died at his home in Los Angeles. His granddaughter Dani announced the death on his Twitter account.
"He was an extraordinary man, husband, grandfather, brother, actor, author — the list goes on — and friend. Thank you for the warm condolences. May you all LLAP. Dani," she wrote, using the acronym for one of Spock's most famous sayings — "Live long and prosper."
In his last tweet, posted Monday under his handle @TheRealNimoy, Nimoy himself said: "A life is like a garden. Perfect moments can be had, but not preserved, except in memory. LLAP"
Tributes quickly poured in from castmates, other actors, fans and the science community.
"I loved him like a brother. We will all miss his humor, his talent, and his capacity to love," said William Shatner, who played the hot-headed Captain James T. Kirk on the ground-breaking Star Trek, which debuted in the 1960s.
"Certainly he was a brilliant actor. But he also believed in working collaboratively," George Takei, who portrayed Mr Sulu on the sci-fi show, told CNN. "Leonard was also a very dear friend."
"Rip Leonard Nimoy. So many of us at NASA were inspired by Star Trek. Boldly go…" the US space agency said on Twitter.
Career-defining role
Born in Boston on March 26, 1931 to Jewish immigrant parents from what is now Ukraine, Nimoy left for Hollywood at the age of 18, winning a sprinkling of small parts in 1950s television series.
With his squared jaw and serious features, Nimoy worked his way into showbiz playing cowboy characters and lawmen before he found a niche that would last a lifetime in science fiction flicks.
In 1966, he was cast in his greatest role as the ever-logical Spock, in the television show Star Trek. Aboard the spaceship USS Enterprise, science officer Spock and its crew ventured around the galaxy exploring new worlds in death-defying odysseys.
Spock was the cool counterpoint to Kirk, played by Shatner, and the even-tempered sparring partner of ship doctor Leonard "Bones" McCoy, played by DeForest Kelley.
The trinity had ratings-boosting chemistry that sustained Star Trek during its initial four-year run.
The character Spock would be resurrected for several feature films after Star Trek snowballed into a cultural phenomenon in the 70s and 80s, making Spock's Vulcan salute and salutation "live long and prosper" a touchstone of the science-fiction world.
Nimoy would later reveal he based the hand gesture on a Jewish blessing.
In addition to acting, Nimoy was an accomplished director.
He directed two of the Star Trek films including one of the most well received, Star Trek IV: The Voyage Home. Nimoy also directed 1987 box-office hit 3 Men and a Baby starring Tom Selleck.
Role model for geeks
Nimoy, along with some of his co-stars, struggled with the type-casting stardom he was thrown into by legions of earnest and attentive Star Trek fans.
In 1975, he authored the book I am Not Spock attempting to open up space between himself and the character that had so captured people's imaginations.
While Star Trek fever built, Nimoy starred alongside Donald Sutherland and Jeff Goldblum in Invasion of the Body Snatchers in 1978, and then alongside Ingrid Bergman in 1982's A Woman Called Golda.
Nimoy would eventually embrace his role as an authority figure in the sci-fi world. He wrote a rebuttal to his earlier memoir in I am Spock in 1995.
As Spock, Nimoy became a role model for nerds and geeks: he was calm under pressure with a logical response always at the ready.
He related an "embarrassing" anecdote to The New York Times in 2009 when he toured a California university with scientists who looked to Spock for approval.
"Then they'd say to me, 'What do you think?' Expecting me to have some very sound advice. And I would nod very quietly and very sagely I would say, 'You're on the right track,'" he said about his adulation in the science community.
Nimoy had two children with his first wife, and was married to his second wife Susan since 1989.
Nimoy built off his sci-fi and Spock fame for the rest of his career, lending his voice to documentaries, video games and television shows.
He sold "Live Long and Prosper" apparel, and waved the Vulcan salute at Star Trek conventions.
He returned to Star Trek and an older version of his Spock character in the franchise's reboot directed by J.J. Abrams in 2009 and in a 2013 sequel.
Nimoy remained active in his later years, releasing photography books and poetry.
He also took a role on Fringe, a sci-fi TV series that ran from 2008 to 2013 and also directed by Abrams.
Photo: Gage Skidmore via Wikimedia Commons