Liberia Reports Suspected Ebola Outbreak Unconnected To Guinea
@AFP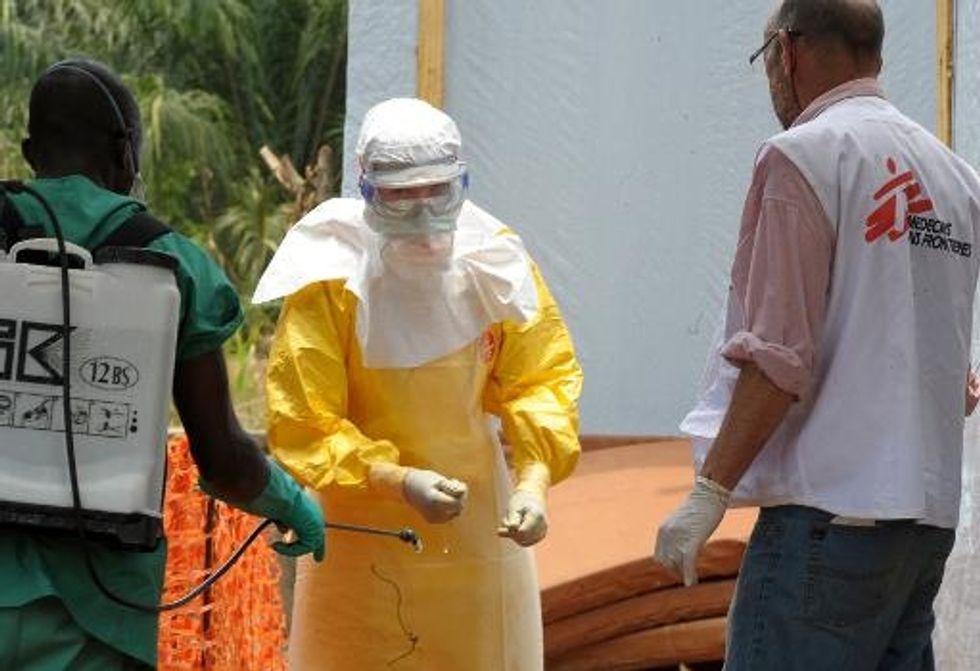 Monrovia (AFP) — Liberia said Thursday it was dealing with its first suspected Ebola case thought to be unconnected to the epidemic raging in Guinea and to have originated separately within its borders.
If confirmed, the case in the eastern town of Tapeta would mark a worrying development in the fight against Ebola, as cases so far have been attributed to people returning with the infection from neighboring Guinea, where 84 people have died.
"We have a case in Tapeta where a hunter who has not had any contact with anyone coming from Guinea got sick," chief medical officer Bernice Dahn said.
"He was rushed to the hospital and died 30 minutes later. He never had any interaction with someone suspected to be a carrier of the virus and he has never gone to Guinea. This an a isolated case."
The fruit bat, thought to be the host of the highly contagious Ebola virus, is a delicacy in the region straddling Guinea, Liberia and Sierra Leone, and experts suspect huntsmen may be the source of the outbreak.
Tapeta, a small town in the eastern county of Nimba, is 400 kilometers (250 miles) from the epicenter of the Ebola outbreak in southern Guinea, at least a five-hour drive and much further from the border than other suspected cases.
"The huntsman has 500 traps in the forest. He felt sick in the forest and was rushed to the hospital," Dahn told AFP, adding that seven new patients brought the total suspected Ebola cases in Liberia to 14.
The tropical virus leads to hemorrhagic fever, and which causes muscle pain, weakness, vomiting, diarrhea and in severe cases, organ failure, and unstoppable bleeding.
Six people have died, Dahn said, since Liberia reported its first cases of hemorrhagic fever last month, raising the previous toll by two.
Of the deaths, two are laboratory-confirmed Ebola cases — a woman who died in hospital in the northern county of Lofa, and her sister who visited her.
The sister was allowed to return home to Monrovia before being hospitalized in the nearby Firestone Hospital, and the authorities had isolated and were monitoring her, her family and others with whom she may have had contact.
"I have just received a call that the lady who was at Firestone Hospital after being confirmed Ebola virus positive died this morning," Dahn said.
The tropical virus can be transmitted to humans from wild animals, and between humans through direct contact with another's blood, feces or sweat. Sexual contact, or the unprotected handling of contaminated corpses, can also lead to infection.
No treatment or vaccine is available, and the World Health Organization said on Wednesday the fatality rate in Guinea so far stands at 65 percent, with the virus mainly hitting adults aged 15 to 59.
"We are now keeping surveillance on 44 people who have been in contact with the cases reported," Dahn said.
©afp.com/Seyllou