LIberty University Students Demand Investigation Of Falwell Misconduct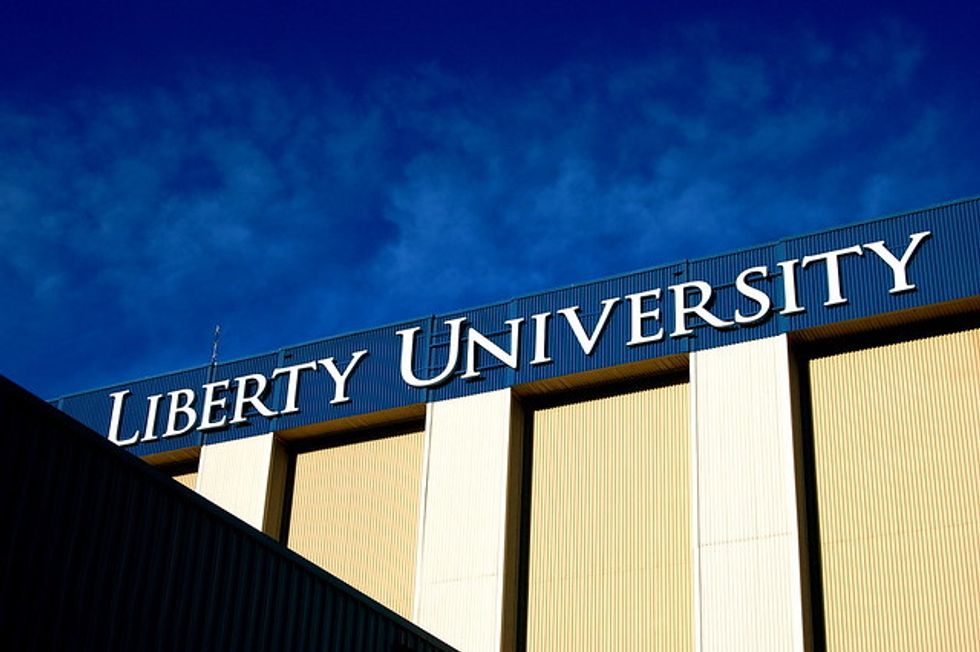 Thanks to his penchant for acting in his own interests instead of that of the school he runs, Jerry Falwell Jr., is facing calls for an investigation from his own students.
Last week, over 60 Liberty University students protested Falwell's conduct, asking for an "open and clean investigation" into Falwell. This comes on the heels of a lengthy Politico piece which detailed Falwell's impressive amount of misdeeds.
There's nepotism — he hired his son to run a shopping center owned by Liberty. There are shady loans — Falwell has pressured the University to give loans to his friends. There's a positively Trumpian tangle of overlapping interests, such as the fact that, through a shell company, the University's real estate manager owns a nearby hotel and Falwell's son is a silent partner. At least once, Politico reported, Liberty employees were asked to promote the hotel on the school's website.
And then there's Falwell's Trump-style hypocrisy. While running a school that prohibits male-female dancing, for example, Falwell goes nightclubbing in Miami.
There's also the traveling with a 21-year-old pool boy, of course.
Akin to Trump, Falwell also has a decidedly loose interpretation of what it means to be a non-profit. The university, ostensibly a nonprofit, had $1 billion in revenue and over $200 million in profits in 2016 alone. They make that money by refusing to grant tenure to professors, starting course designers at salaries around $11 per hour, and spending very little money on students.
Instead, the school now boasts a football stadium that just saw a $40 million upgrade, a $3.2 million shooting range, and more. Falwell personally earns nearly $1 million per year in salary. And when Trump came to Liberty in 2017, Falwell had the school print and sell Trump-branded merchandise, which might be a violation of nonprofit laws as well.
All of this behavior is what led to the students' desires to see a full and fair examination of what's happening at the school. As one of the leaders of the protest, Ian Parish, put it, even students who aren't typically very political are "outraged and incensed" with Falwell. Students aren't calling for him to be ousted or to step down. Their "real mission and goal" is just to see learn if the allegations against Falwell are true.
Falwell is not handling this well at all. In fact, he's reacting in a fashion that is one of the things these students were already concerned about. The student protest was spurred not only by the Politico piece but also by a Reuters story that found Falwell using ableist slurs like "half-wit," and calling a student "emotionally imbalanced."
In response to the protests, Falwell has responded with the same vicious behavior, tweeting out an Instagram post mocking the protesters.
Published with permission of The American Independent.