License Plates Are Not Bumper Stickers
@FromaHarrop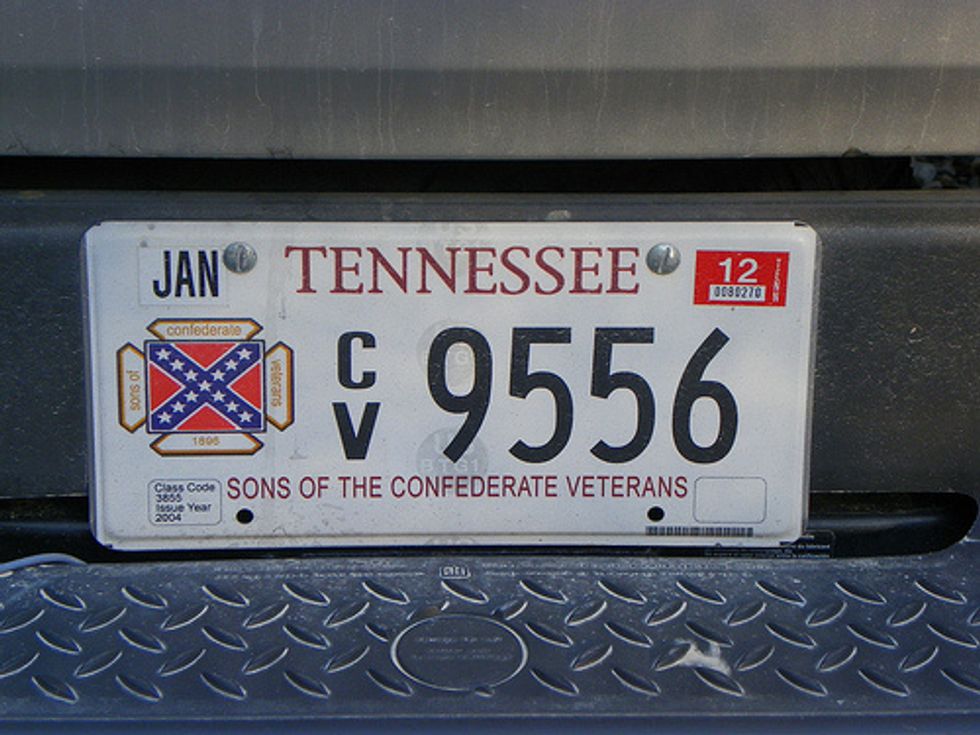 A group called the Sons of Confederate Veterans has asked Texas to issue a license plate featuring the Confederate battle flag, which many consider an emblem of slavery. Texas said no, and the Sons are suing because the state accepts other messages for specialty plates.
The Sons have a point.
North Carolina issues a license reading, "Choose Life." When lawmakers there refused to allow a competing abortion-rights message, the American Civil Liberties Union sued.
The ACLU has a point, as well.
States have jumped on the slippery slope of letting various business and social interests promote themselves on the specialty license plates. Now they have slid into the U.S. Supreme Court, which has taken the Sons of Confederate Veterans case.
The justices have examined license plates before. In the 1977 Wooley v. Maynard case, Jehovah's Witnesses held that the New Hampshire state motto stamped on all license plates, "Live Free or Die," offended their religious convictions. The court ruled that New Hampshire residents had a right to cover up those words on their plates.
How about no messages on state-issued license plates? Or perhaps limiting them to such neutral bragging as Wild, Wonderful (West Virginia), Evergreen State (Washington), Sweet Home (Alabama) or Garden State (New Jersey)?
I'll admit to a soft spot for environmental messages — such as calls on Florida plates to protect whales, dolphins, sea turtles, manatees and largemouth bass — but not for blatant advertising. Sports teams are big businesses, and they have specialty plates.
Rhode Island offers a plate featuring Mr. Potato Head, marketed by the local toymaker, Hasbro. The fees car owners pay for such plates may go to a good cause (in Mr. Potato Head's case, a food bank), and states take their cut. Still, it's an ad.
But when license plates take on an obvious political tinge, sparks fly. And that's why a blanket "no" to specialty plates is the right way to go.
Corey Brettschneider, professor of political science at Brown University, doesn't agree. He sees license plate messages as "mixed speech." Because the United States allows a freedom of expression unmatched by any other country, the state has an obligation to defend its values, he writes in his book When the State Speaks, What Should It Say?: How Democracies Can Protect Expression and Promote Equality.
Brettschneider believes that Texas was correct in turning down the plates displaying the Confederate Stars and Bars but that North Carolina was wrong in rejecting the abortion rights plates.
I asked him, What about the argument that many see the Confederate flag more as a historical artifact than as an endorsement of slavery? Brettschneider responded that the flag's history, including its use in opposing civil rights legislation, suggests otherwise. And even if the intent of some of its backers is pure, the considerations are bigger than the views of a private person.
Texas would be tied to the symbol, he said. "Texas has a deep duty to avoid an association between the state's message and a racist message."
But who speaks for the state? What happens when one set of officials is replaced by another with entirely different interpretations?
"The Constitution requires deference to the democratic process," Brettschneider answered, "but it also sometimes requires limits on that process."
We do agree that bumper stickers are a great invention. They are a frugal way to advertise one's religion, preferred candidate, dog's breed, football team or sense of humor. State approval not required.
As for specialized messages on license plates, I persist in opposing them all. Professor Brettschneider's approach is well constructed and certainly more nuanced, but managing its tensions would be a hard job.
Follow Froma Harrop on Twitter @FromaHarrop. She can be reached at fharrop@gmail.com. To find out more about Froma Harrop and read features by other Creators writers and cartoonists, visit the Creators Web page at www.creators.com.
Photo: Stephen J. Conn via Flickr