Lindsey Graham Is Wrong: Immigration Reform Can't Stop The GOP's 'Death Spiral'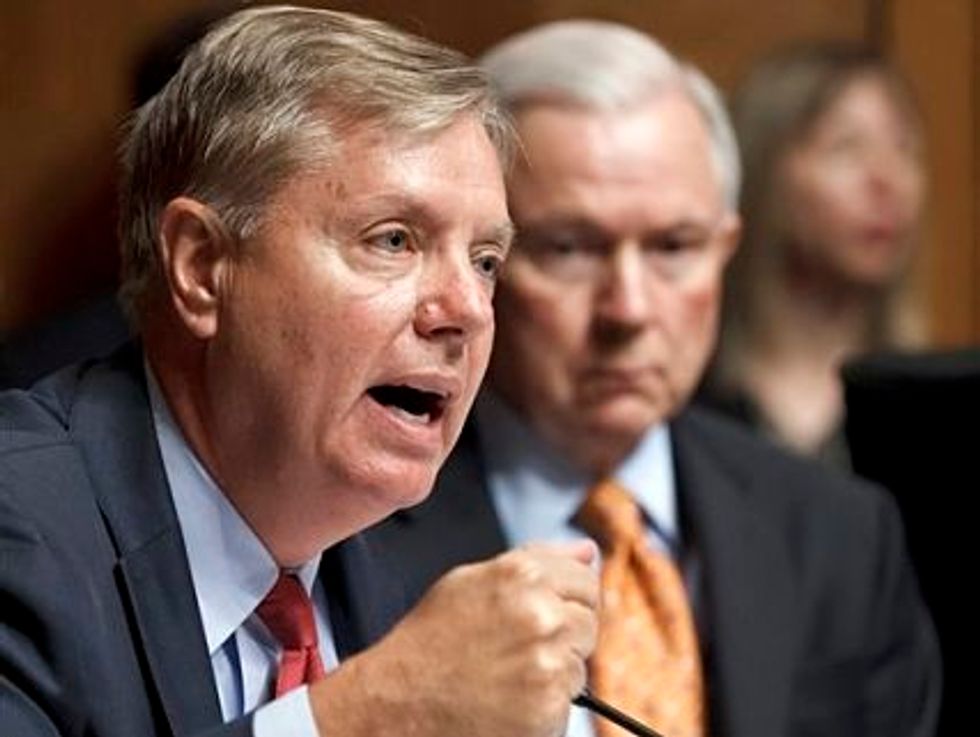 Senator Lindsey Graham (R-SC) warned that his party is facing a "demographic death spiral" that can only be stopped by comprehensive immigration reform, during a Sunday appearance on NBC's Meet the Press.
Graham, a member of the Senate "Gang of Eight" and arguably his party's most vocal advocate for immigration reform, argued that the GOP is doomed to fail in the 2016 presidential election unless Congress passes the bill that he co-sponsored.
"[I]f we don't pass immigration reform, if we don't get it off the table in a reasonable, practical way, it doesn't matter who you run in 2016," Graham told host David Gregory. "We're in a demographic death spiral as a party and the only way we can get back in good graces with the Hispanic community in my view is pass comprehensive immigration reform. If you don't do that, it really doesn't matter who we run in my view."
Graham is right to be concerned about the long-term impact of his party's dismal performance among Hispanic and Latino voters. More Latinos voted in 2012 than in any previous presidential election, and they sided with President Barack Obama over Mitt Romney by a staggering 71 to 27 percent margin. As the Latino share of the vote grows — and it surely will, according to the latest data from the U.S. Census Bureau — Republicans will struggle to win any national elections without attracting a more diverse base of support.
Unfortunately for Graham and his colleagues, however, converting Hispanics to the Republican Party will not be nearly as simple as he hopes. While extreme positions such as promising to veto the DREAM Act, end bilingual education, and hope for "self-deportation" certainly didn't help Romney and the GOP in 2012, immigration is just one aspect of the right's vast problem with Hispanic Americans. For despite what many politicians and pundits often seem to assume, Hispanics are not single-issue voters.
According to a wide-ranging Pew Research study from April 2012, Hispanics are politically predisposed to the Democratic Party. The study found that 30 percent of Hispanics describe themselves as "liberal," compared to just 21 percent of the general population. Only 32 percent describe themselves as "conservative," compared to 34 percent of the population at large.
Furthermore, Hispanics clearly favor a Democratic vision of government. When asked whether they would prefer a bigger government providing more services or a smaller government providing fewer services, they chose big government by a staggering 75 to 19 percent margin. By contrast, the general population favors a smaller government by a 48 to 41 percent.
As long as Republicans continue to run on policies such as Paul Ryan's budget — which would radically shrink the federal budget, ending government as we know it (and is still not right-wing enough for some congresspeople) — Hispanics will not vote Republican in large numbers. Accepting a constructive solution to the nation's broken immigration system would be a good first step, but until Republicans stop excising all but the most extreme-right-wing positions from their platform, they will remain the party of old, white men — and hardly anyone else.
AP Photo/J. Scott Applewhite, File