LOL Of The Week: Mitt Doesn't Talk To His Wife?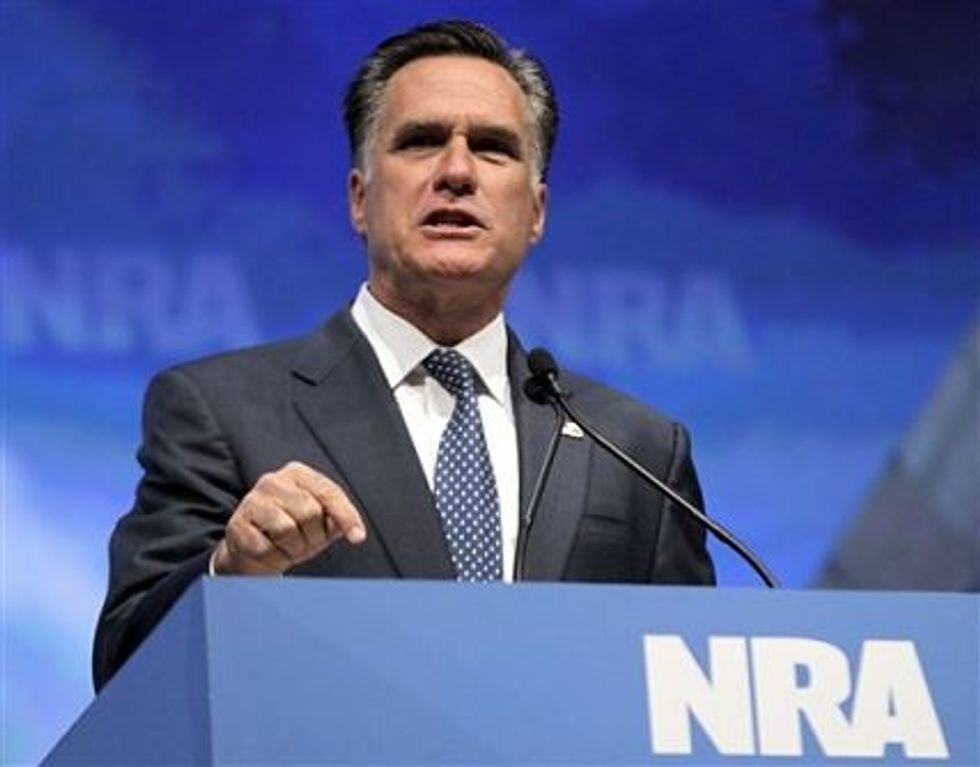 During the first debate in Denver, Mitt Romney became very offended when the president suggested that—get this!—Mitt Romney might have missed out on a tax deduction he could have taken.
"…you said you get a deduction for taking a plant overseas. Look, I've been in business for 25 years," the GOP nominee for president and longtime CEO of Bain Capital said. "I have no idea what you're talking about. I maybe need to get a new accountant."
Unless the plural of accountant is "accountant," everything about this answer is BS.
Both his and Bain's armies of accountants certainly know that American businesses are allowed to write off the expenses of moving overseas. As an investor in companies that were "pioneers in the practice of shipping work from the United States to overseas call centers and factories," Romney had to know this.
"There is certainly a tax break for U.S. companies that move operations or people abroad," said Gary McGill, director of the Fisher School of Accounting at the University of Florida.
But Mitt found a way to use his business experience against the president by accusing the president of not telling the truth. This is a perfect example of how he "won" the debate.
Romney used deception to excuse his life's work of cheapening the value of American labor and avoiding taxes while casting the president as ignorant about business. In a visual medium where appearance is everything, Romney galloped half-truths and blatant falsehoods like this over and over in a confident yet cool manner. And though the media knew that he disregarded the facts, they said he'd won. And the polls agreed.
Now Romney must feel as if he can get away with anything. "I've got these fools thinking I don't talk to my 'accountant,'" he must be saying to himself. "What can't I say?" Nothing, apparently.
This week, Mitt Romney said something that was absolutely amazing in its cruelty. When asked about what will happen to the up to 50 million Americans who will lose health insurance if he repeals Obamacare and cuts Medicaid as he said he would, Romney repeated something he said on 60 Minutes just a few weeks before:
"We don't have a setting across this country where if you don't have insurance, we just say to you, 'Tough luck, you're going to die when you have your heart attack. No, you go to the hospital, you get treated, you get care, and it's paid for, either by charity, the government or by the hospital. We don't have people that become ill, who die in their apartment because they don't have insurance."
Americans don't die because they do not have health insurance?
LOL. A dark, painful LOL. As Paul Krugman would say,  "A sick joke."

Experts agree that Americans die because they don't have health insurance. The question is how many… 26,000? 45,000? And this doesn't even factor in the stress of millions and millions of Americans who declare bankruptcy because of medical costs.
Who are these Americans? Most of them are poor—but not poor enough to qualify for Medicaid. Most of them—like Ron Paul's former aide Justin Lam—work.
Emergency rooms by law shouldn't be able to turn anyone away. But they can't offer chemotherapy for breast cancer. They can't offer treatment for multiple sclerosis.
How could Mitt Romney know that? He could have spoken with his wife Ann, who has suffered from both ailments. But maybe like his "accountant," she didn't bother to tell him that.
Under Mitt Romney's health care plan, a woman suffering from the same conditions as his wife would likely not be able to afford any health insurance on the free market. The ER would take her in when all hope was lost, but she could clearly die for a lack of insurance.
Mitt Romney also surely knows that America is going broke because of the emergency room health care system he's touting. The cost of treating the uninsured pushes Americans into debt, and when that debt collapses on them, hospitals pass the cost on to the Americans who can pay. In addition, the people who end up on Medicaid and Medicare are sicker because they couldn't get any preventive care before we covered them. It's the world's dumbest and most expensive system of socialized medicine.
We know that Romney knows this. He cited the emergency room "free riders" as one of the main reasons he wanted to create the near-universal health care system we know as Romneycare.
But maybe Mitt Romney didn't tell Mitt Romney that.
Mitt Romney is at a point where he's been called a liar and flip-flopper for so long that he almost has a license to lie about anything. And whenever you waste time unpacking his lies, you don't get to what can actually hurt him: the truth. All that can stop him now is the cruelty of what he's proposing being exposed and mocked.
He is saying we should let Americans die for a lack of insurance. He is willing to let states and Congress criminalize abortion. He is proposing more tax breaks and massive spending cuts that would redistribute wealth to the richest who need it least. He is proposing cutting regulations that would unleash Wall Street and polluters to do more damage on our economy and our environment.
Just don't expect his accountant, his wife or Mitt Romney himself to ever tell you that.
Photo credit: AP Photo/Michael Conroy, File