LOL Of The Week: Mitt Romney Looks A 'Gaffehorse' In The Mouth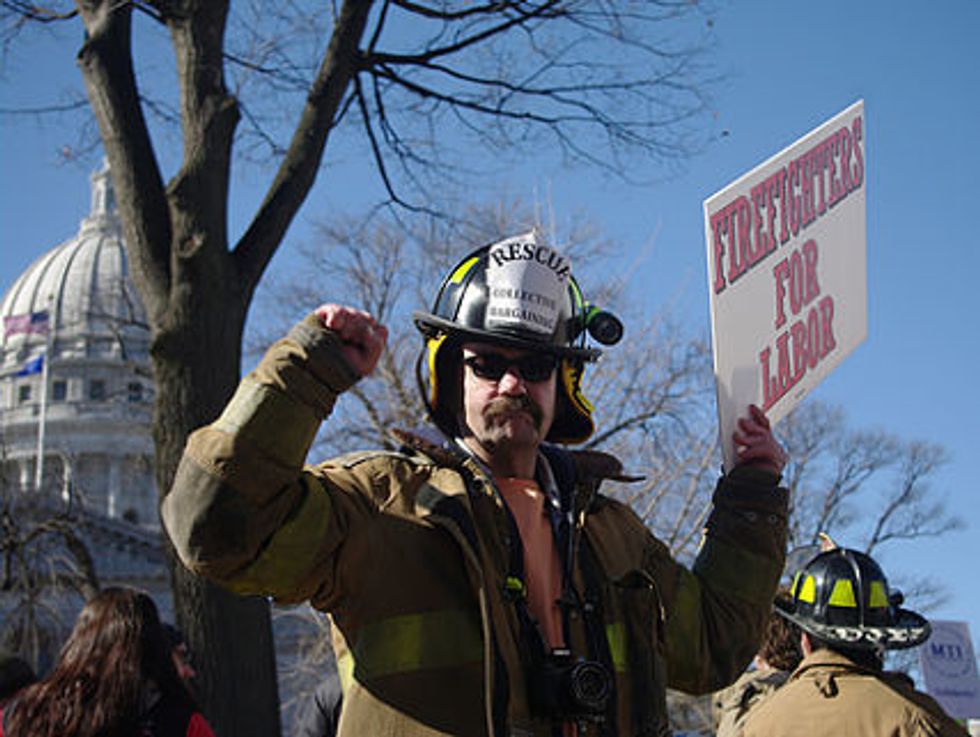 When Republicans propose cuts to essential public services, Democrats generally respond by accusing their GOP opponents of wanting to fire teachers, police officers, and fire fighters.
These public servants are cherished members of their communities. Anyone who would denigrate them must want a dumber, scarier, and more dangerous society. In other words, as the great Admiral Ackbar once said: "It's a trap!"
Usually Republicans tend to skip over that particular trap, retreating into blather about debt for the grandkids or overbearing union bosses. What they never do is confess to wanting fewer firemen, policemen and teachers, at least not in public—until Mitt Romney came along.
It all began last Friday, when Romney advisers decided that President Obama had blunderingly delivered a gift to them during a White House press conference. "The private sector is doing fine," the president had said. Of course he meant that the private sector is doing much better than the public sector – not going as far as many, including Business Insider's Joe Weisenthal,who argue that the private sector actually is doing fine.
Still, Romney's team practically ignited with glee. They pounced on May's 69,000 jobs report, although that's 58,000 more than Bush created on average. (And never mind that economists think Mitt's plan won't help and could make things worse.)
So Romney blurted an attack, shouting angrily:  "He says we need more firemen, more policemen, more teachers. Did he not get the message of Wisconsin? The American people did. It's time for us to cut back on government and help the American people."
LOL.

Now we all know that Mitt wants fewer firemen, fewer policemen, fewer teacher. This will help the American people? And this was the lesson of Wisconsin? That's like being born on third base and thinking the lesson is you hit a triple.
Here are the real lessons of Wisconsin:
Don't get outspent 10-to-1
Start attacking early
Don't initiate a recall without a charismatic alternative
Move to the center
Scott Walker wasn't only helped by the Citizens United ruling. A loophole in Wisconsin law allowed the challenged governor to raise unlimited donations from individuals.  Meanwhile, his Democratic opponent only had two months to raise funds and — despite winning most late-deciding voters  — he got creamed. Nearly 20 per cent of Obama supporters voted for Walker simply because they disliked the idea of a recall. And Democrats won at least a symbolic victory by taking back the State Senate.
According to Mitt, however, Wisconsin means people don't want more firefighters, cops, or teachers — an argument too ridiculous even for Walker to endorse.  No, Mitt thinks they want more tax breaks for investment bankers and oil barons.
The Republican candidate answered a "gaffe" with a big, loud GAFFE. The President's campaign should be very grateful.