@LOLGOP's Top Tweets Of The Week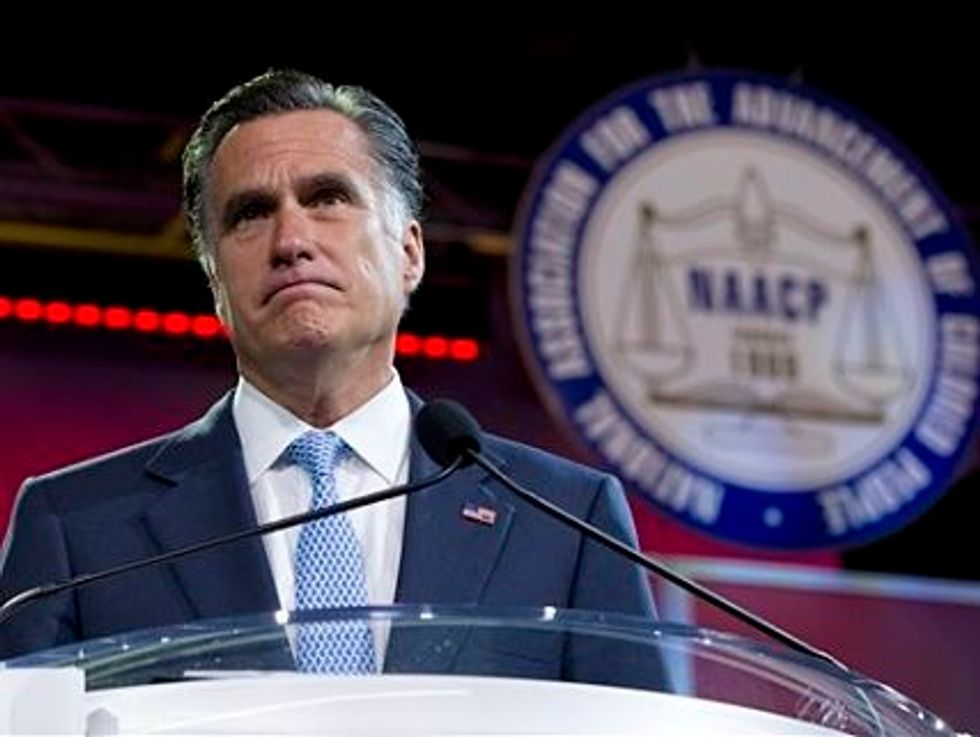 This week we learned one thing: Mitt Romney is too scared of his base to run an actual general election campaign.
We don't know for sure whether Mitt went to the NAACP convention to be booed. We don't know how involved Mitt was at Bain Capital from 1999-2001, though he was definitely the CEO. We don't know when he'll release his tax returns, why he handed a company he owned in Bermuda to his wife the day before he became governor, or the exact number of companies he invested in that outsourced American jobs. But it was clear that the impact of these damaging questions had peaked by Thursday night, when the most potent element of the Romney campaign — The Drudge Report — tried to change the conversation by leaking the preposterous story that Condoleezza Rice will be named Mitt's running mate. A pro-choice woman who carries George W. Bush's baggage with her everywhere she goes? Won't happen.
So we learned something else this week: Mitt Romney is scared, in general.
Here are the top tweets of the week:
Fox News headline: "Mitt Romney stands up to angry black mob"#NAACP

— Top Conservative Cat (@TeaPartyCat) July 11, 2012
MT @joelpollak: You know who would have liked @MittRomney's speech to #NAACP? @AndrewBreitbart. — Ryan Williams (@RyanGOP) July 13, 2012
Remember when Dubya made you miss Reagan? Now Romney makes you miss Dubya. How low can this go? — Michael Tomasky (@mtomasky) July 13, 2012
Wow. Pew poll finds BIG swing on economy. In June Romney led on the issue by 8. Now Obama leads by 6: wapo.st/LiC2e7

— Greg Sargent (@ThePlumLineGS) July 12, 2012
You know who else had enthusiastic voters? Barry Goldwater

— Dana Houle (@DanaHoule) July 12, 2012
Romney has a habit of complaining about those seeking "free stuff." Hyper-elitism at an inane level on.msnbc.com/SbiKrA — Steve Benen (@stevebenen) July 12, 2012
If Romney thinks Obamacare is "free stuff," then didn't Mitt spend his time as gov of Mass giving people "free stuff?" — AdamSerwer (@AdamSerwer) July 12, 2012
The only reason people take criticism as a limit to their free speech is because they know they can't actually defend their comments.

— Amanda Marcotte (@AmandaMarcotte) July 12, 2012
You rarely see a distraction play as obvious as the Drudge "scoop" from yesterday. Interesting to see which simpletons fell for it.

— daveweigel (@daveweigel) July 13, 2012
The (known) reasons @MittRomney is running from Bain Capital post-1999 bit.ly/NpHCdl #fairgame — Joe Conason (@JConason) July 13, 2012
Pres. Clinton: Romney's business record "just as relevant as going over my record as governor when I ran for president." — Paul Begala (@PaulBegala) July 13, 2012
PLEASE NOTE: Being the CEO of Bain from 1999-2001 is more embarrassing than being the National Security Advisor during 9/11.

— LOLGOP (@LOLGOP) July 13, 2012