Louisiana Runoff Looks Increasingly Grim For Landrieu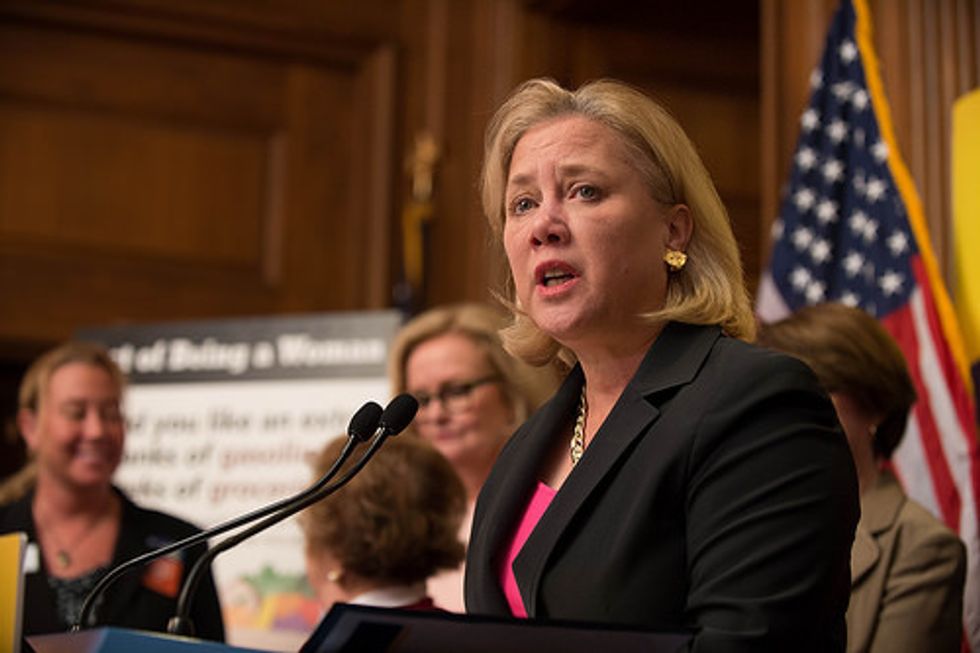 Although it has been overshadowed by the uproar over President Obama's executive action on immigration reform, the unrest gripping Ferguson, Missouri, and the Thanksgiving holiday, there's still a Senate race going on in Louisiana. On December 6, Pelican State voters will decide whether to grant a fourth term to Democratic senator Mary Landrieu, or replace her with Republican congressman Bill Cassidy. And with less than a week to go, things look very ominous for the incumbent.
Landrieu won a narrow plurality in the general election, topping Cassidy and right-wing Republican Rob Maness, 43 to 41 and 14 percent. Because nobody won a 50 percent majority, Landrieu and Cassidy advanced to a head-to-head runoff, which the Republican appears to be dominating.
Polls suggest that Cassidy has healthy double-digit lead in the runoff race. He's also greatly outpacing Landrieu on the airwaves. While Republican-aligned outside groups such as Americans for Prosperity and the National Republican Senatorial Committee are still stacking money behind Cassidy's cause, most major Democratic groups have abandoned Landrieu. According to The Washington Post , pro-Cassidy forces are on pace to spend about 100 times as much as Landrieu's allies.
That leaves the senator with very few opportunities to shake up the race, although she hasn't stopped searching for ways to do so. Landrieu tried and failed to pass a measure mandating the construction of the Keystone XL pipeline, in an effort to further differentiate herself from President Obama. And she has sharpened her campaign ads, accusing Cassidy of being a bumbling fool, and warning that President Obama will be impeached if Cassidy wins. But if early voting numbers are any indication, her efforts are falling short.
As The Times-Picayune reports :
About 85,900 registered Republicans took advantage of early voting for the Dec. 6 runoff, which was held during the week leading up Thanksgiving, as well as Saturday. That's almost 3,000 more than the number of people who voted early for the Nov. 4 election, and it amounts to a 4 percent bump in early voting overall from a month ago.

The jump in early Republican voters is noteworthy, given that early voting overall dropped by 10 percent from the November primary to the December runoff. The number of registered Democrats who voted early fell even further — about an 18 percent decrease — from the primary to the runoff, according to information provided by the Secretary of State's office.
That's not the only bad news for Landrieu. The biggest drop in early votes occurred among the black voters who form her political base. A whiter runoff portends nearly certain doom for Landrieu, who won just 18 percent of the white vote on November 4.
Democrats warn against reading too deeply into the early voting numbers, citing the fact they don't capture swing voters, and paint an incomplete portrait of the electorate. But it certainly looks like Republicans are on track to lock down a 54th Senate seat this Saturday.
Photo: Senate Democrats via Flickr