Macy's Thinks Trump's Birtherism Is Hilarious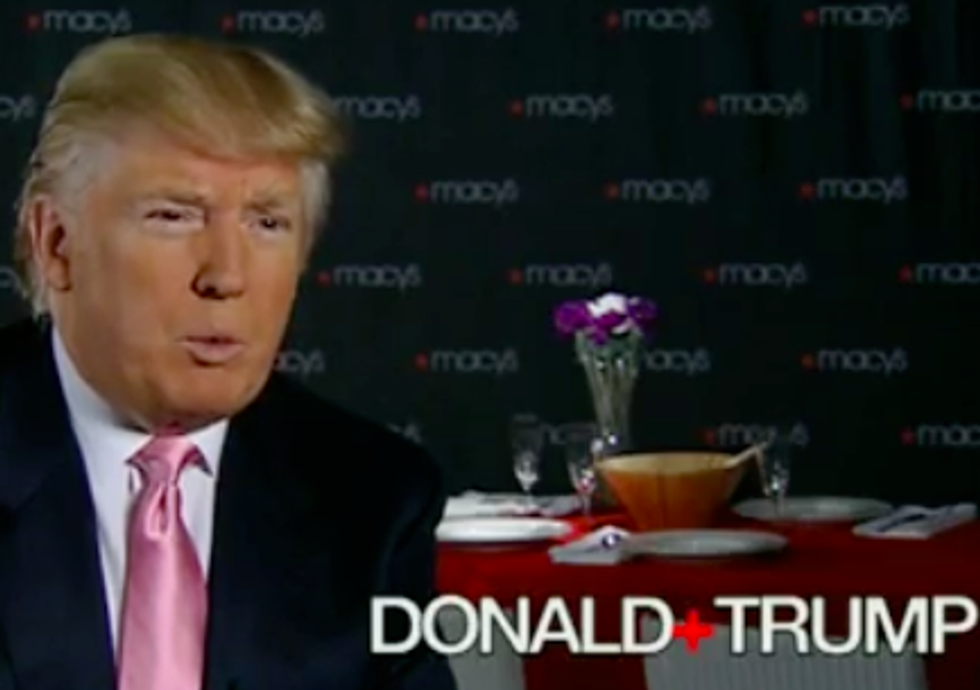 Macy's hallmark ad this holiday season is an homage to the store's role in the classic Christmas film Miracle on 34th Street, but the punchline to the commercial is a thinly-veiled homage to Donald Trump's birtherism.
The New York Timesdescribes Trump's function in the ad like this:
In the most clever twist, the role of the skeptic played by [Natalie] Wood in the movie is assumed by Mr. Trump, who has gained notoriety in recent months for voicing skepticism about President Obama's birth certificate and college transcript. Mr. Trump is "always the one who delivers the one-liners" in Macy's commercials, Ms. Reardon said.

For example, Mr. Trump asks [Edmund] Gwenn, "What's with the get-up, Kris?" to which Gwenn replies, "I'm Santa Claus." Mr. Trump says, "Let me see for myself" and pulls his beard, to which Gwenn responds, "Ouch!"

The commercials end with Gwenn saying to Mr. Trump, "If I can win you over, there's still hope."
Yes, isn't that clever?
Trump used his platform as a celebrity, an NBC reality-show star and a Macy's pitchman to accuse the president of the United States of fraud and treason. How amusingly "skeptical"!
His only evidence for his claim that the president was born in outside of the Unites States is the same evidence that right-wing conspiracists across the country had: the president has a foreign name and he isn't white, or white enough.
Macy's undoubtedly focus-grouped this commercial, and found what Mitt Romney found when he was running for president — Trump appeals to a wide audience. But Romney soon learned that embracing The Donald comes with a lot of baggage.
The racism at the heart of birtherism is evident to almost anyone who isn't Orly Taitz or Sheriff Joe Arpaio. Trump has a long reputation for being a joke that he plays into by wearing that thing on his head. But he crossed a line in this presidential election — even before he called for a "revolution" on election night.
Decent people simply ignoring Trump isn't working. If you think Macy's should dump Trump, you can show it by signing this petition.