The MAGA Culture Of Menace Is Not A Surprise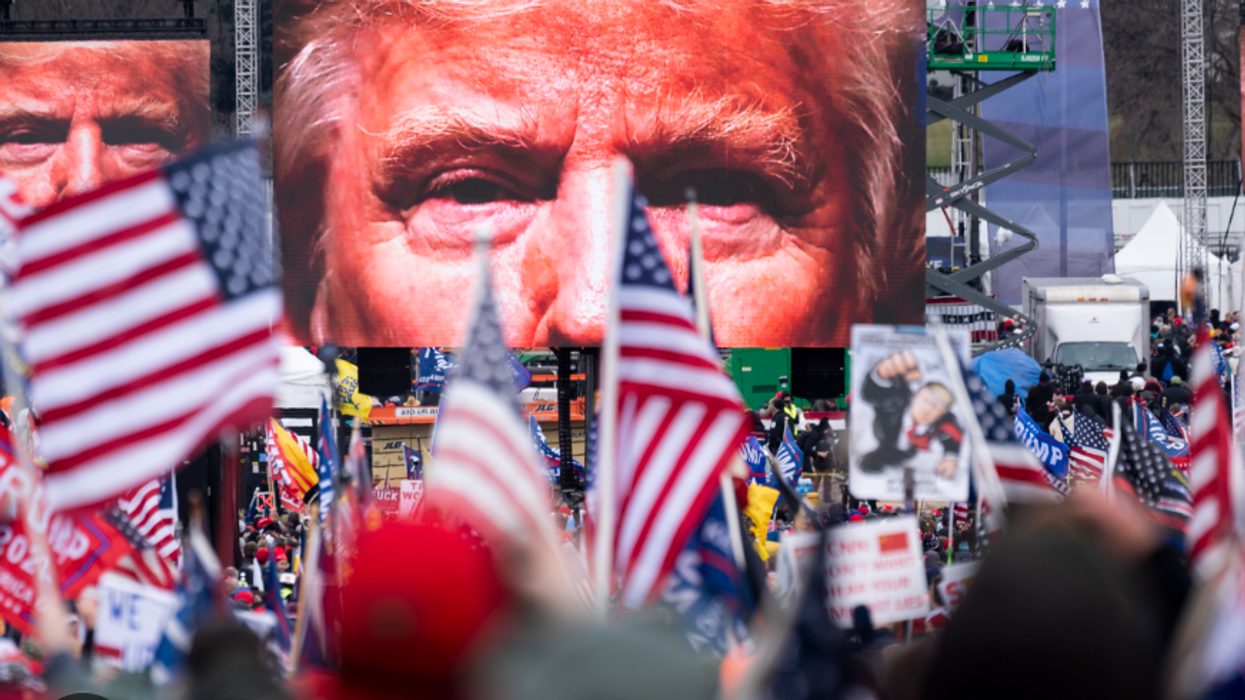 When Republicans claim to be shocked by threats of violence that have repeatedly marred their party's contest for speaker of the House, it is hard to suppress a bitter laugh. The malignant direction of their party over the past several years is no secret — and although many of them are too cowardly to identify the poison's source, everyone knows his name.
That would be former President Donald J. Trump.
Everyone knows because Trump has hardly tried to conceal his increasingly sinister conduct and has tried not at all to pacify the legions of goons who menace his perceived enemies. What once might have been described as an undercurrent of brutality and bullying in the MAGA movement has long since become its dominant theme. Not "patriotism" and not "conservatism," but much closer to fascism and sadism, which have always slithered along together.
Nobody should have been surprised, least of all Republican elected officials, when supporters of Rep. Jim Jordan, Trump's selection for speaker, began a sickening campaign to terrorize his opponents. Wholly unqualified for that constitutional post by temperament or achievement — he has never authored a successful bill in 16 years on Capitol Hill — Jordan deserved no consideration, and it is hard to say how many of the votes he received were somehow coerced. But the campaign that culminated in his humiliating rejection by the GOP conference began with a familiar pattern: an escalating pattern of threats that the MAGA gang dismissed, excused and encouraged, before cynically pretending to urge a return to decent behavior.
We have seen and heard all this before, too many times, ever since Trump first excreted his racist imprecations and calls for violence during the 2016 presidential campaign. The tape of a Jordan supporter uttering obscene threats to "molest" the wife of a dissident Republican congressman is the soundtrack of Trumpism.
And after CNN anchor Jake Tapper played that tape for Rep. Michael McCaul, a Jordan backer, he said, "Calls like that started happening immediately. Jordan didn't denounce it until last night. What is going on in your party?" McCaul's feeble response that "this is the level of discourse in our country" evoked a bluntly honest retort from Tapper: "No. In your party, sir; in your party."
Over and over again, the MAGA cult within the Republican Party has promoted, excused, and even celebrated savagery against the opponents whom it has dehumanized. It was Democrats who censured Rep. Paul Gosar after he posted a video that depicted him murdering Rep. Alexandria Ocasio-Cortez — and it was Rep. Kevin McCarthy, then the minority leader, who tried to defend him from the mild rebuke of censure. It is Democrats, with a few exceptions, who have sought to hold the January 6 mob accountable for that deadly coup attempt — and it is Republicans who promised to pardon them. Out in their districts, Republicans encounter constituents who talk openly about killing Democrats, and rarely have the guts to rebuke them.
Having spent years inciting that bloody mindset, Trump has warned of the unprecedented destruction that will consume the country if he and his supporters are angered. He frequently declares his critics and opponents worthy of death — as when he suggested that Gen. Mark Milley, a highly decorated military officer who served at the highest rank, should be executed. He makes morbid and disgusting "jokes," as when he recently mocked the near-fatal assault on Paul Pelosi, the elderly husband of former speaker Nancy Pelosi.
Indeed, the catalogue of Trump's brutish declarations is almost as lengthy as his lies. But what has transformed the Republican Party from a democratic institution into a harbinger of authoritarian cruelty is the failure of its elected members to speak up for decency. After all that Trump and his minions like Jordan have done to defile their political traditions, the great majority of Republican officeholders still line up obediently.
Now the monstrous entity that they nurtured has turned on the Republicans themselves. But very few of them have the wisdom — or the character — to learn from that chilling experience.
To find out more about Joe Conason and read features by other Creators Syndicate writers and cartoonists, visit the Creators Syndicate website at www.creators.com.
Reprinted with permission from Creators.