Their Major Was ID Theft And Tax Fraud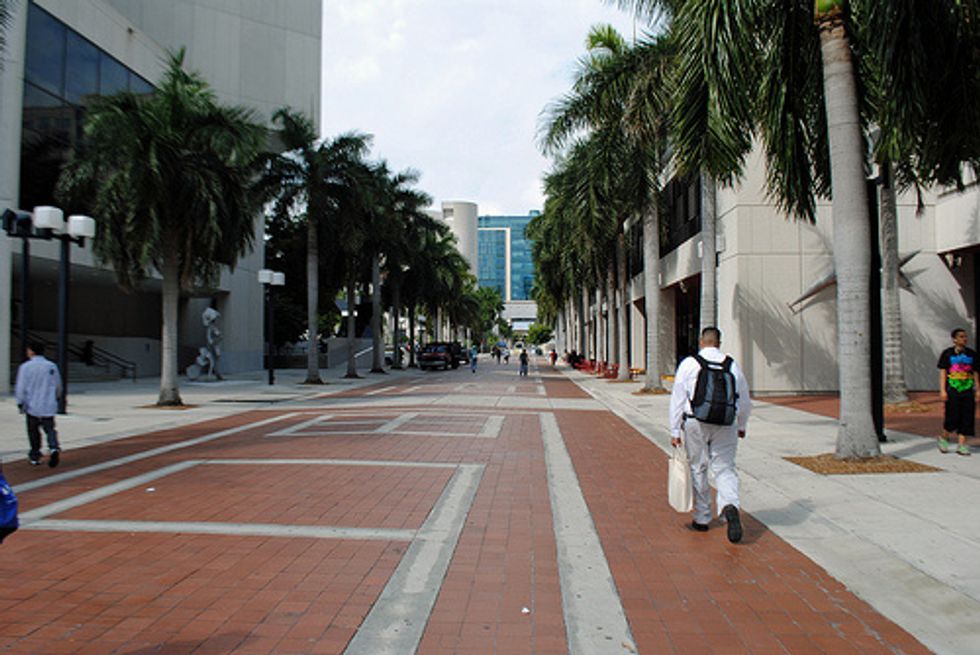 Remember when students working their way through college would bus tables at Red Lobster or flip burgers at McDonald's?
Those were simpler times, when any menial job was welcome. Now some kids are discovering an easier — and far more lucrative — way to pay for school.
Eighteen current and former students at Miami Dade College have been charged with participating in a stolen ID scam that netted about $500,000 in fraudulent income-tax refunds.
The FBI says the money was deposited into the students' Higher One accounts, which are used by honest kids for legitimate financial aid that helps pay their tuition. Agents said the accused students took a cut of the stolen IRS refunds in exchange for funneling them through their bank accounts.
A true scumbag move, and a heavy crime.
On the other hand, parents often complain that colleges aren't preparing young people for the real world. You could argue that learning the nuances of identity theft, tax fraud and money laundering are excellent preparation for an entrepreneurial life in South Florida.
The Federal Trade Commission reports that Miami by far leads the nation in ID-theft complaints, with a jaw-dropping rate of about 340 victims per 100,000 residents.
And, according to the U.S. Treasury inspector general for tax administration, the per-capita number of faked IRS returns based on ID theft is 46 times higher in the city of Miami than the national average.
In other words, a South Florida college student who uses stolen Social Security numbers is essentially acquiring a regional business skill. It's like majoring in agriculture at the University of Nebraska.
Miami Dade College student Caleb Fadet was charged with theft of government property after opening a Higher One account that filled up with IRS refunds allegedly ripped off from 12 unsuspecting taxpayers. The total take: $10,400.
Prosecutors say that seven of those refunds were direct-deposited into Fadet's financial-aid account on a single day. (Note to young money launderers: When banking illicit funds, be patient and spread your deposits out over a month or so to avoid attracting notice.)
The FBI said that the 18 students and three other persons indicted last week were part of a Miami-based group that "systematically hacked" into businesses and government institutions to steal Social Security numbers and other personal data.
So far, agents investigating the electronic refund scam have frozen more than 1,000 student bank accounts at MDC. It should be pointed out that the college has a good reputation and doesn't offer any classes that actually teach successful methods of stealing IDs or forging tax returns.
The Higher One scam is at play at other Florida colleges and universities that utilize the popular banking service for students. Of the more than 66,000 enrolled at MDC, a relatively small number have decided to augment their financial-aid package by extracurricular larceny.
While attending the school, Laquisha Q. Johnson allegedly opened a Higher One account that was enriched by three fraudulent tax refunds, including a deposit of $61,000 illegally obtained in the name of one victim.
If you're wondering why the IRS didn't notice multiple electronic refunds issued to the same bank account in the same year, the answer is that the agency is hopelessly overwhelmed with tax returns and understaffed with investigators.
Sometimes, though, scammers get tripped up by greed and carelessness.
Refunds from 92 different taxpayers were allegedly directed to the Higher One account of Miami Dade student Erving Etienne, but the IRS rejected 90 percent of the returns because agents suspected fraud.
However, authorities failed to intercept any of the 37 separate refunds that were allegedly deposited into the account of Sandy Jean-Louis, another MDC student.
One enterprising 20-year-old, Glasner Simplice, allegedly used his Miami Dade college account to wash $19,000 in illegally claimed Social Security benefits, in addition to $53,000 worth of hijacked tax refunds.
You can safely assume that some of the young defendants are now cooperating with prosecutors, and that the list of campus conspirators will probably grow. It's also a safe bet that they didn't set aside any money for defense lawyers, a common oversight among greenhorns in the South Florida fraud racket.
While some of the students recruited others into the electronic theft ring, no mastermind has yet been identified.
Graduation plans are, presumably, on hold.
Carl Hiaasen is a columnist for The Miami Herald. Readers may write to him at: 1 Herald Plaza, Miami, FL, 33132.
Photo: Larry Miller via Flickr
Want more news and analysis? Sign up for our daily email newsletter!