Make No Mistake: The Koch Brothers Are Helping Donald Trump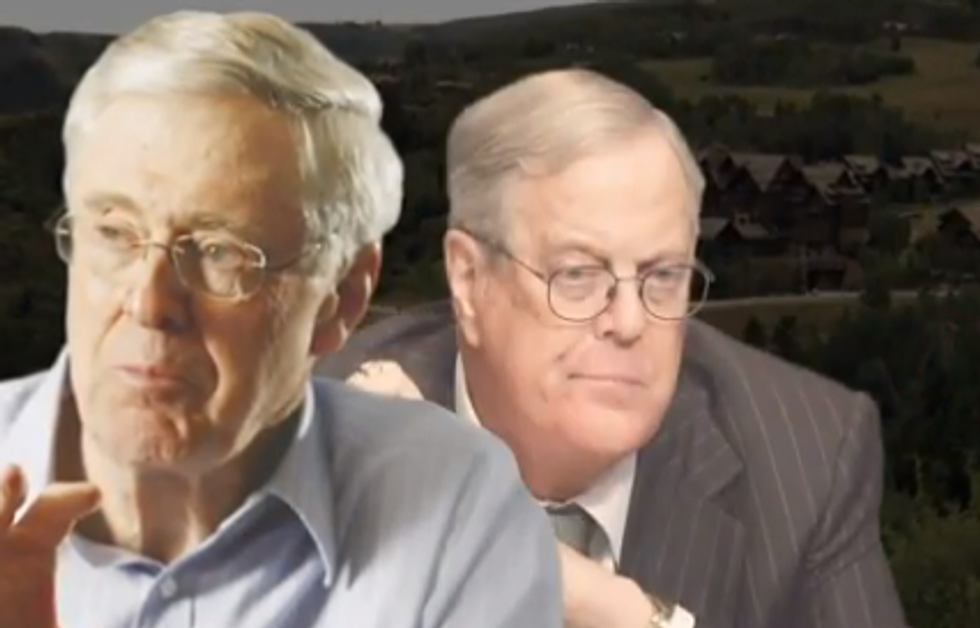 Published with permission from AlterNet.
It's no secret that the Koch brothers really don't like Donald Trump. In political media, much has been made of the fact that Charles and David Koch, the neo­libertarian principals of Koch Industries and overseers of a secretive network of deep-pocketed political donors, declined to dedicate the resources of the many advocacy organizations they have seeded in this year's presidential contest. David Koch, a Republican Party delegate, even managed to miss attending the Republican National Convention in Cleveland.
But don't think for a minute that the super­rich siblings, who together are worth some $82 billion, according to Forbes, aren't helping Donald Trump. They may not wish to get all of that Trumpy dirt—the calls to violence, the obvious racism and misogyny, the invitation to Russia for cyber­espionage on his own country—on their manicured hands, but they're keen to turn out the voters needed to maintain Republican control of both houses of Congress. And there's no way to turn out those voters without helping the quisling from Queens.
People who live in Koch World have a sweet deal. If you're a politician in the brothers' orbit, you're likely dependent on the ground operation of Americans for Prosperity—or other Koch astroturf outfits, such as Libre Initiative or 60 Plus—to get your voters to the polls. If you're an employee of any of the multitudes of Koch­linked organizations that dot the Republican landscape, you're dependent on them for your paycheck. And if you're the Koch brothers, seeking to hold onto your congressional majority, you're dependent on your people seeing to it that Republican voters are not so turned off by Donald Trump that they fail to show up to vote for your favored candidate for either the House or the Senate.
So it should come as no surprise that we see House Speaker Paul Ryan, after all his tsk-­tsks about Donald Trump's racism and bad language, brushing off the candidate's apparent call to violence against Democratic opponent Hillary Clinton as "a joke gone bad." Ryan has long been championed by Americans for Prosperity, and even received its Wisconsin chapter's "Defending the American Dream" award as far back as 2008. (The award was presented to him by a young county executive named Scott Walker.)
And it really shouldn't be surprising that Indiana Governor Mike Pence agreed to sign on as Trump's running mate—a move he surely would not have made had he received signals that the Kochs were opposed, given his frequent speaking gigs at the events of Koch-­linked organizations, and the love he's received from Americans for Prosperity for his tax­-cutting policies. He's apparently been dispatched to be the guy with the pan and broom, sweeping up behind the circus elephant.
But clearly, after the catastrophic week Trump gave himself, this cleanup has not been enough. So this week, a Koch-­founded organization placed before viewers of Fox News Sunday one of its own, presenting herself as an enthusiastic Trump supporter.
Libre Initiative is the Koch network's advocacy group targeting Latino voters; its director, Lisa Campos-­Duffy, appeared on the FNS panel to defend her candidate. Host Chris Wallace reeled off the list of incendiary Trump comments that marked the week in politics: a call for "Second Amendment people" to take matters into their own hands should Hillary Clinton be elected; a disparaging comment about the citizens of Utah, where Trump-­wary Mormons predominate on the GOP landscape; and the Donald's claim that Barack Obama and Hillary Clinton founded ISIS. Wallace then asked Campos-­Duffy to respond. From the transcript of the August 12 edition of Fox News Sunday:
CHRIS WALLACE: Rachel, you are a Trump supporter. Does any of that give you pause?

RACHEL CAMPOS­-DUFFY, THE LIBRE INITIATIVE: Well, let me just say, personally, I think when—for me personally, I think between Trump and Hillary, I'm a hashtag Never Hillary. My organization is a nonprofit that's nonpartisan.

WALLACE: Right. Right.

CAMPOS-­DUFFY: So I'm here representing them. Just, listen, here is the—here is the lesson from this week for him. If this campaign is about Trump, Trump loses. If this becomes about Hillary, her corruption, if it becomes about Supreme Court judges, if it becomes about her dismal record as secretary of state, then I think he has a shot of winning.

I just want to point out one double standard here. Back in April, Hillary said, quote, "His insulting language towards Muslims is making him the recruiting sergeant for ISIS." This was not even a blip in the news cycle, and I think it's more proof that the media focuses on things that make, frankly, all of you guys, and me included, a little nervous, things that Trump says, versus things that she has done that ought to scare us. Things like the corruption, the lies, the lack of conscience and, of course, making the world more dangerous under her watch.

WALLACE: Other than that she's doing a heck of a job?

CAMPOS-­DUFFY: Other than that, she's doing great.
Protest as they may, the Koch brothers are clearly helping Donald Trump—or at least their minions are. And you know what minions do: anything they think their bosses want them to.
Adele M. Stan is AlterNet's senior Washington editor. Follow her on Twitter @addiestan.
Photo: Screenshot via Al Jazeera.