Man Shot By Police In Ferguson After He Fired At Officers, Police Say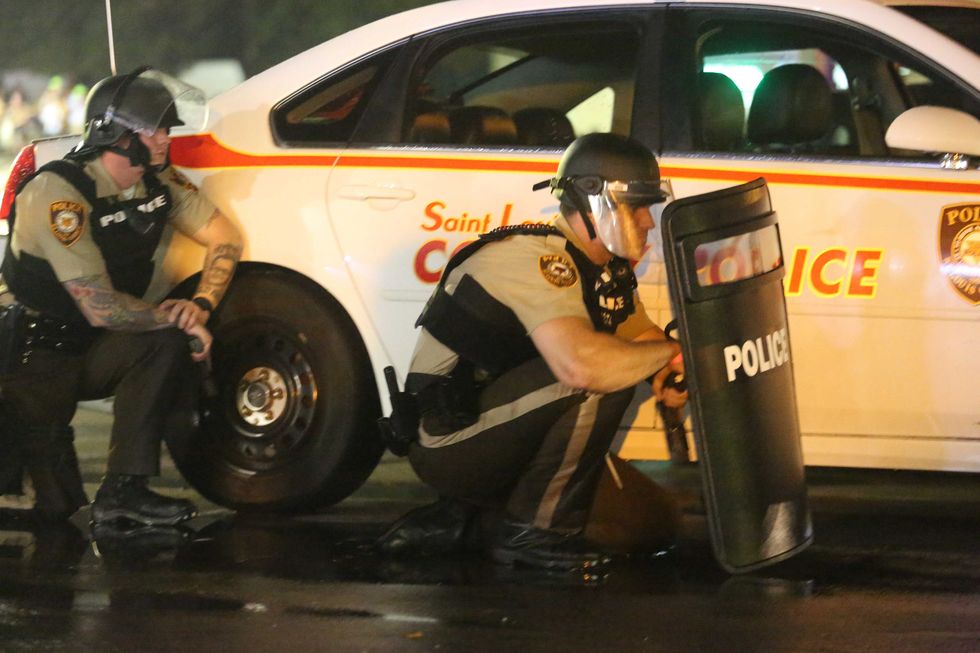 By Lisa Brown and Tim Bryant, St. Louis Post-Dispatch (TNS)
FERGUSON, Mo. — A peaceful day of protest and remembrance dissolved into chaos late Sunday when a man fired multiple shots at four St. Louis County plainclothes detectives in an SUV. The detectives fired back and the shooter was struck, said county Police Chief Jon Belmar. He was in critical condition.
Tyrone Harris identified the victim as his son, Tyrone Harris Jr., 18, of St. Louis. Harris said shortly after 3 a.m. that his son had just gotten out of surgery.
He said his son graduated from Normandy High School in St. Louis and that he and Michael Brown Jr. "were real close."
"We think there's a lot more to this than what's being said," Harris Sr. said.
In a 2:30 a.m. press conference, Belmar said there is a "small group of people out there that are intent on making sure we don't have peace that prevails.
"We can't sustain this as a community," he said.
Belmar said two groups of people exchanged gunfire on the west side of West Florissant Avenue at the same time the shooting took place, shortly after 11 p.m. Shots were heard for 40-50 seconds, Belmar said. "It was a remarkable amount of gunfire," he said.
The people doing the shooting "were criminals," Belmar said. "They were not protesters."
Investigators recovered a 9 mm Sig Sauer that had been stolen in Cape Girardeau, Belmar said.
Protesters had blocked West Florissant Avenue north of Ferguson Avenue, and the detectives were tracking a man they believed was armed, along with several of his acquaintances, whom they also thought were armed.
In a chaotic scene, police officers, reporters and protesters ran for cover. People sprinted across the street and dived behind parked cars.
The four detectives, who have six to 12 years of experience, will be placed on administrative leave, a standard practice after a police-involved shooting. They were not wearing body cameras, Belmar said.
A coalition calling itself the Ferguson Action Council criticized St. Louis County for putting plainclothes officers without body cameras in Ferguson. The coalition includes the Don't Shoot Coalition, Hands Up United, Organization for Black Struggle and others. In a news release Monday morning, the coalition said in part: "After a year of protest and conversation around police accountability, having plain clothes officers without body cameras and proper identification in the protest setting leaves us with only the officer's account of the incident, which is clearly problematic."
Ferguson's interim police chief, Andre Anderson, had just finished a television interview saying officers were placed throughout the community to protect businesses, and he was hoping to be patient and allow the protesters to march peacefully.
The law enforcement officers had threatened to arrest protesters who stayed in the street. Protesters by then were estimated at fewer than 100 and were outnumbered by members of the media, observers said.
Early Monday morning, police warned those gathered by Canfield that they needed to disperse or police could use "chemical munitions" against them. Smoke bombs appeared to be fired at about 2 a.m.
At 2:15 a.m., two teenagers were shot in a drive-by shooting near the Michael Brown Jr. memorial on Canfield Drive. The victims, ages 17 and 19, were hospitalized and expected to survive. The gunman was riding in a passenger car and opened fire on them, police say.
Three St. Louis County police officers were injured Sunday night or early Monday while working in Ferguson, authorities said. Two were pepper-sprayed by protesters while a third was hit in the face by a rock thrown at him. That officer was taken to a hospital for treatment.
Two unmarked police vehicles were damaged by gunfire and one unmarked vehicle was damaged in a minor accident. Four arrests were made early Monday. One was a man now facing weapons charges. Three were people accused of interfering with police.
The violence came exactly one year after the police shooting of Michael Brown. But the day was mostly peaceful with about 1,000 people gathering at the spot in the Canfield Green apartment complex before embarking on a "silent march" with Brown's family members up West Florissant Avenue.
"We came because it's still needed," said Dumine DePorres, who was among a group of 15 people who traveled from Detroit for Ferguson-related events this weekend. "We need to start some conversations that are not just one way, about justice," he said.
(Steve Giegerich, Walker Moskop and Paul Hampel of the Post-Dispatch contributed to this report.)
(c)2015 St. Louis Post-Dispatch. Distributed by Tribune Content Agency, LLC.
Photo: Police take cover behind cars on Aug. 9, 2015 in Ferguson, Mo., as the one-year anniversary of the shooting death of Michael Brown draws crowds for protests. A man was shot by police after he fired at officers, police say. (Photo by Marcus DiPaola/NurPhoto/Sipa USA/TNS)