Manafort Lied: The Most Important Aspect Of The Mueller Report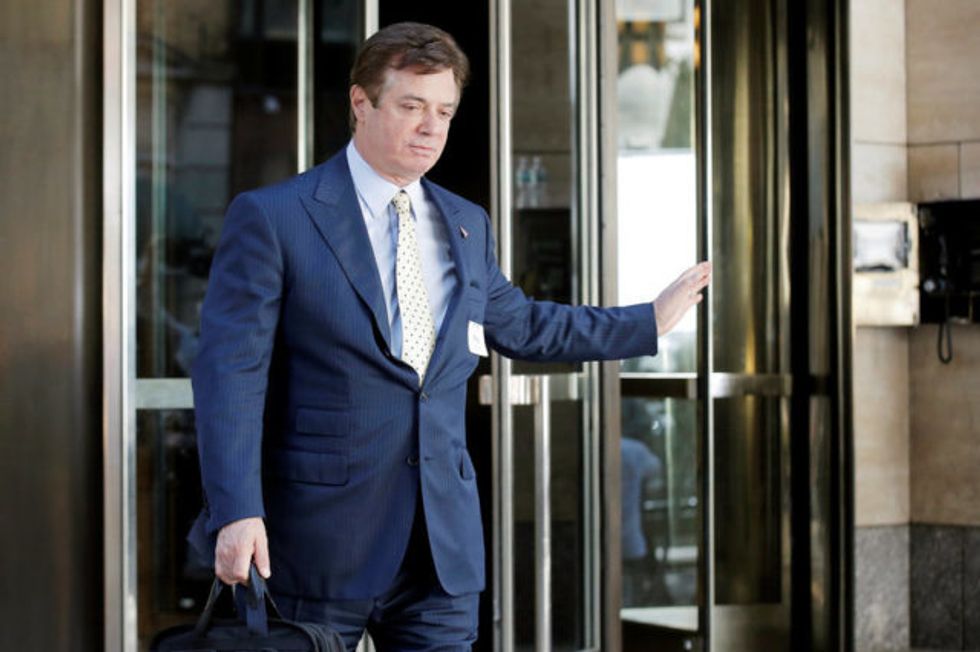 When Special Counsel Robert Mueller pursued his investigation, he asked two key questions: Did President Donald Trump or his campaign conspire or coordinate with the Russian effort to interfere in the 2016 election? And did Trump, as president, obstruct the investigation?
And with all the coverage of the Mueller report, most of the media seems to be missing the central point at which the two questions overlap: Paul Manafort.
As I explained after Mueller's report first came out, a key mystery remains about Manafort. Why was he, as Trump's campaign chair, sending polling data to Russian oligarch Oleg Deripaska, among others, through Konstantin Kilimnik? Manafort's deputy, Rick Gates, incidentally, thought Kilimnik was a "spy," Mueller told us — and the FBI agrees.
One suggestion in the report is just that Manafort thought it would show off his work to someone he had a business relationship with. But this is hardly persuasive, and Mueller doesn't seem to fully buy it.
And most importantly, the reason we don't know Manafort's reason for sending the polling data — a potentially conspiratorial act — is because he lied to Mueller, even after he agreed to cooperate with the investigation. And this ties to the obstruction case. Mueller lays out a strong case that Trump's dangling of a pardon to Manafort, and his encouragement that Manafort not "flip," constituted criminal obstruction of justice. Well, Manafort never truly flipped; he just kept misleading investigators. If he really was conspiring with the Russians — with or without Trump's knowledge — the president may have successfully covered it up.
Of course, this is speculation. But that's one reason why obstructing justice on its own is and should be a crime. It corrupts the justice system and leaves doubt that the best possible answers were obtained. Manafort lied to investigators and Trump encouraged him to do so, or at least to keep his mouth shut; this suggests they both had something to hide.
This gaping hole in the case should be a major takeaway from the report. But it has attracted relatively little attention, given the fact that it emphasizes why obstruction charges are so important and undermines claims that the report is a decisive demonstration of "no collusion."
Mainstream coverage, in fact, has misled people. For example, the Washington Post's Aaron Blake wrote that the Mueller Report showed, "No collusion, officially."
But Mueller makes clear in the report that just because he didn't find something doesn't mean it didn't happen. And in the case of the polling data, Mueller goes a step further and says he doesn't know why Manafort shared this information — leading wide open the possibility that the motive was criminal in nature.
In another piece, Blake noted that "it's not clear whether there was any quid pro quo agreement" regarding the Manafort polling data. But he doesn't mention that one likely reason this isn't clear is that Trump successfully obstructed justice.
The New York Times, in its list of the "7 key things"  its readers "need to know" about the Mueller report, didn't even mention Manafort once.
And the first "thing" the Times thinks you should know is this: "Trump did try to sabotage the investigation. His staff defied him."
While this is true, it gives the false impression that all of Trump's efforts to stop the investigation failed because of his staff. As I have argued, though, it's quite possible that not only was Trump successful in illegally keeping Manafort quiet but that this act covered up another game-changing crime.
There have been some exceptions to this trend of missing the point. Ben Wittes, writing for Lawfare, noted the significance of Trump's tampering with Manafort.
"Trump got what he wanted in this case," wrote Wittes. "Manafort did not end up cooperating to Mueller's satisfaction. Indeed, Mueller concluded that he breached his plea deal by failing to cooperate and by lying to investigators. So the reality here may well be that the president's obstructive conduct did, in fact, obstruct the investigation. The president hinted that Manafort should not 'flip' and that he would take care of him. And Manafort acted in a fashion consistent with his relying on those assurances."
However, in the reverse of Blake's omission, Wittes fails to connect this to the fact that Manafort's potentially criminal motive for sending the polling data remains unknown.
Charlie Sykes, writing for the Bulwark and citing Wittes, has been the only writer I've seen yet make the full connection:
At this point, we don't know how significant Manafort's silence was to the outcome of the investigation. We do know that before, during, and after his tenure as Trump campaign chair, he maintained deep and tangled relationships with figures associated with the Kremlin. At one point he passed private campaign polling data to an associate with links to Russian intelligence. Could he have exposed greater cooperation between TrumpWorld and the Russians? We don't know, although Mueller left behind several tantalizing suggestions about the information that they had been blocked from seeing.

He concluded, aptly: "But, for the time being, it appears that Donald Trump's attempts to obstruct key parts of the investigation may actually have succeeded."
Wittes acknowledged Sykes' point, writing: "I don't know why this aspect of the report is not getting more attention."
Indeed.