Many Catholic Women Refuse The Notion Of Never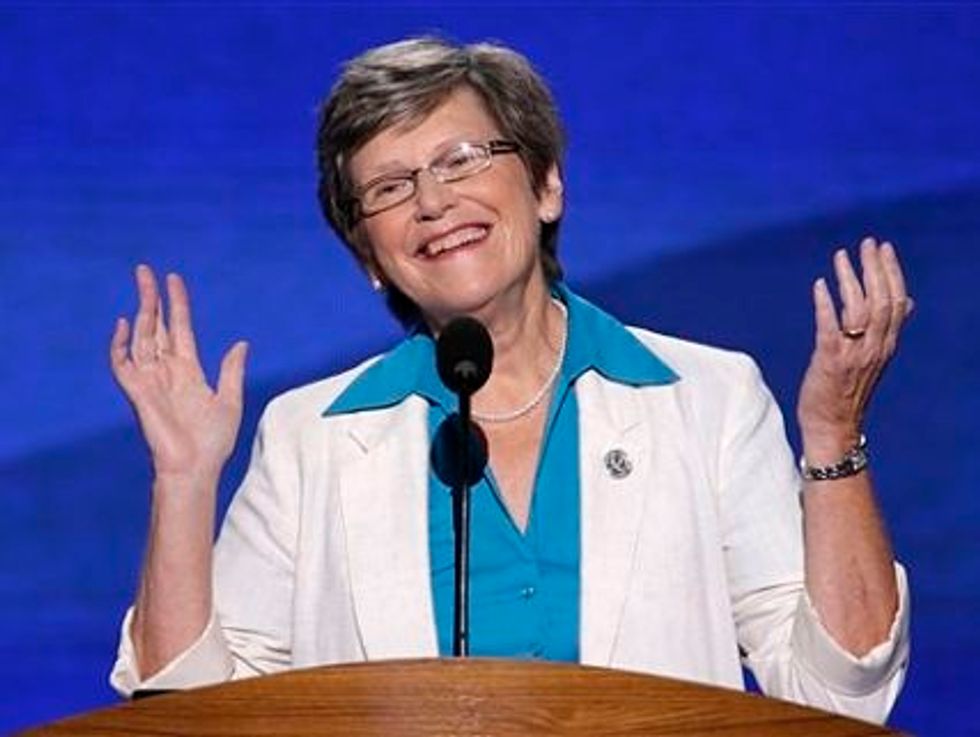 Some of the strongest women I know are Catholics who disagree with their church, but refuse to give up on it.
There are the nuns, of course, including Sister Simone Campbell. I met her and her merry bus of truth tellers last year after they rolled into Cleveland during their four-day, nine-state tour to educate Americans about the real Paul Ryan plan.
The Republican congressman may have held his own in the vice presidential debate with Joe Biden, but he was no match for Campbell. Her fact-laden fight for those living in poverty left Ryan's sham of a plan in ruins.
Many Catholic women — nuns and laywomen — are activists in their communities, which is how I've met so many of them over the years. Any reporter or columnist who covers vulnerable populations knows to seek out Catholic charities serving those neighborhoods. Talk to the women who keep them running and you'll soon understand more than you even knew to ask about the people they serve and the political leaders who've failed them.
The Catholic women I know best are dear friends who've shared my politics for decades. My friends Maura and Sue come immediately to mind. Both were born and raised in Buffalo, NY, and then moved away to build grownup lives somewhere else. They never knew each other until they met several years ago through me, their non-Catholic friend in Cleveland. Within minutes, they were talking about the Catholic parish of their childhoods. Like many lifelong Protestants, I envied their immediate bond born of a shared religion.
Women such as Maura and Sue are the face of the Roman Catholic Church's future. They bow their heads in earnest prayer, contribute time and money to their parishes, and ask themselves regularly what Jesus would do.
They also believe in empowering other women. When it comes to what is possible in the Catholic Church, they refuse to accept the notion of never.
I've met countless Catholic women like Maura and Sue. They reject the argument that women never will be ordained. They do not believe the only way to change the church is for women to leave it in droves. They are determined to change the church from within. They celebrate success in its smallest increments.
Such Catholic women are virtually fearless. They also are capable of healing the world.
Washington Post columnist E.J. Dionne, who is Catholic, understands this and has written an inspired piece about who should be the next pope.
He is hoping for a nun.
He can explain:
"The cardinals who will gather to elect a new pope know that one of the Church's central and most wrenching problems is the sex abuse scandal," he writes. "An all-male hierarchy adopted policies to cover up the abuse and seemed far too inclined to put protecting the Church's image ahead of protecting children.
"Throughout history, it's not uncommon for women to be brought in to put right what men have put wrong. A female pope would automatically be distanced from this past and could have a degree of credibility that a male member of the hierarchy simply could not."
I am, again, reminded of Sister Simone Campbell and what happened when she took her show on the road.
Campbell is not only a nun but an attorney and the executive director of NETWORK, a national lobbying group of sisters who fight for economic and social justice. After the Vatican targeted their group as a "suspect organization," they reflected and regrouped. They figured that if they were getting all this attention, they may as well put the publicity to good use. So they launched a protest against Ryan's budget plan, arguing that it would further hurt those Americans already suffering.
The media — and a number of national talk show hosts — fell in love. Everywhere the nuns went, standing-room-only crowds greeted them like rock stars. In Cleveland, more than 400 in the audience — most of them gray-haired women — rose to their feet in thunderous applause when Simone entered the room.
She was energetic.
She was funny.
She was the smartest person in any room.
In the eyes of so many, she was also a glimpse into what the Catholic Church could be — make that will be — one fine day.
Connie Schultz is a Pulitzer Prize-winning columnist and an essayist for Parade magazine. She is the author of two books, including …and His Lovely Wife, which chronicled the successful race of her husband, Sherrod Brown, for the U.S. Senate. To find out more about Connie Schultz (con.schultz@yahoo.com) and read her past columns, please visit the Creators Syndicate Web page at www.creators.com.
Photo credit: AP/J.  Scott Applewhite