How Many Trumps Does It Take To Change A Light Bulb?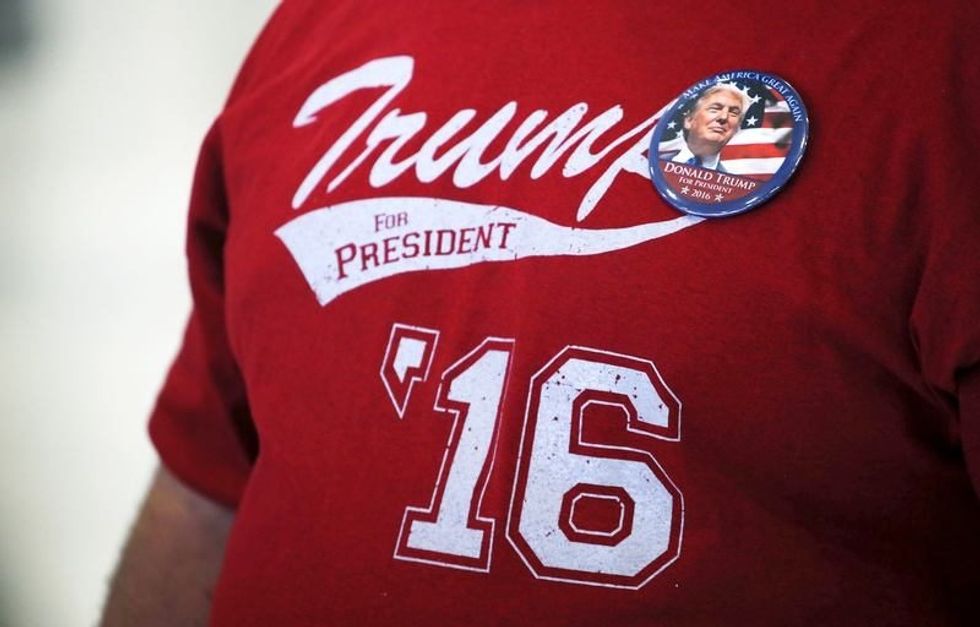 Donald Trump runs into the psychiatrist's office in an uproar. "Doctor, doctor!" Trump shouts. "How many psychiatrists does it take to change a light bulb?"
The psychiatrist sighs. "Only one," the psychiatrist says, "but the bulb really has got to want to change."
"You've heard that one before?" Trump says.
"Everybody has heard that one before," the psychiatrist says. Then he reaches into his desk drawer and takes out a form. "Full name?" he asks.
"John Y. Miller," Trump says.
"I know I'm going to regret this, but what does the 'Y' stand for?" the psychiatrist asks.
"Yuuge!" Trump says. "Now please change into a swimsuit."
The psychiatrist's face grows red with anger. "This is just foolishness," he says. "Just like your campaign is foolishness. Everybody knows that John Miller is the name you use to pretend to be your spokesman. What kind of grown man pretends to be someone else on the phone?"
"I don't know," Trump says, "but you would look fabulous in a two-piece."
"Please leave," says the doctor. "There are people with real problems in this country. I can't waste time on you."
Trump grows quiet and hangs his head in shame.
"You think I don't know there are real problems?" he says. "Our national debt is more than $19 trillion, and we have more than 46 million people living in poverty.
"Medicaid spending is expected to rise by 21 percent over the next 10 years. Social Security will rise 30 percent, and Medicare will rise 40 percent.
"Also, I think I'm getting a zit on the end of my nose."
"I don't see anything," the psychiatrist says.
"It's yuuge," Trump says. "Enormously yuuge!"
"A few seconds ago, I was going to throw you out," the doctor says. "But you really do need help. Please lie down on the couch."
Trump walks over to a leather couch and lies down. The doctor says, "I am going to repeat some quotations to you, and I want you to tell me who said them."
Trump lies down on the couch. "Go ahead," he says.
The doctor removes a list from a desk drawer. He begins to read:
"Who said this? 'I hope corrupt Hillary Clinton chooses goofy Elizabeth Warren as her running mate. I will defeat them both.'"
"Donald Trump!" Trump answers instantly.
The doctor makes a checkmark on the list and moves to the next quotation: "Wow, Lyin' Ted Cruz really went wacko today. Made all sorts of crazy charges. Can't function under pressure — not very presidential. Sad!"
"Trump," Trump says. "The 'Lyin' Ted' thing was the giveaway."
The psychiatrist makes another checkmark and says, "Which candidate said this of Carly Fiorina? 'Look at that face! Would anyone vote for that?'"
Trump stops and thinks. "I'm not sure," he says, "but it must be a candidate who is childish, insulting, abusive and immature."
"Exactly" says the doctor. "Now we are making progress. Do you also happen to remember suggesting that Ted Cruz's father in some way aided the assassination of John F. Kennedy?"
"Wow, talk about sick!" Trump says. "It must have been me."
"Some say it was also you who made fun of a disabled person and said Mexicans crossing the border are rapists, though you did assume some are good people."
"This is sounding more and more familiar," Trump says.
"Also, he has called women 'fat pigs,' 'dogs,' 'slobs' and 'disgusting animals,'" the doctor continues. "And he wants to round up and deport 11 million people in this country who lack proper documentation and ban all Muslims from entering the United States."
"Warmer," Trump says. "Definitely warmer."
"Also," the psychiatrist says, "he wants to kill the families of terrorists in order to win the fight against ISIS."
"Bingo!" Trump says. "Definitely me."
"And you feel good about that?" asks the doctor.
"It's not a matter of good or bad," Trump says. "That's what you guys miss. It's about winning, not philosophies or principles.
"There's this guy who is the chairman of the Republican Party. He has this name like Prieb Rancid or Rance Priebus. And he was talking the other day about all these stories that are critical of me. He says, 'I think that all these stories that come out — and they come out every couple weeks — people just don't care.'
"And you know what? That's exactly right! Here are all these terrible, terrible things I have said. The things I have said are wicked and awful. And I just keep winning and winning! So I guess people don't care.
"And if the people of the United States don't care what kind of person their president is, why should I care?"
The doctor grows quiet. "You may be right," he says, "and this has troubled me. But keep in mind that you have been winning consistently only in the Republican primaries and caucuses. There is a bigger world out there, and in November, the whole country gets to vote on you.
"And that is when you may get your comeuppance."
Donald Trump starts patting his pockets. "I don't know what a comeuppance is," he says, coming up with a small card from his pants pocket. "But I do have one question left: Do you validate?"
Roger Simon is Politico's chief political columnist. His new e-book, "Reckoning: Campaign 2012 and the Fight for the Soul of America," can be found on Amazon.com, BN.com and iTunes. To find out more about Roger Simon and read features by other Creators writers and cartoonists, visit the Creators Web page at www.creators.com.
COPYRIGHT 2016 CREATORS.COM
Photo: A supporter of Republican U.S. presidential candidate Donald Trump wearing a "Trump for President '16" t-shirt listens to the candidate speak at a campaign rally at the airport in Hagerstown, Maryland, U.S. On April 24, 2016. REUTERS/Jim Bourg/File Photo