March For Truth Organizers Have A Simple Demand: Investigate Trump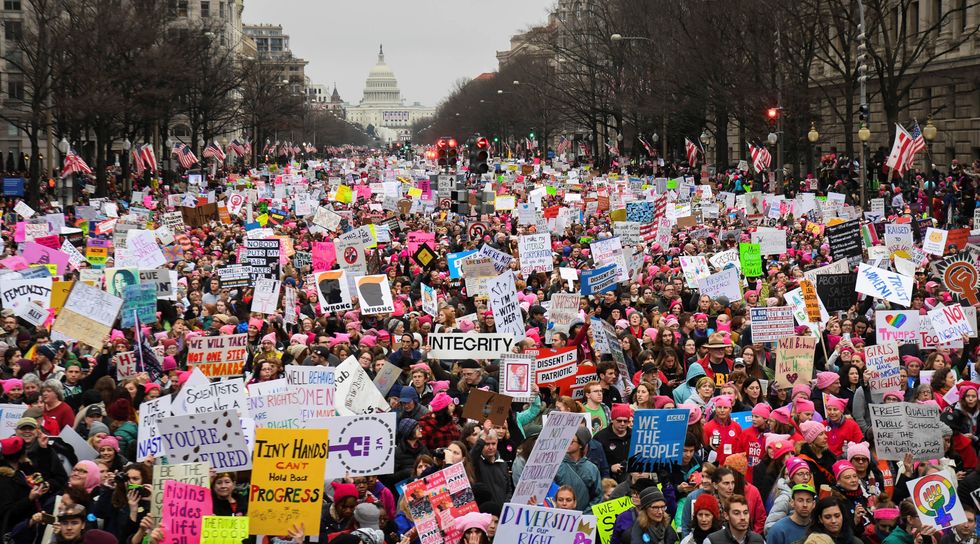 Reprinted with permission from Alternet.
While investigations into Donald Trump's Russia ties have intensified since the appointment of Robert Mueller as special counsel, many activists are concerned that current efforts still aren't enough to reveal the full range of alleged collusion, particularly without an independent commission or the release of Trump's tax returns.
On June 3, a coalition of activists will take to the streets in Washington, D.C., New York City and more than 100 other cities around the world to March for Truth and demand Trump be held accountable for any crimes he may have committed.
In Washington, Women's March organizer and longtime activist Linda Sarsour and Rep. Jamie Raskin (D-MD) will address a rally in front of the Washington Monument, culminating in an aerial photograph of participants arranged to spell out the event's simple demand: "Investigate Trump."
"House of Cards" creator Beau Willimon will emcee the New York City event, which will include speeches from Rep. Jerrold Nadler (D-NY) and actress and longtime Trump foe Rosie O'Donnell. MoveOn.org, the Women's March, Common Cause, Indivisible, the Working Families Party, and Public Citizen are among the progressive partners.
Many in the resistance movement debate the importance of the focus on Russia, arguing, as Sam Stein did in the Huffington Post, that while much of America is fixated on scandals, the Trump administration and its allies in Congress quietly push for regressive policies, including the return of mandatory minimum sentences for low-level drug offenses, repealing regulations that protect workers from wage theft, and giving coal companies free rein to pollute streams.
March for Truth organizers, however, are adamant that they're ready to fight the current administration on multiple fronts, including health care, immigration and the environment, but that the pressure needs to remain on the Russia investigations.
"Donald Trump and Republicans in Congress need to know that we won't let this issue get swept under the rug," Sean Eldridge, founder and president of Stand Up America, one of the March's organizational partners, said in a statement. "The special counsel is an important step," he continued, "but we still need an independent commission to expose the full truth of Russia's attack on our democracy to make sure it never happens again."
Shannon Stagman, a member of Indivisible New York and co-organizer of the New York march, told AlterNet, "Russian interference in our election is the foundation of all the issues we now have to fight for, and why we'll be working so hard to flip the House in 2018. The American people have a right to get a full accounting of what happened and how the current administration is involved, so that we can make informed decisions about how to move forward. That's why we're marching on Saturday."
Ilana Novick is an AlterNet contributing writer and production editor.
This article was made possible by the readers and supporters of AlterNet.