'Marching Home': Veterans of Civil War Faced Struggles Similar To Those Of Today's Soldiers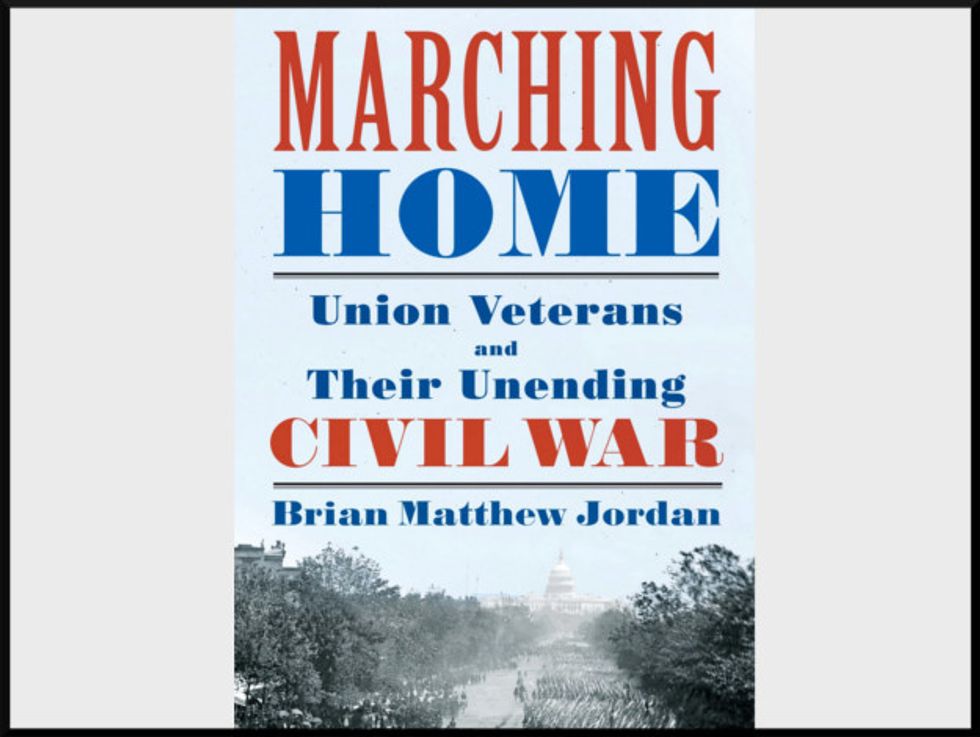 Marching Home: Union Veterans and their Unending Civil War by Brian Matthew Jordan; Liveright (384 pages, $28.95)
—
Reviewed by Frank Reeves, Pittsburgh Post-Gazette (TNS)
Although the Civil War ended 150 years ago, interest in the conflict has never faded. Perhaps this is not surprising. Those who lived through the war and its aftermath dealt with issues that are still central to the nation's life.
In a way, the "boys in blue and gray" also still live with us in the experiences of veterans returning home from the Iraq and Afghanistan wars. Caring for those who have borne the battle and for their families remains an urgent task.
In Marching Home: Union Veterans and Their Unending Civil War, historian Brian Matthew Jordan describes in poignant detail the problems many Union veterans faced as they tried to adjust to civilian life: bouts of depression, suicides, alcoholism, joblessness, estrangement from wives and families and, at times, contempt from their civilian neighbors.
By using veterans' newspapers, disability pension files, personal letters and diaries, Jordan describes what he has aptly called "the pathos of American veteranhood." Sadly, for some combat veterans of the nation's recent wars, it will be a familiar story.
Even as their civilian neighbors were anxious to put the Civil War behind them and avert their eyes from the men with shattered legs and empty sleeves who populated every town, many veterans could not forget what was for them the defining event of their lives. Some would be haunted by the war — maimed in body and spirit — until they answered their "last roll call" decades later.
But Marching Home also tells another, parallel story. Americans in the late 19th century were unprepared to deal with the demobilization of the Union and Confederate armies in 1865. Nothing on this scale had ever happened before. As Jordan notes, the entire U.S. Army during the Mexican War was about 100,000 men, roughly the size of Union General George Meade's Army of the Potomac at the Battle of Gettysburg. By contrast, about 2 million men served in the Union army and navy during the Civil War.
The prevailing ideology, as Jordan describes it, thwarted national efforts to relieve the suffering of many veterans. Men were expected to heed their nation's call, serve bravely on the battlefield and fade back into civilian life once they were mustered out of the military.
Alcoholism, which blasted the lives of many veterans, was seen as a character defect, not an addiction — a disease that could be at least ameliorated, if not cured.
And it would be long after the Civil War before the notion that government had an obligation to help poor and needy individuals and families began to take root.
In a book as rich in anecdotes as Jordan's, it is fair to ask how representative are these veterans' stories, which he so movingly describes. After all, there is ample evidence that many veterans did have successful lives despite the trauma of war.
However this question is answered, his book provides us with yet another cautionary tale from the Civil War — that the pain of war endures long after the stacking of arms or the signing of an armistice. A fact that those who clamor for U.S. military intervention in every conflict too often forget.
(c)2015 Pittsburgh Post-Gazette, Distributed by Tribune Content Agency, LLC