Marco Rubio And Chris Christie Hang Out With Mitt Romney Over July 4th Weekend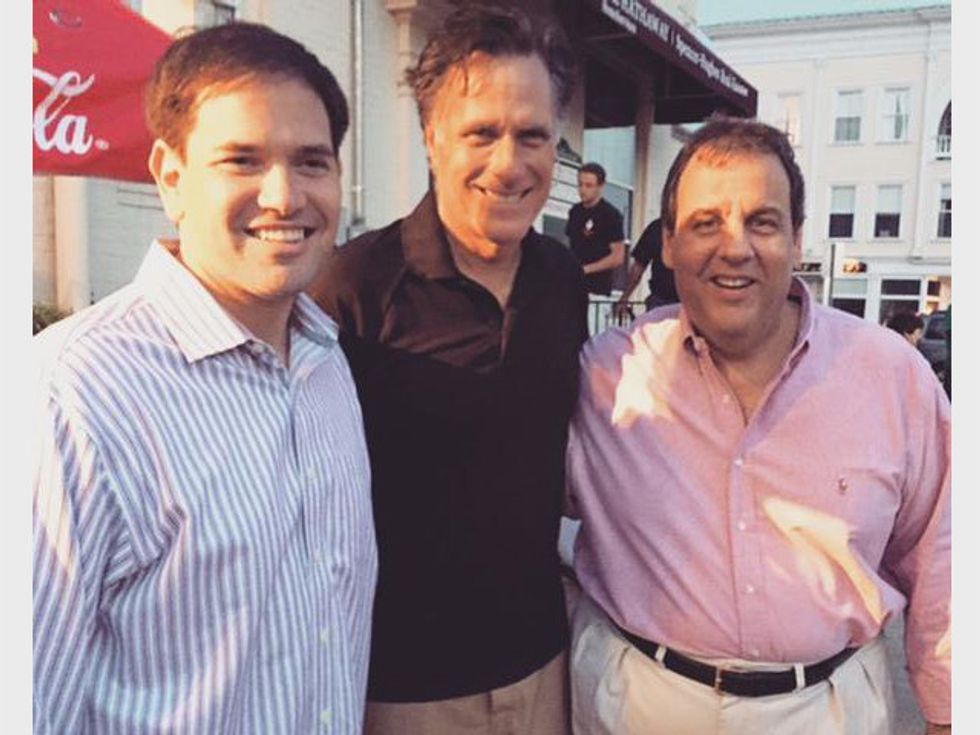 A sleepover. A slumber party. Staying the night. A holiday.
Whatever words you want to use, Mitt and Ann Romney decided to have some fun and do a little strategizing with two Republican presidential candidates, New Jersey governor Chris Christie and U.S senator from Florida Marco Rubio. With both in New Hampshire to campaign (by appearing in Wolfeboro's Fourth of July parade), the Romneys invited the candidates and their families to hang out for the weekend.
Christie and Romney said the meeting wasn't about securing an endorsement, even if that's what everyone thinks.
"A lot of these folks helped me during my campaign. I'm going to be as loyal to them as they were to me," Romney told CNN.
Christie told NJ.comthat the Romneys had been family friends for years. "Mitt and Ann, as I've said many, many times, are friends of ours," Christie said. "We've been friends for a lot of years, don't forget. … Mitt Romney came to New Jersey in 2009 and endorsed me in the middle of a contested primary."
Christie endorsed Romney early in his 2012 run. Romney seriously considered him as his running mate, but a long list of potential scandals spooked him and the promotion was quashed.
Romney mulled running again in 2016 but decided against it in January. He has yet to endorse anyone; the sleepover, along with a meeting next week with Jeb Bush, are seen as overtures to determine who gets his pick. But an endorsement only matters insofar as it translates to votes and money. It's actually Romney's deep ties to fundraisers that matter more, argues a political science professor in the Boston Herald: "He's a kingmaker in terms of finances," said Erin O'Brien of University of Massachusetts Boston. "Mitt Romney has a donor list all those candidates would kill for. That's why they're wooing him."
Romney, who owns a $10 million vacation home in Wolfeboro—a town that calls itself "America's oldest summer resort"—told CNN that he didn't give either of the candidates advice, and stuck to universal topics: family, vacation, life, sports.
The quintessential All-American nature of the day was reiterated by Rubio, who barely spoke to the press, merely mentioning what kind of food was served — hot dogs, hamburgers, and ice cream — and commented on how nice Romney's house is. He was more vocal about how his supporters were drowned out by Christie-ites, with their blue signs and poles.
Christie tweeted about the weekend (which also included a run-in with Nancy Juvonen, Jimmy Fallon's wife), thanking his hosts and circulating a picture of himself in a salmon-colored linen button-down shirt with his arms around Romney, hair tousled. Rubio is in the photo too, wearing an uncomfortable, perfunctory smile, appearing to be distancing himself from the other two. (The odd photo provides much fodder for idle speculation: Why is Rubio so distant? Could it explain why he's been so silent?)
In the tweet, Christie mentions @marcorubiofla, which is not only not Marco Rubio's account — it is not actually a Twitter account at all. Anna Merlan at Jezebel speculated that the nonexistent Twitter handle could be a slight way of tossing shade.
Rubio, on his actual Twitter account, stayed clear of the Christies and thanked his hosts and shared pictures of his family and supporters.
Photo: Florida senator Marco Rubio, left, and New Jersey governor Chris Christie, right, flank the Republican elder statesman Mitt Romney in New Hampshire this weekend. Despite not running, Romney remains a critical component of the Republican Party. Chris Christie/Twitter