Marijuana Becomes A Player In California Politics And It's Putting Its Money On Gavin Newsom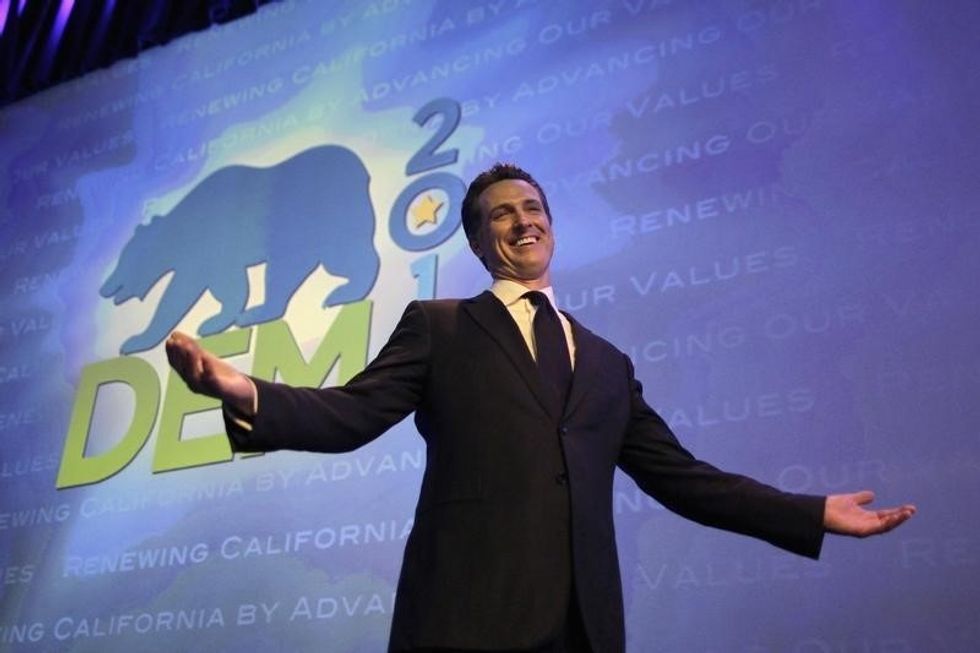 Reprinted with permission from AlterNet.
Marijuana is already a multibillion-dollar-a-year business in California, and with recreational sales to adults coming online next year, it's about to get even bigger. Now, the legal pot industry is beginning to throw its weight around in state office-level politics, and it's doing it the old-fashioned way: with a checkbook.
Fundraising for the 2018 gubernatorial campaign is already well underway, and according to a recent Los Angeles Times analysis of campaign contributions, Lt. Gov. Gavin Newsom is running away with the cannabis cash. Pot growers, retailers and others in the industry have donated more than $300,000, swamping industry contributions to his Democratic competitors, former Los Angeles Mayor Antonio Villaraigosa ($5,000) and Treasurer John Chiang ($100).
That means Newsom has hoovered up around 98% of pot industry contributions in the Democratic race for the nomination so far. There's a reason for that—actually a couple of reasons.
First, the charismatic former San Francisco mayor has been a key player in the state's path toward full legalization, just as he was an early supporter of gay marriage. One of the first state-level officials to come out for freeing the weed, he has used his largely ceremonial position as lieutenant governor to champion the cause, creating a blue-ribbon commission and holding public hearings to develop policy to support what would ultimately become Prop 64, the legalization initiative approved by voters last fall. He's earned some political goodwill from the pot people.
Second, he's actively courting the industry. The Times reports that Newsom has held four industry fundraisers so far, including one in March hosted by the Indus Holding Company, maker of such marijuana-infused treats as Toasted Rooster and Crispy Kraken chocolate bars:
Local business leaders paid up to $5,000 for a chance to talk with the man aiming to be California's next governor….Banking was a major topic that night, they said. Currently, the vast majority of banks and credit unions will not work with cannabis companies, because the federal government considers their revenue illegal. Some operate on an all-cash basis, and most lack the ability to find traditional financing.
There is a lot at stake for the marijuana industry. Regulatory and tax policies for the new legalization regime are being developed now. As both wielder of the veto pen over legislation and head of the executive branch that will implement legalization, the next governor will be a critical player in decisions that will help decide who makes a fortune and who doesn't.
And that worries Hezekiah Allen, executive director of the California Growers Association, which represents small growers in Northern California's traditional pot-growing Emerald Triangle. He told the Times the money to Newsom is coming from large enterprises and wealthy individuals seeking to cut out the ma-and-pa growers who paved the way.
"There are fierce and cutthroat business practices coming," he said. "We're pushing to keep craft growers in business."
The $300,000 raised so far by the pot industry is only a small part of Newsom's $14 million campaign war chest, but it's more than any other agricultural sector in the state has raised, and it's a clear sign of pot's increasing political clout. But with legalization already won—at least on the state level—that clout is going to be focused on who benefits and how.
Phillip Smith is editor of the AlterNet Drug Reporter and author of the Drug War Chronicle.