Court Orders Meadows To Testify Before Georgia Grand Jury
@LucianKTruscott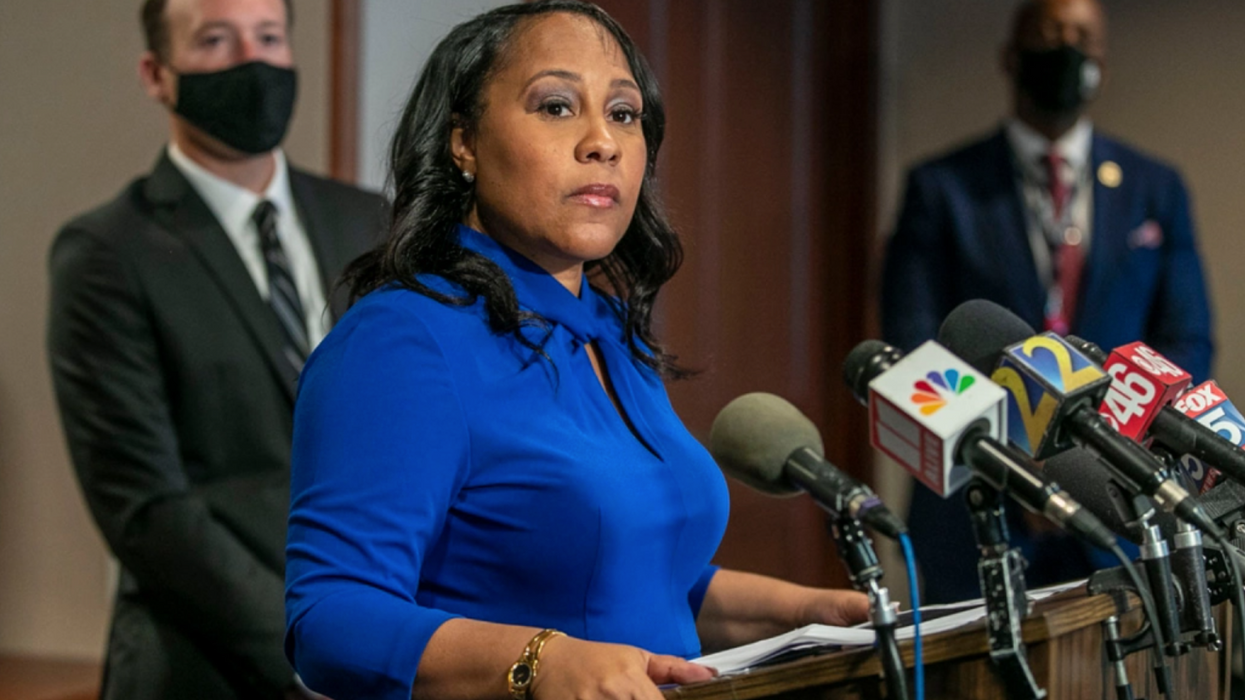 Fulton County District Attorney Fani T. Willis has won another mini-battle in her ongoing campaign to put a rats' nest of 2020 election-denying co-conspirators before her grand jury in Georgia. The vermin she snared this time is former White House Chief of Staff Mark Meadows, who had been fighting a subpoena to testify for months. On Wednesday, a South Carolina court ordered Meadows to appear in Atlanta and testify before the grand jury that he and seemingly every other Trumpian rat has been assiduously dodging. Meadows' attorney, James Bannister, a criminal lawyer in South Carolina who has been listed in South Carolina Super Lawyers since 2011, announced that Meadows would appeal the order.
The list of witnesses who have testified before Willis' grand jury is eye-opening, beginning with Brad Raffensperger, the Georgia secretary of state whom Trump called four days before the January 6 insurrection, asking that Raffensperger "find 11,780 votes, which is one more than we have," as Trump put it, so he could be declared winner of the presidential election in Georgia. (Meadows was on the line when Trump placed that call.)
Also appearing before the grand jury was a who's who of elected officials from the state: Attorney eGeneral Chris Carr; Lieutenant Governor Geoff Duncan; Representative Jody Hice; Jen Jordan, a Georgia state senator who is running for attorney general; State Sen. William Lignon; Bee Nguyen, who ran against Raffensberger in the Republican primary and lost; State Rep. David Ralston; State Sen. Elena Parent; former US Sen. Kelly Loeffler; former White House Counsel Pat Cipollone; former Trump lawyer and New York Mayor Rudy Giuliani; and former Trump lawyer Jenna Ellis.
Among the notable election deniers who have been subpoenaed but have so-far successfully fought testifying are Georgia Gov. Brian Kemp; Michael Flynn, Trump's former national security adviser and pardoned felon; former House Speaker Newt Gingrich; Sen. Lindsey Graham; former Trump lawyer Kenneth Chesebro; and former Trump lawyer Cleta Mitchell, currently on a nationwide tour to "educate" Republican poll workers about how to deny people the right to vote on Election Day. Trump lawyer John Eastman, who authored the infamous memo outlining the fake elector scheme, has testified before the grand jury but took the Fifth in answer to every question he was asked.
Nothing to see here, right? A local D.A. in Georgia running a little minor grand jury in Fulton County looking into who did what to overturn the election in Georgia. But just look at the list of rats hiding under legal rocks and scurrying beneath a fluttering snowstorm of lawsuits trying to avoid testimony. Mark and Newt and Mike and Lindsey and Brian – oh, my goodness! What could they be afraid of?
As Meadows' attorney pointed out in his lawsuit in South Carolina, (unsuccessfully so far) Willis' special grand jury doesn't even have the power to indict. At least one person subpoenaed by Willis has successfully used that theory to avoid testifying: Jacki Pick Deason, a former Trump campaign lawyer who is now – surprise, surprise! – a podcaster, convinced a Texas court to order that she had "no obligation" to appear. Nutso Trump lawyer, Sidney Powell, also a Texas resident, refused her subpoena under the same bogus legal theory.
So that's where things stand in Georgia. If you just go by the list of prominent rats scurrying for cover from the grand jury, Mark Meadows and Lindsey Graham among them, it would seem that Fani T. Willis is onto something down there. She has yet to issue a subpoena to the biggest rat of them all, Donald Trump, but tomorrow's another day, and we can at least keep hope alive, can't we?
Watch this space.