New Meadows Texts Show GOP Politicians Eagerly Aided Trump Coup
@DevilsTower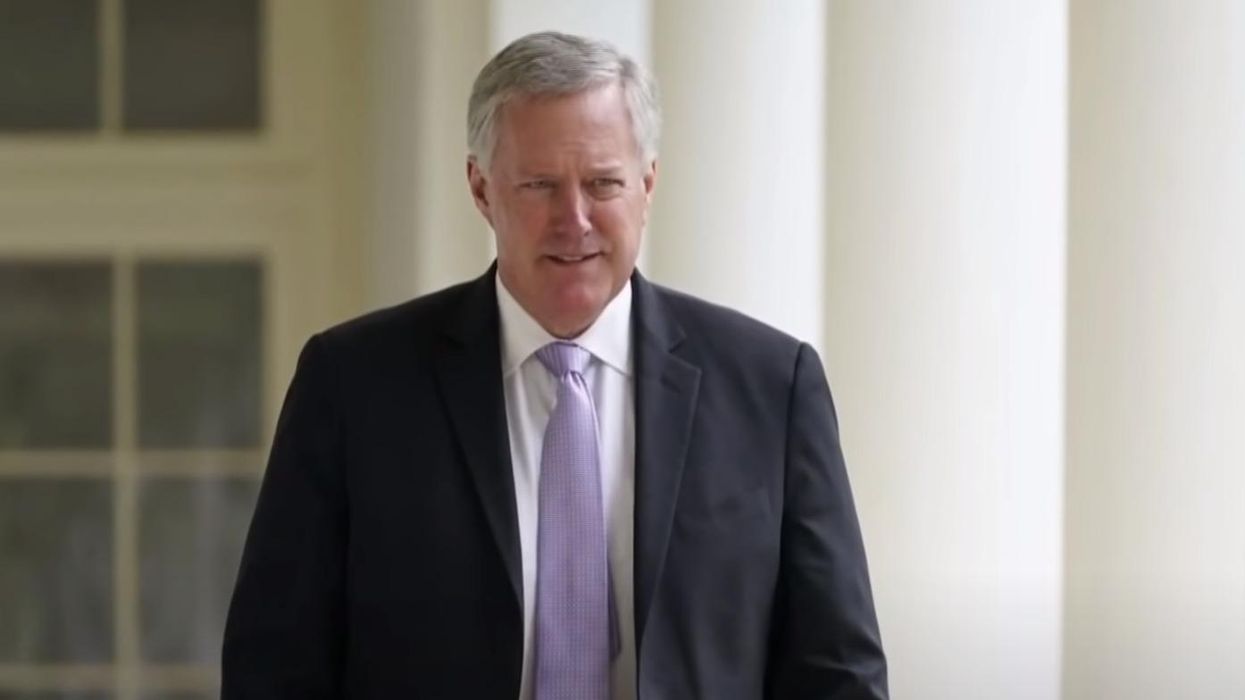 Youtube Screenshot
In the lead-up to January 6, former Trump White House chief of staff Mark Meadows communicated with at least 34 Republican members of Congress involved in efforts to overturn the 2020 election. Those communications went both ways, with Meadows attempting to organize Republican efforts to obstruct the peaceful transition of power, and Republicans in Congress calling for Meadows, and Trump, to refuse to honor the outcome of the election. The Republicans involved were eager to spread conspiracy theories, pushed quack theories of election law, and offered to do "anything" to help keep Trump in office.
Talking Points Memo has obtained the complete contents of 2,319 text messages written by Meadows, Republican officials, and members of the Trump White House. Those messages have been previously provided to both the House Select Committee investigating events connected to January 6, and to the Department of Justice. The messages show not just how Donald Trump attempted to employ false claims and conspiracy theories in a plot to overturn the 2020 election, but how other politicians at the federal, state, and local levels became part of this effort, many of them eagerly.
The messages show clearly that attempts to end American democracy began as soon as election results started to roll in, and continued even after the violence and chaos of the January 6 insurrection. Right up until the final days of Trump's occupancy of the White House, Republicans were still working to overthrow the elected government. That included South Carolina Republican Rep. Ralph Norman begging Trump to declare "Marshall Law" (sic) just four days before President Joe Biden was sworn into office.
Coordination between Meadows and Republicans in Congress attempting to negate the outcome of the election began while the votes were still being counted. In fact, they likely began long before, but since the period of time represented by the text messages was limited, some conversations were picked up in the middle. In any case, Republicans like Missouri Rep. Billy Long were writing to Meadows, offering unsupported claims of election fraud as soon as it became obvious that the vote was not going Trump's way.
Hours later, Ohio Rep. Warren Davidson was sending Meadows suggestions on who should "lead the challenge in Michigan." Soon after, Pennsylvania Rep. Mike Kelly had this heartwarming thing to say about his home state: "Let me know if there's anything I can do to fight these MF'ers in PA."
The flood of back-and-forth messages never stopped. It was clear that Republicans in Congress saw Meadows as the clearinghouse for information on how to reverse the outcome of the election and as the gateway to getting ideas in front of Trump. They sent their suggestions to him, asked him to attend their meetings, and repeatedly offered to do anything to keep Trump in office.
.Just two days after the election, Texas Rep. Brian Babin was texting Meadows that, "When we lose Trump we lose our Republic," and urging him to "fight like hell" rather than see America "live under a corrupt Marxist dictatorship." And that was just one of 21 messages sent by Babin during the period of texts collected. He didn't need evidence to begin ranting about Trump's loss as a "theft" and to offer his services.
Babin was also one of dozens of Republicans in Congress who organized a "resisters group" with the help of the deliberately shadowy Conservative Partnership Institute (CPI). That same "institute" also worked with Sen. Mike Lee to reportedly organize around a dozen senators. The goal for both Republican congressional groups was to convince their members that the law allowed Mike Pence to halt the tabulation of results, and for Republicans in Congress to substitute false Trump electors for the actual electors for President Biden. CPI became the meeting point and headquarters of congressional efforts to overturn the election.
Through the following two months, Republicans not only formed their plan to install false electors and obstruct the count on January 6, they frequently sent Meadows suggestions on how to overcome obstacles to their coup plot. That included Tennessee Rep. Mark Green and North Carolina Rep. Greg Murphy relaying claims that Republican state legislatures could simply "declare" Trump the winner, no evidence necessary. Murphy, in particular, called on Meadows to follow the strategy of just having Republican legislators declare the vote "contaminated" and picking the winner themselves.
North Carolina Rep. Ted Budd was one of several Republicans who passed along false claims about Dominion Voting Systems and promoted conspiracy theories that the machines were under the control of Democratic operatives. This included, of course, Budd making claims that the company was secretly owned by George Soros.
Louie Gohmert, Marjorie Taylor-Greene, Andy Biggs, Ted Cruz, Mo Brooks, Jim Jordan, Paul Gosar … all the usual suspects are there, complete with outlandish theories and proof that their incoherence isn't limited to the debate stage. That includes this winning text from Gosar, sent near midnight on December 16, in which he calls on Meadows to throw out the election because Dominion is under foreign influence.
When is the 45 days up? What date starts the clock ?? Nov 3rd? If it is, then that is December 18!!! China bought Dominion in October for $400 million. If that's not interference, then should have a report with details and specifics that would validate that either way. And if they didn't…… Call me I have some fireworks coming out of AZ early tomorrow. Call me anytime, I'm up.
Gosar accompanied his text with a link to a surely authoritative blog called "Some Bitch Told Me."
What Meadows' texts reveal overall is just how willing, eager, and ready many Republicans in Congress were to overturn the election results. They were willing to not just spread lies about election fraud, but to start them. They were sifting the internet, grabbing onto the most bizarre conspiracy theories they could find, and shooting them straight to the White House. They were working with multiple dark money groups to create war rooms where they could game out various approaches in their coup plots. They worked directly with the groups that stage-managed events on Jan. 6, and—despite a few declarations of concern that their insurrection had come to include actual violence—didn't back away after that date.
The last message from Rep. Norman doesn't come until Jan. 17. It ends with "… we are at a point of no return in saving our Republic!! Our LAST HOPE is invoking Marshall Law!! PLEASE URGE TO PRESIDENT TO DO SO!!"
Seeing how close America came to being taken down by people who not only believed in—or intended to believe in—the most asinine ad-hoc conspiracy theories with no supporting evidence, but who did not even know the term is "martial law," should be terrifying. Perhaps even more terrifying—these same people, with very few exceptions, are going to be back in Congress this year. Ted Budd, the guy who went through multiple logical leaps to point the finger at George Soros, even got a bump from Representative to Senator.
These same people, the ones who were telling Meadows to simply have Trump declared the winner, calling the election officials in their states "MF'ers," and declaring over and over again that they were willing to fight rather than follow the will of the voters, will now be getting plum committee assignments and sitting in the majority in the House.
Reprinted with permission from Daily Kos.