Final Report: Select Panel Recommends Barring Trump From Public Office
@Brandi_Buchman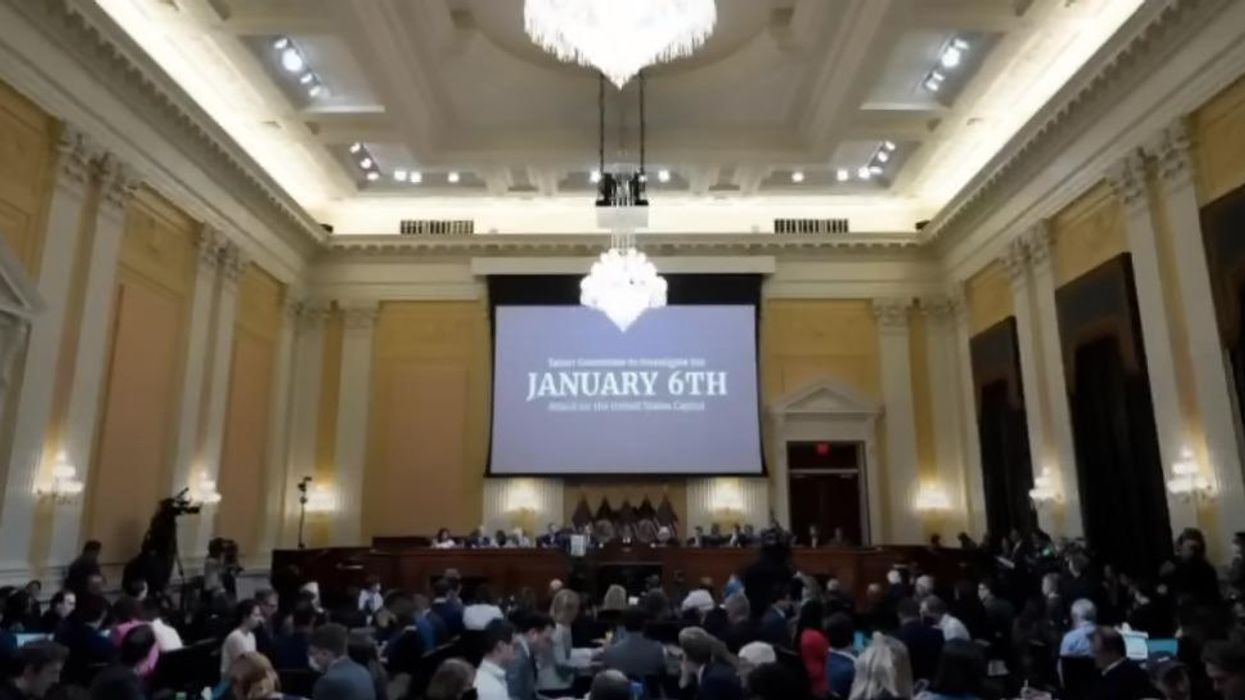 The House Select Committee has published its final report. You can find it here.
The report is a sweeping 845 pages and features rich narratives neatly divided into different phases of former President Donald Trump's push to overturn the results of the 2020 election before finally inciting an insurrection at the U.S Capitol.
1. THE BIG LIE
The first chapter of the final report covers former President Donald Trump's "Big Lie" and specifically, the committee contends, how he deliberately exploited the "Red Mirage" to advance his overturn agenda.
As Fox News elections head Chris Stirewalt explained: for nearly half a century, the practice of voting by mail or early voting, or absentee voting was par for the course. Typically, because Democrats tend to vote this way more often than Republicans in "nearly every election," he said, it results in a simple formula: "Republicans win Election Day and Democrats win the early vote and then you wait and start counting. It happens every time."
Trump exploited an ordinary situation, sowed confusion about the timing of the votes, and deceived Americans, the report notes. And all of this was foreshadowed.
Subchapters in the first section of the report focus on Trump's early plans to declare victory in the election, further details about his efforts to delegitimize the process, the formal launch of the Big Lie, the shakeup to his campaign team after the election was over, how his campaign informed him repeatedly that he had lost and voter fraud didn't exist as well as Trump's promotion of conspiracy theories. Another section is devoted entirely to his speech on January 6.
Trump "pushed the campaign's 'Team Normal'" to the curb two weeks after the election (Campaign manager Bill Stepien and deputy Justin Clark) and replaced them with Rudy Giuliani who then recruited attorneys Jenna Ellis (Giuliani's deputy), Bernie Kerik, Boris Epshteyn, Katherine Friess, and Christina Bobb.
On January 2, 2021, Matthew Morgan, the senior-most lawyer for the Trump campaign approached then-Vice President Mike Pence's staff, and together, the men reached the conclusion that even if every claim of fraud was "aggregated and read most favorably to the campaign… it was not sufficient to be outcome determinative."
Trump White House adviser and son-in-law Jared Kushner arranged an Oval Office briefing for Trump on Nov. 6, exactly two months to the day until the insurrection, with campaign staff. Trump was told then that analysis from swing states showed a victory was impossible.
By the numbers:
Trump sued 62 times in states and in Washington, D.C. from Nov. 4 to January 6. He lost all but one case. 22 judges appointed by Republican presidents oversaw the cases. 10 of them were Trump-appointed. All three of the justices appointed to the U.S. Supreme Court who reviewed his fraud claims, rejected them.
The first chapter of the report, in particular, Section 1.8 "President Trump repeatedly promoted conspiracy theories," offers extensive analysis and debunking of the various conspiracy theories that Trump deployed about rampant voter fraud.
Dead people voting became a major, disinformation-laden complaint flowing from the Trump campaign and the Republican party. The final committee report notes that just days before January 6, Senator Lindsey Graham prodded Trump's lawyers to "provide evidence to support the campaign's claims regarding dead voters."
Giuliani looked into it and "they concluded they could not find evidence of dead voters anywhere near the number that Giuliani and President Trump were claiming publicly."
Excerpt:
After noting the shortcomings in their evidence, Katherine Fries, a lawyer working with the Giuliani legal team, warned that Senator Graham would "push back" on their evidence. As predicted by Friess, Senator Graham was not impressed by the information provided by Giuliani's team.
In his speech on the Senate floor on January 6th, Graham explained why he would not object to the certification of electoral votes. Senator Graham referred to the failure of the Trump attorneys to provide the evidence he requested: "'They said there's 66,000 people in Georgia under 18 voted. Howmany people believe that? I asked, 'Give me 10.' Hadn't had one. They said 8,000 felons in prison in Arizona voted. Give me 10. Hadn't gotten one. Does that say there's—There's problems in every election. I don't buy this. Enough's enough. We've got to end it."

Dominion Voting Systems may have a chance to sue Trump yet. According to the final report, Trump tweeted and retweeted false claims about the voting machine manufacturer over 30 times, lies about them in election speeches and interviews and did all of this, despite his staff telling him his claims had no merit, the report notes.
"Hand recounts confirmed the fidelity of the machines. But none of this overwhelming evidence mattered. President Trump demonstrated a conscious disregard for the facts and continued to maliciously smear Dominion."
II. 'I JUST WANT TO FIND 11,780 VOTES'
The final report reveals that former President Donald Trump contacted more than 190 Republican state legislators in Arizona, Georgia, and Michigan alone—just three of seven battleground states.
Excerpt:
One voicemail left as part of this initiative was leaked to the press on December 1, 2020. In it, a Trump Campaign staffer said, "I did want to personally reach out to you on behalf of the President." Her main point came later in the message: "we want to know when there is a resolution inthe House to appoint electors for Trump if the President can count on you to join in support." Another message from this effort that reached reporters made the same ask and claimed that, "[a]fter a roundtable with tthe President, he asked us to reach out to you individually" to whip support for a "joint resolution from the State House and Senate" that would "allow Michigan to send electors for Donald J. Trump to the Electoral College and save our country." Soon after the voicemail leaked, the Campaign staffer who left this voicemail got a text message from one of her supervisors, who wrote: "Honest to god I'm so proud of this" because "[t]hey unwittingly just gotyour message out there." He elaborated: "you used the awesome powerof the presidency to scare a state rep into getting a statewide newspaper todeliver your talking points."

III. FAKE ELECTORS AND 'THE PRESIDENT OF THE SENATE' STRATEGY
At the heart of the attempt to overturn the election were the fake electors. The committee notes how in seven battleground states, they affixed their signatures to bunk certificates in gambits led by Trump's attorney Rudy Giuliani and others like Kenneth Cheseboro, Cheseboro provided instructions to pro-Trump electors in five of the seven battleground states to declare themselves "duly elected and qualified" but they weren't. None of those who had signed were sanctioned by the state government with what is known as a "certificate of ascertainment."
In just two of the seven battleground states, electors included a disclaimer on their "certificate" that noted the form was valid only if they were deemed "qualified" at a later time.
In an email to Trump's campaign manager Bill Stepien on December 14, 2020, Joshua Findlay, the Republican National Committee's director for election integrity, sent an email to the legal team on the campaign.
Excerpt:
"Findlay updated Campaign Manager Bill Stepienand his bosses on the legal team that the Trump team's slate in Georgia wasnot able to satisfy all provisions of State law but still "voted as legally aspossible under the circumstances" before transmitting their fake votes toWashington, DC, by mail."

The final report also presents evidence connecting Trump directly to the fake elector scheme. Findlay said Trump "made it clear that Rudy [Giuliani] was in charge of this and that Rudy was executing what he wanted.""
IV. 'JUST CALL IT CORRUPT AND LEAVE THE REST TO ME'
The Justice Department never found any evidence of widespread voter fraud significant enough to alter the outcome of the 2020 election and hand Donald Trump a victory.
The committee notes that former Trump-appointed Attorney General Bill Barr authorized two investigations into claims of election fraud. The first one began on Nov. 7—the day the press declared Joe Biden was the winner—and then on Nov. 9. Barr ordered the department and the FBI to investigate for fraud in their respective jurisdictions. He specified that his order should not lead anyone to believe that the request for an investigation alone constituted proof fraud.
Barr rebuffed Trump's conspiracy theories in three meetings and Trump was immovable.
"The President said there had been major fraud and that, as soon as the facts were out, the results of the election would be reversed," Barr told the committee.
Rudy Giuliani had been in Trump's ear, Barr said, and was telling him "crazy stuff" about what authority the Justice Department had to investigate their claims. Giuliani had badmouthed the Justice Department to Trump and Barr believed this was because Giuliani was upset that no one had come up with any evidence of fraud.
By Nov. 29, Trump went on Fox News and claimed the DOJ was "missing in action" and he opined that maybe the FBI was involved nefariously somehow. Trump claimed the FBI wasn't investigating Dominion, either. But six days earlier Barr had already explained to Trump that the Dominion voting machine conspiracy theory was nonsense. All Trump did, Barr testified, was come back at him with "crazy stuff." Barr would resign on Dec. 14.
Deputy Attorney General Jeffrey Rosen stepped in after Barr left. From December 23, 2020, to January 3, 2021, Rosen and Trump were in constant contact and it was usually Trump calling to complain about how little the Justice Department had done to investigate his claims of voter fraud.
Rep. Scott Perry, a Pennsylvania Republican, had introduced Trump to Jeffrey Clark, an attorney at the Justice Department who was sympathetic to Trump. Clark eventually went to a meeting at the Oval Office against department policy. Rosen warned Clark not to do it again. Rosen had not yet learned that at the meeting in the Oval Office, Clark "told the President that if he were to change the leadership at the Department of Justice, 'then the Department might be able to do more' to support the President's claims that the election had been stolen from him."
As Clark vied for the top spot at the department, he would draft a memo intended for battleground state legislatures that proclaimed voting irregularities. First up was Georgia. If Rosen wouldn't send memo as Trump wanted, Clark would replace him, Rosen recalled. The memo was never sent and Clark never ascended the ladder for the simple fact that Rosen and his deputy, Richard Donoghue, as well as other Justice Department officials, threatened to resign en masse if Trump went forward with Clark.
Excerpt:
"People tell me Jeff Clark is great" and that "I should put him in,"President Trump said on the call. "People want me to replace the DOJ leadership." Donoghue responded "[S]ir, that's fine, you should have the leadership you want, but understand, changing the leadership in the Department won't change anything."

Perry, who has been referred to the House Ethics Committee by the January 6 probe, called Richard Donoghue one day before Clark drafted the 5-page memo.
The final report notes at length that the same tactics being used by Rudy Giuliani to advance fake elector slates, were the ones Clark deployed in his draft letter.
From December through January 2, Clark met with Trump in Oval Office despite admonishments from Rosen. Trump meanwhile was fervently pushing the Justice Department to file a frivolous lawsuit in Pennsylvania challenging the election results. Despite being told repeatedly that this would not happen, Trump and his allies kept pressing the Justice Department.
V. 'A COUP IN SEARCH OF LEGAL THEORY'
Highlights from this section of the final report include some incredibly damning if not wildly curious details around the drafting of a memo by attorney John Eastman that proposed to have the vice president intervene at the joint certification ceremony. The proposal was flatly unconstitutional but ambiguity in the language around the Electoral Count Act was just wide enough of a window for Eastman.
The final report contends that Eastman wrote his first of two "January 6th Scenario" memos on Dec. 23. That same day he spoke to Trump for 23 minutes.
Excerpt:
"From the start, President Trump was looped in on Eastman's proposal.The same day Eastman started preparing the memo, he sent an email to President Trump's assistant Molly Michael, at 1:32 p.m.: "Is the President available for a very quick call today at some point? Just want to update himon our overall strategic thinking." Only five minutes later, Eastman received a call from the White House switchboard; according to his phone records, the conversation lasted for almost 23 minutes."

Pence and Trump met privately, without anyone else present, on January 5, 2021, at the White House. Eastman had been pushing the Pence-as-arbiter-of-the-count strategy hot and heavy but understood, the committee notes, that Pence wouldn't go for it.
Excerpt:
Eastman recognized that Vice President Pence was not going to change his mind on rejecting electors outright, but he still asked if the Vice President would consider sending the electors back to the States. "I don't seeit," Vice President Pence responded, "but my counsel will hear out whatever Mr. Eastman has to say."Jacob received other calls from Eastman on January 5th. Jacob toldthe Select Committee that he had a detailed discussion with Eastman concerning the ways his proposal would violate the Electoral Count Act. Eastman resorted to a ridiculous argument—comparing their current situation to the crisis that faced President Abraham Lincoln during the Civil War.Eastman invoked President Lincoln's suspension of the writ of habeas corpus. He also told Jacob to "stay tuned" because "we" were trying to getsome letters from State legislators indicating that they were interested inthe Vice President sending the electors back to the States."

VI. "BE THERE, WILL BE WILD!"
According to the report, for the Million MAGA March in Washington, D.C. on Nov 14, Proud Boy leader Henry "Enrique" Tarrio had his air travel to D.C. paid for by Patrick Byrne, the founder of Overstock who urged Trump during a Dec. 18, 2020 meeting to seize voting machines.
VII. 187 MINUTES OF DERELICTION
The select committee was unable to corroborate testimony by Cassidy Hutchinson about Trump lunging at a Secret Service driver on January 6 and requesting that it be taken to the Capitol. Individuals who were in the president's car that afternoon could not remember Trump grabbing at the clavicle of Bobby Engel, Trump's head of Secret Service. Hutchinson testified under oath that this story was relayed to her secondhand by Tony Ornato, a Secret Service agent-turned--deputy chief of staff for the Trump White House. (Such a transition is rare.)
A footnote in the final report points out:
A book written by Chief of Staff Mark Meadows in December 2021 made the categorical claim that the President never intended to travel to the Capitol that day. See Mark Meadows, The Chief's Chief (St. Petersburg, FL: All Seasons Press, 2021), p. 250. The Committee's evidence demonstrates that Meadows's claim is categorically false. Because the Meadows book conflicted sharply with information that was being received by the Select Committee, the Committee became increasingly wary that other witnesses might intentionally conceal what happened. That appeared to be the case with Ornato. Ornato does not recall that he conveyed the information to Cassidy Hutchinson regarding the SUV, and also does not recall that he conveyed similar information to a White House employee with national security responsibilities who testified that Ornato recalled a similar account to him. The Committee is skeptical of Ornato's account.

Multiple people reached out to Trump while he failed to respond to the attack on the U.S. Capitol. Trump allies, family members, friendly press, staff; nearly everyone in Trump's orbit who testified to the committee about this three-hour block said the same thing: Trump had to do more to condemn the violence.
The final report shows that Rep. Marjorie Taylor Greene, one of Trump's most ardent supporters, was in a panic on January 6, just like so many of her colleagues, Capitol staff, journalists, and others who were working inside the Capitol or visiting that day.
"Mark, I was just told there is an active shooter on the first floor of the Capitol Please tell the President to calm people This isn't the way to solve anything," Greene wrote. [Punctuation original]
Notably, Trump's personal assistant Johnny McEntee said when he and the president spoke by phone after the attack on January 6, Trump did not express any sadness.
"This is a crazy day," McEntee recalled Trump saying. The tone was "like, wow, can you believe this shit?" and McEntee thought Trump seemed shocked that things got out of control. Trump didn't make any other phone calls for the rest of the evening on January 6. He did not call Pence, despite learning earlier that he had to be whisked to safety during the siege.
VIII. ANALYSIS OF AN ATTACK
The final chapter of the report delves into how the Capitol attack took shape on January 6 and who was involved, starting with the Proud Boys and Oath Keepers. The activities of Trump allies like Roger Stone, Alex Jones, Ali Alexander and Michael Flynn are discussed, Details include analysis from the moments that Capitol was breached to the first person inside to the conduct of some of the most memorable faces to emerge from the violent attack.
This portion of the report also includes information around the timelines of lawmaker evacuations from the Capitol, and other important details in the day's chronology including when an officer shot Trump supporter and U.S. veteran Ashli Babbitt. Babbitt refused to stand down, video footage shows, and ignored the officer's orders, attempting to squeeze herself through a shattered glass door.
The clearing of the Capitol is also detailed in this segment of the report.
APPENDICES
Appendices are split into four categories: Government Agency Preparation for and Response to January 6; DC National Guard Prep for and Response to January 6; The Big Rip-Off: Follow the Money; Malign Foreign Influence
HIGHLIGHTS
Government Agency Preparation for and Response to January 6
Senator Mark Warner called FBI deputy director David Bowdich during the siege and told him the situation was a "mess" because 87 Senators were in one location during the attack. "We now have the vast majority of the Senate in one room," Warner told him.
Agents with the Secret Service who were tuned into Trump's speech at the Ellipse sent an email to Secret Service leadership stating: "POTUS just said that he is going up to the U.S. Capitol to 'watch' the vote." The agent was unsure if Trump was serious. Another Secret Service executive replied, "[he] said it but not going to our knowledge."
DC National Guard Prep for and Response to January 6
The commander of the National Guard, General William Walker, was forced to wait for three hours and 19 minutes on Jan. 6 as the Pentagon worked on a plan to deploy back up to the Capitol. Chris Miller, then the acting-defense secretary, said he thought it would only take a minute but that minute turned into five, then 10, and then 15.

EXCERPT: "And then an hour went by, then more time went by . . . .But we never thought it would take that long. Col. Matthews confirmed that there were periods on the call when no one was talking. At times, there was talk of securing buildings other than the Capitol. [Miller] called the open channel essentially "a general officer chat line."

Miller said he had approved the National Guard at 3:04 p.m. but the Secretary of the Army, Ryan McCarthy, hosted a planning call but that call did not include General Walker, the official responsible for leading troops into Washington.

EXCERPT: Major General Walker himself understood he had to wait for approval from Secretary McCarthy to deploy his forces. But as he waited on that video CALL for hours, he did strongly consider sending them anyway. He turned to his lawyer and said, "Hey, you know what? You know, we're going to go, and I'm just going to shoulder the responsibility." According to Major General Walker, his lawyer responded, "What if you get sued?" Colonel Mathews, that lawyer, "told him not to do that. Just hold on." The Guard officials located with Major General Walker at the Armory all say he seriously contemplated aloud the possibility of breaking with the chain of command. "Should we just deploy now and resign tomorrow?" was how Lieutenant Nick recalled Major General Walker bluntly putting it. "I would have done just that," Major General Walker said, "but not for those two letters" from his superiors curtailing Guard redeployment.

General Walker told the committee that "ultimately, no plan from Army leaders—strategic or tactical—made it to the troops."[I]f they came up with a plan, they never shared it with us," he said. "They claim they were putting a plan together. That's what took so long. I never saw a plan from the Department of Defense or the Department of the Army."
The Big Rip-Off
The select committee contends that Trump sucked up cash from donors by proclaiming that he was using donations to support his legal battle. The Republican National Committee knew Trump's claims of winning were baseless, the final report notes. and that any additional donations would not help him win the 2020 election.
The only individuals at the RNC who tried to "walk back" the fundraising email blasts were RNC lawyers. Members of the RNC legal team did not testify to the committee due to attorney-client privilege issues, but interviews with RNC staffers like Alex Katz revealed that lawyers instructed him not to say "steal the election" in messaging.
RECOMMENDATIONS
The final report recommends reform of the Electoral Count Act and proposals removal of ambiguous language while solidifying the role of the Vice President as ministerial only. (Senators passed ECA reform legislation on Thursday)
The final report recommends that the Justice Department make a determination on its criminal referrals for former President Donald Trump and others. Bar associations should also continue to review the conduct of attorneys cited in the report for unethical behavior or misconduct to ensure they are not practicing improperly; DoJ should take greater steps to prevent its attorneys from participating in any campaign-related activities (See: Jeffrey Clark)
The final report recommends that Trump be banned from running for office ever again and points to the 14th Amendment which bars someone from holding office if they have "engaged in an insurrection" or provided "aid and comfort" to enemies of the U.S. Constitution
The committee recommends that the joint session of Congress be considered a "national security special event"
The committee recommends that tougher penalties are enforced on those who would try to upend the nation's transfer of power as well as increasing the federal penalties for people who threaten election workers; in that same vein, the committee recommends stronger protections be put in place to shield election worker's personal information
The committee recommends that the House of Representatives develop legislation that would make its subpoenas enforceable in federal court, either following the statutory authority that exists for the Senate in 2 U.S.C.§ 288d and 28 U.S.C. § 1365 or adopting a broad approach to facilitate timely oversight of the executive branch."
The committee recommends increased oversight of the Capitol Police as well as increased oversight over social media companies' policies that have the real-time effect of "radicalizing their consumers including by provoking people to attack their own country"
The committee recommends federal agencies with intelligence and security missions move ahead on developing strategies to combat extremism, including white nationalist groups and violent anti-government groups.
Reprinted with permission from Daily Kos