Markets Down Slightly As The First Gust Of Austerity From The Sequester Hits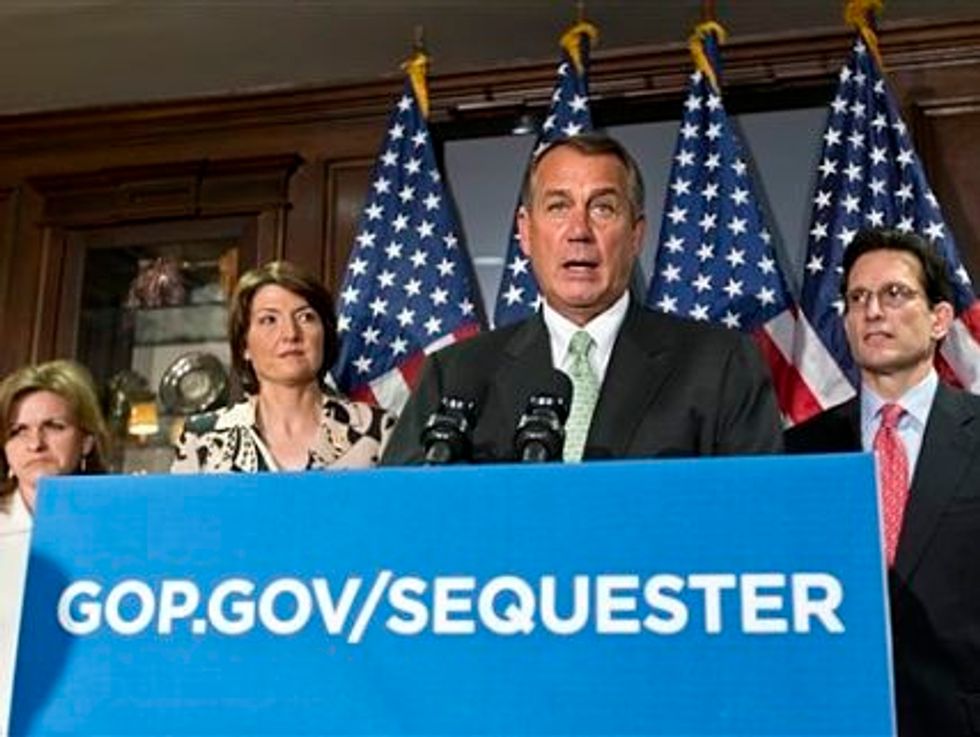 A disappointing initial jobs report for March of only 88,000 jobs gained sent stock markets tumbling Friday. Most of the losses were erased by the end of trading, with the Dow shedding just over 40 points. But the S&P 500 still ended up posting its worst week of the year.
The most significant number in the report was 268,000 — the revised job gains number for February and one of the best jobs reports since the financial crisis ended. January was also revised up, to 148,000 jobs.
The unemployment rate fell to 7.6 percent, mostly due to the labor force shrinking by 496,000 as people stopped looking for work and Baby Boomers retired.
The March report may still be revised up, but the abrupt decline in jobs created along with this week's surge in unemployment claims suggests that something is suddenly amiss in the economy. The end of the payroll tax holiday and the Bush tax breaks went into effect on January 1.
Hmmm. What happened in March that could have changed things?
"It is important to bear in mind that the March household and payroll surveys are the first monthly surveys to look at employment since the beginning of sequestration," writes Alan B. Krueger, chairman of the president's Council of Economic Advisers. "While the recovery was gaining traction before sequestration took effect, these arbitrary and unnecessary cuts to government services will be a headwind in the months to come, and will cut key investments in the nation's future competitiveness."
Krueger points out that Congressional Budget Office has estimated that the sequester will reduce employment by 750,000 jobs by the end of the year.
Of course, the sequester's negative effects are not only economic. With Medicare reimbursement payments cut by two percent, some providers have begun to turn away patients. Thousands of cancer patients have already been refused treatment as the sequester makes it impossible to deliver costly chemotherapy drugs and stay in business.
Most of the other negative impacts of the sequester make only local news because the people they affect — the poor, seniors and veterans — lack the power to focus politicians and media on their plight.
The sequester hits just as the housing market is really showing signs of recovery and the economy is heating up. But the news isn't entirely bad, says The Daily Beast's Daniel Gross:
Recouping all the jobs lost in 2008 and 2009 is a multiyear project. And the economy has made great progress. Since the bottom in February 2010, the private sector has added 6.45 million jobs. In the past year, the economy added 1.9 million jobs in total. And so far this year—January, February, and March—the economy has added about 500,000.
AP Photo/J. Scott Applewhite