Mary Landrieu, Republicans Gear Up For Two-Part Louisiana Senate Fight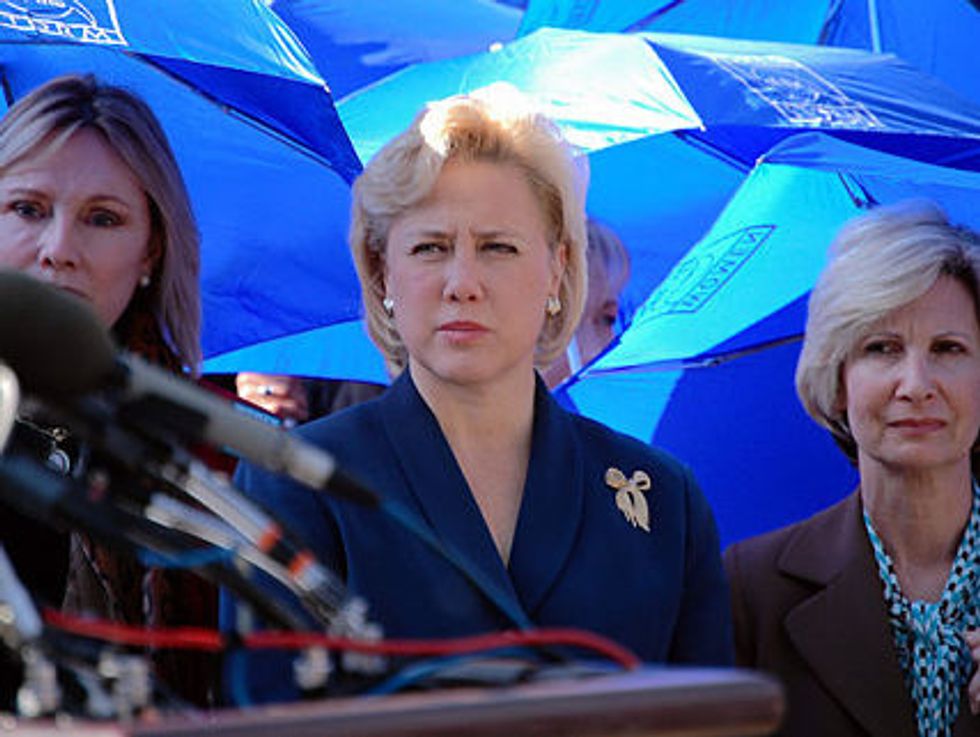 By Lisa Mascaro, Tribune Washington Bureau (MCT)
BREAUX BRIDGE, La. — Ask Cajun food caterer Greg Latiolais how he plans to vote in Louisiana's too-close-to-call Senate race and his answer leads to another question: Which time?
The disgruntled Democrat from the state's crawfish capital plans to cast his ballot Nov. 4 for an alligator-wrestling Tea Party newcomer, Republican Rob Maness.
But as Latiolais and just about everyone else here knows, none of the nine candidates, including Democratic incumbent Sen. Mary L. Landrieu, is likely to cross the 50 percent threshold needed under Louisiana's quirky law to seal the deal on election night.
So voters and candidates alike are already looking toward the Dec. 6 rematch, a race that, along with a similar potential runoff in Georgia, could leave Washington in suspense about which party will hold the Senate majority next year. If the Nov. 4 Senate showdown between Republicans and Democrats ends inconclusively, control of the upper chamber could all come down to what happens in potential runoffs in Louisiana and Georgia.
In the Pelican State, Republicans are already stockpiling cash to help GOP establishment favorite Bill Cassidy face Landrieu in the all-but-certain runoff. Outside groups are taking a strong interest.
Cassidy allies have purchased TV advertising time for late November and early December. Freedom Partners, a free-market "Super PAC" aligned with the billionaire industrialist Koch brothers, reserved $2.1 million in television ad time months ago, and the National Republican Senatorial Committee has plopped down $3.3 million for runoff ads.
The Democratic Senatorial Campaign Committee says it has spent $2.1 million on post-November airtime for Landrieu.
That comes on top of the more than $25 million both sides have poured into the race since last year.
Democrats, meanwhile, are also asking their army of ground troops to plan on sticking around after Nov. 4 to help get out the vote in Round Two.
A similar national spotlight may also shine on Georgia, where a Libertarian candidate could force a Jan. 6 runoff between the front-runners, Democrat Michelle Nunn and Republican David Perdue. That could leave the question of which party controls the Senate in limbo until 2015.
Roger F. Villere Jr., chairman of the Republican Party of Louisiana, is alternately thrilled and anxious about his red state taking center stage in the battle for the Senate. But he worries the efforts of political outsiders won't play well in a conservative state where the Big Easy quickly makes way for the Bible Belt.
"We're going to have to manage the onslaught of national people coming in to help us out," said Villere, standing outside party offices at a shopping mall in Metairie where Cassidy made a recent campaign stop. "It's very hard."
Part of the problem for Republicans is of their own making. The GOP vote is being split as Maness peels away support from physician-turned-congressman Cassidy, preventing either candidate from clearing the 50 percent mark. Many polls show Landrieu would lose in a head-to-head matchup against a lone Republican.
Landrieu's team hopes the familiar GOP internal divisions will open an opportunity for her on Nov. 4. So while others look toward the runoff, her campaign and top allies are holding nothing back, spending twice as much in the run-up to November as her opponents, although so-called dark money from undisclosed donors almost evens the spending race.
Betting that Nov. 4 will be her best shot to win reelection, the senator's campaign promises a vigorous voter turnout operation befitting her family's New Orleans political dynasty — her father was a popular Democratic governor and her brother is the city's mayor. Campaign workers have registered thousands of new voters, including many African Americans, whose support is crucial to Landrieu's chances.
If Landrieu is forced into a runoff, money will not be problem, one Democratic strategist said, especially if the Senate majority is at stake — a sentiment echoed by Republicans.
"There will be more money than Donald Trump and God combined," said the strategist, who asked for anonymity to discuss the Senate campaigns.
In some ways, Cassidy and Landrieu have already shifted their focus to the runoff, all but ignoring Maness, who wrestled an alligator in one ad but still trails in the polls.
Cassidy, an unsteady campaigner whose singsong cadence sometimes make his political speeches sound like nursery rhymes, has gained traction by linking Landrieu to the unpopular Obama administration.
"I am taking on the most powerful man in the world — and the senator that supports him 97 percent of the time," Cassidy told a crowd at the USS Kidd Veterans Memorial Museum, home of a World War II destroyer docked on the Mississippi River in Baton Rouge. "She has used her clout. Unfortunately, she has used it on behalf of President Obama."
Landrieu brushes aside criticisms that after three terms in Washington she is out of touch with Louisiana. She spends her days moving between the state's diverse cultures: doing the hip-hop "wobble" dance with African Americans at a Southern University tailgate party and shoring up support from power brokers at a pork chop luncheon in the military town of Leesville.
"All he can do is throw rocks and stones," she said about Cassidy after her talk at a Leesville church hall. "I would put my record fighting for my home state against any member of Congress."
Down the highway, as he loaded groceries into the cab of his pickup outside Market Basket, retired Vietnam veteran Wayne Westmoreland, a Republican who used to be a Democrat, said he had not decided whether he would cast his ballot for Cassidy or Maness. "I just hope they beat Landrieu," he said.
With a runoff, Westmoreland may be able to vote for both Republicans. But Landrieu is working hard to ensure he doesn't get that chance.
Photo via Wikimedia Commons