Mary Landrieu's Approval Rating Falls In New Poll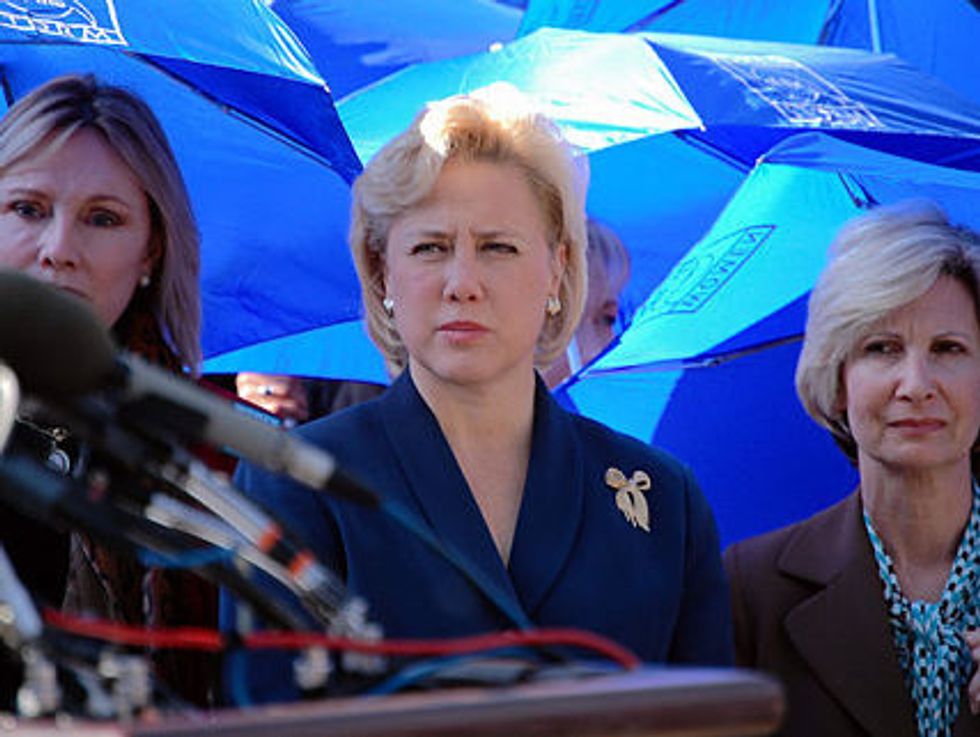 A new poll conducted by Southern Media & Opinion Research shows Senator Mary Landrieu's (D-LA) approval rating has fallen more than 10 percent in the past six months, and now stands at 47 percent. Landrieu's dwindling poll numbers are likely a response to her support of President Obama's Affordable Care Act, and signal trouble ahead of the senior senator's 2014 re-election campaign against Republican congressman Bill Cassidy.
"Senator Landrieu's job performance has deteriorated since this spring," a press release accompanying the poll reads. "If (she) faced re-election in the next few months, her outlook for re-election would be highly unlikely."
To be sure, this poll is not a good sign for Landrieu. But, she may find help in an unlikely place: Tea Party candidate Rob Maness.
If the Senate race was held this week, Landrieu would beat Cassidy by 7 points. Whether or not she would avoid a runoff by clinching 50 percent of the vote, however, remains unclear. In a runoff, if Cassidy rounds up the 10 percent of Louisiana voters who back Maness, he could likely win the race.
But a distraction from the far right to Landrieu's top opponent may play in her favor. Tea Party challengers across the country have drawn mainstream conservatives to the right in a number of races. Cassidy will likely have to move right on issues that resonate with Maness' supporters, which may allow Landrieu to pick up moderate Louisiana voters.
Furthermore, Cassidy struggles with name recognition issues that do not plague Landrieu, who's been in office since 1997 — 44 percent of voters said they did not know or would not say how they felt about Cassidy's performance as a congressman, according to the poll.
Landrieu's name and Senate record is something her re-election team is counting on to deliver her the win. "Sen. Landrieu will — as she has time and time again — win because the people of Louisiana know that they can count on her leadership to build a prosperous future," said spokesman Adam Sullivan.
Louisiana Republicans, however, hope to use Landrieu's relationship with the president to draw votes. Roger Villere, chair of the Louisiana Republican Party, said the poll results show Landrieu "is more concerned about President Obama's priorities than those of the people she is supposed to represent."
Presumably being keenly aware of this criticism, Landrieu has backed away from the president recently. After joining Obama on a ride to Louisiana on Air Force One earlier this month, she skipped the event the president had scheduled.
But Cassidy's inevitable right turn may already be blowing up in his face. Politicoreports that Cassidy's campaign manager is drawing criticism for tweeting a link to a blog post that contained a picture of Landrieu's face superimposed on fascist dictator Benito Mussoulini's body.
"Bill Cassidy's campaign manager should immediately take down his insulting tweet and the Cassidy campaign owes Sen. Landrieu an apology," Andrew Zucker, a staff member for the Democratic group Campaign for Louisiana, told Politico.
Perhaps the next poll will reveal if comparing a sitting member of Congress to a murderous dictator is, in fact, a solid campaign tactic.
Photo via Wikimedia Commons