Maryland Governor Declares State Of Emergency In Baltimore Amid Street Violence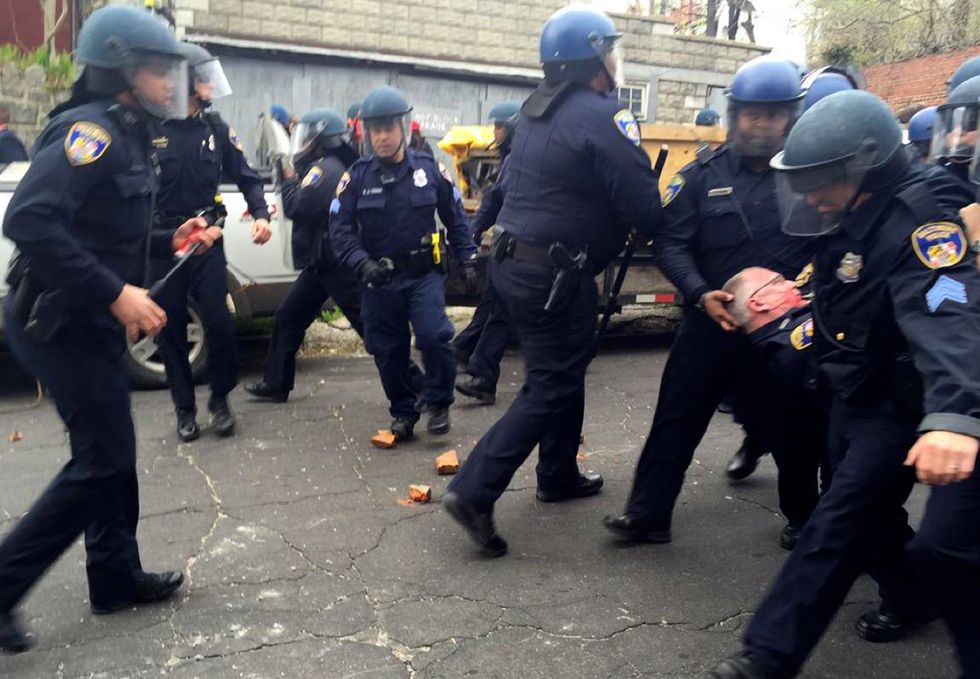 By Michael Muskal and W.J. Hennigan, Los Angeles Times (TNS)
BALTIMORE — Baltimore braced for a night of violence and police clashes after looting, fires, and rock throwing erupted Monday afternoon, hours after the funeral for Freddie Gray, whose spine was severed in police custody.
Maryland Gov. Larry Hogan declared a state of emergency as night fell and activated the National Guard to address the growing violence and unrest in the city that has been racked by increasingly tense protests since the weekend.
The baseball game between the Baltimore Orioles and the Chicago White Sox was postponed as a precaution. At least seven officers were seriously injured Monday with broken bones, and one was described as "unresponsive," officials said.
The violence began in the early afternoon and built through the hours. Television images showed angry, rock-throwing people confronting phalanxes of police around the area of the Mondawmin Mall.
Police fired tear gas and used pepper spray to hold back crowds. Several police vehicles were disabled and one was seen burning as people looted a nearby drugstore, which was later set on fire.
"This is a group of lawless individuals with no regard for people," said Baltimore Police Capt. Eric Kowalczyk. "We don't know who is out there. We do know they are criminals and have attacked officers without provocation."
By early evening, throngs of people were still on the move at the shopping center and toward downtown. People with clubs were breaking into stores, including private loan outlets.
Hogan issued a statement saying he has also dispatched Maryland State Police.
"Today's looting and acts of violence in Baltimore will not be tolerated," Hogan said. "I strongly condemn the actions of the offenders who are engaged in direct attacks against innocent civilians, businesses and law enforcement officers. There is a significant difference between protesting and violence and those committing these acts will be prosecuted under the fullest extent of the law."
The city has been on edge since Gray, an African-American, died April 19, a week after he was arrested by Baltimore police. Last week's protests began peacefully, but dozens were arrested over the weekend when six officers were injured despite repeated calls from community leaders and city officials for calm and restraint.
In a footnote to the growing unease, Baltimore police announced Monday that they had received a "credible threat" that three violent gangs, the Black Guerrilla Family, the Bloods, and the Crips, were working together to "take out" law enforcement officers. It was unknown if the threat was connected to Gray's death or to the later violence, police said.
The latest violence seemed to stem from a flier that circulated widely among city school students via social media about a "purge" to take place at 3 p.m., starting at Mondawmin Mall and ending downtown. Such calls have circulated before and are based on the film "The Purge," which posits a dystopia where all laws are suspended for 12 hours.
George Roy, 49, a surgical technician, lives about six blocks from where Gray was arrested — and about a block from a burning CVS pharmacy downtown.
"They destroyed the city and they didn't wait for the investigation to occur," he said referring to the rioters.
As he stood on metal steps by his apartment and smoked a cigarette, he pointed to the streets up and down his block, where many of the businesses were boarded up. All the businesses have been looted, he said, calling it "outright crazy."
"Now we don't have stores to go to. We don't have fast food we can eat at, because they've destroyed it all."
Helicopters hovered overhead as crowds of people milled around. A firefighter who stood by a hydrant said protesters had tried to cut the fire hoses.
"We're in a code red crisis," the Rev. Jamal H. Bryant, who hours earlier delivered Gray's eulogy, said on CNN. "It's disappointing."
Hours earlier, officials from city government to the White House attended the funeral service for Gray, who died of a severed spine, a week after he was arrested by police. Gray, hands cuffed behind his back and later restrained by leg irons, was apparently injured during transport, slipped into a coma and died.
Mourners gathered in the morning for the televised funeral service, which lasted almost two hours. It drew such dignitaries as Mayor Stephanie Rawlings-Blake and Rep. Elijah Cummings, D-Md., as well as a host of civil rights leaders including the Rev. Jesse Jackson, Dick Gregory, Maryland Rep. John Sarbanes, and former Maryland Rep. and NAACP leader Kweisi Mfume.
Gray's family sat in a front pew of the sanctuary that holds more than 2,000 people. Eight floral arrangements surrounded Gray's white coffin in front of the pulpit. Screens on the walls showed the words: "Black Lives Matter & All Lives Matter," which have become slogans at demonstrations around the country in the past year since a white police officer shot an unarmed black man in Ferguson, Mo. That case was followed by demonstrations over the deaths of blacks in Staten Island, Cleveland, Tulsa, Okla., and South Carolina.
"The eyes of this country are all on us, because they want to see whether we have the stuff to make this right," William Murphy Jr., a lawyer who is representing the Gray family, told the mourners.
"We need justice not just for Freddie Gray, for the Freddie Grays to come," he said.
"We will not rest until we address this and see that justice is done," Cummings said of the Gray case. "And so, this is our watch. We will not fail you."
The investigation is continuing into the incident that began April 12 when Gray was walking with a friend and made eye contact with police. Both fled and police gave chase, catching Gray.
Video of the arrest shows Gray with his hands cuffed behind him being put into the police van. The wagon stopped at least twice. At one stop, Gray was taken out by police, placed on the ground and his legs put in irons. He was returned to the van. At the second stop, another prisoner is put in the van, separated by a metal barrier.
Throughout, Gray said he needed medical attention and at one point asked for an inhaler, police said.
On Friday, Baltimore Police Commissioner Anthony Batts said he was appalled that Gray did not receive proper medical care immediately. He also said officers should have given Gray timely medical care during the transport to the police station.
Batts also said there are no excuses for Gray not being buckled in a seat belt while in the van.
Exactly what happened to Gray remains a mystery that will be answered when the full autopsy is released.
Officials have said he died of a severed spine, confirming the family's original claim. The family also has said Gray's voice box was crushed and his neck snapped before he slipped into a coma and died a week after his arrest.
Baltimore officials are scheduled to submit their findings into the death by Friday. Five of the six officers have been interviewed by police as have several witnesses, including some who shot video of at least one of the stops made by the van.
Erica Garner, 24, the daughter of Eric Garner, who died in New York police custody, attended Gray's funeral. She said she came after seeing the video of Gray's arrest.
"It's like there is no accountability, no justice," she said. "It's like we're back in the '50s, back in the Martin Luther King days. When is our day to be free going to come?"
Civil rights leader the Rev. Al Sharpton said Monday he plans to visit Baltimore this week to discuss Gray's death. In a statement, Sharpton said he also wants to plan a two-day march in May from Baltimore to Washington.
(Muskal reported from Los Angeles and Hennigan from Baltimore.)
(c)2015 Los Angeles Times, Distributed by Tribune Content Agency, LLC.
Photo: An injured police officer is carried away by his fellow officers on Westbury Avenue in Baltimore during riots on Monday, April 27, 2015. (Erica Green/Baltimore Sun/TNS)