Maryland Mall Shooter May Have Had Fixation With Columbine, Police Say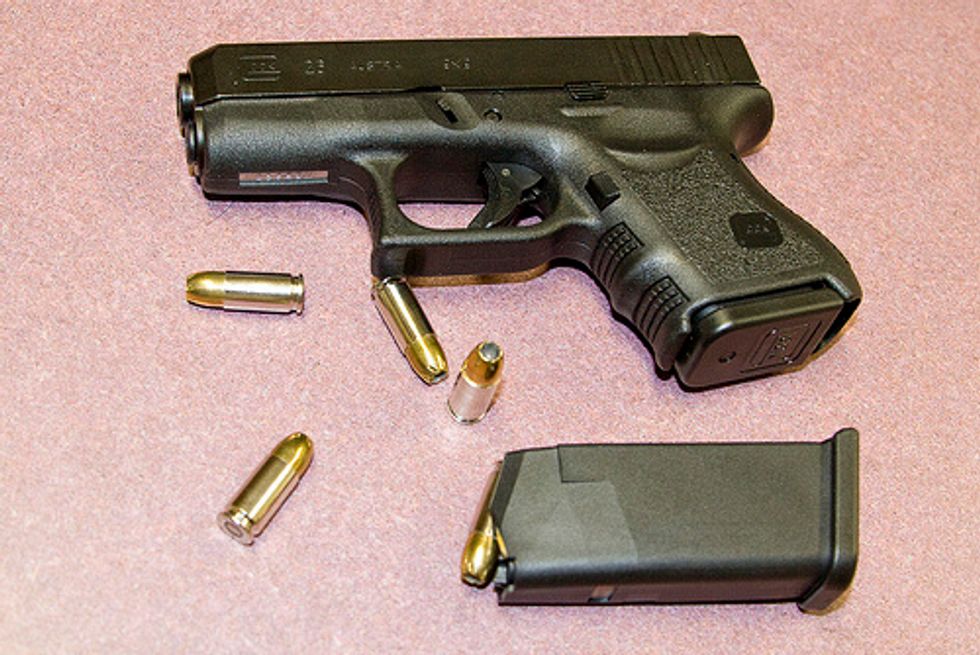 By Justin George and Jessica Anderson, The Baltimore Sun
MARRIOTTSVILE, MD — Darion Marcus Aguilar had no connections to his victims and modeled his attack on the Mall in Columbia after the Columbine High School shooting, Howard County police revealed Wednesday.
Police said Aguilar, 19, even waited until 11:14 a.m. on Jan. 25 to launch his attack — the same time the two Columbine students opened fire in 1999. Howard County Police Chief William J. McMahon said Aguilar acted alone during the attack and planning.
Aguilar, of College Park, killed Zumiez employees Brianna Benlolo, 21, and Tyler Johnson, 25, before killing himself. Police said he fired off nine rounds though he had 54 rounds with him. He also wounded a woman in her foot.
Weeks before he entered the Columbia mall with a Mossberg 500 series pump-action shotgun and crude explosives, Aguilar had disclosed to a general practitioner that he was hearing voices, McMahon said.
The doctor said to police that he urged Aguilar to follow up with a psychiatrist but investigators have no evidence Aguilar did so. While the doctor told detectives he told Aguilar's mother about the mental illness symptoms, Aguilar's mother maintains she never received the information and police have no evidence corroborating the doctor's story, they said.
Police believe Aguilar began researching mass shootings and violent topics in January 2013. At the same time, police said, he was also researching websites on mental illness, including a suicide help website, but there's no indication if he ever asked for help. In a journal, he wrote he was reluctant to tell his mother about his health issues.
Police released a timetable that included Aguilar's purchases of the shotgun used in the attack and ammunition and provide an almost minute-by-minute description of his movements before he entered the Columbia mall on the day of the shooting based on several surveillance images in the region.
On the morning of the shooting, police said Aguilar left his home at 5:15 a.m. He stopped at a Beltsville bank at 7:19 a.m., where he is seen with a backpack. Police said they believe he had dissembled shotgun in his backpack. At 7:30 a.m., he boarded a Washington area metro bus and rode it out to Burtonsville, where he was seen at McDonald's. He left the restaurant in a cab at 9:50 a.m. At 10:10 a.m. he walked into the Columbia mall near the carousel.
McMahon said he was alone the whole time.
At 10:18 a.m., Aguilar headed toward Zumiez and took escalator down to the food court. At 11:01 a.m. he was seen taking an escalator back up to Zumiez. He walked into the store, went into a dressing room, where he took the shotgun out his backpack. At 11:14 a.m. he took a picture of himself and uploaded it to the social networking site Tumblr.
"I had to do this. Today is the day," the post began, according to police.
He exited the dressing room and fired once at Benlolo, who was standing behind a counter, then fired at Johnson, who was near the front of the store. Aguilar then walked out into the mall and fired two shots, striking one woman in the heel. He then fired and hit a wall near the Great American Cookies store, where he "very, very narrowly misses several more victims," McMahon said. He then fired through storefront glass at a mannequin at Zumiez. He went back to Zumiez and put the shotgun in his mouth and killed himself, McMahon said.
Police have said Aguilar frequented the mall, a popular gathering place in the planned suburban community, hanging around outside and smoking in small groups. A Zumiez employee told the Baltimore Sun that he had seen Aguilar at the skate shop before, but it has still not been made clear why the store or its employees were targeted.
McMahon said questions remain about why he chose the mall but speculates that he didn't choose a high school — like the Columbine shooters — because he had graduated. McMahon said Aguilar also studied other mass shootings.
In his journal, Aguilar wrote about killing people, indicated he was ready to die and alluded to an unspecified plan that was "set," police have said.
But entries revealed Wednesday showed him making statements that he sought to kill "you all" who "deserve to die."
Benlolo, of College Park, left behind a 2-year-old son. She was an assistant manager at the store and lived in Florida and Colorado before coming to Maryland in 2010. Tyler Johnson, who was from Ellicott City but had recently moved to Mount Airy, had been sober for two years and was active in local 12-step programs, helping struggling addicts in recovery. He had only worked at Zumiez for a few months before the shooting.
Rob Bixby via Flickr.com